Article
Counter Culture: Memories of Bradenton's Shake Pit
Writer Beau Denton shares his favorite memories of Bradenton's Shake Pit.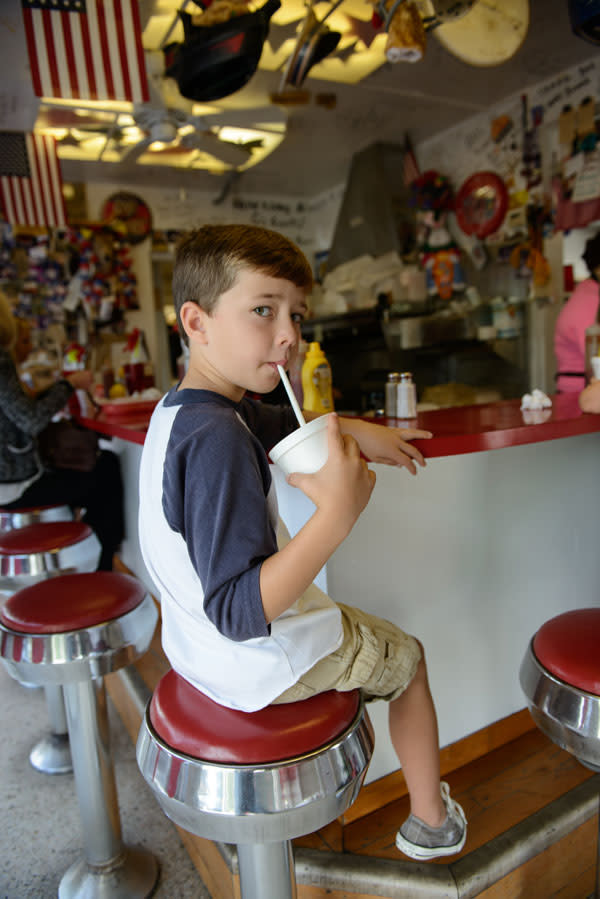 I remember sitting on the red stools at Shake Pit on Bradenton's Manatee Avenue when I was a kid. Legs dangling, I would push my hands against the counter and spin, staring at the floor and counting how many times the stool rotated. This moment was repeated again and again throughout my childhood. Certain specifics vary: the decorations on the wall, the weather outside, the topic of conversation. But other details never change. There's the sound of burgers sizzling on the grill and oil popping in the fryer, and the growing collection of notes and signatures scrawled on the ceiling.
Always, there are the people eating at the counter. I remember sitting with my grandmother, Muriel, as she held court from her stool, gossiping with her Rotary and church friends, sharing her two cents with the downtown businessmen, teasing the high school kids who manned the grill. Watching her and listening to those conversations, I could read the pulse of the town.
When I became one of those high school kids manning the grill (or the ice cream window, more often), the counter continued to tell our town's stories. Graduation robes, prom dresses, football uniforms, business suits, sunburns and beach towels—I looked at the people at the counter and knew what was going on. When a local athlete signed a contract with the NFL, he bought a new car and drove to Shake Pit to celebrate. His signature joined the dozens of others above the counter and on the walls, along with hundreds of photographs, local newspaper clippings, and mementos from around the world. It's a snapshot of Bradenton—past and present—and the people who pass through our friendly little city. The burger's not bad, either.
For more Sarasota dining and restaurant news, click here. >>