Article
Artist Syd Solomon Led Rich Life in Sarasota
A Sarasota archive maps the fantastic voyage of longtime Sarasota artist Syd Solomon and his wife, Annie.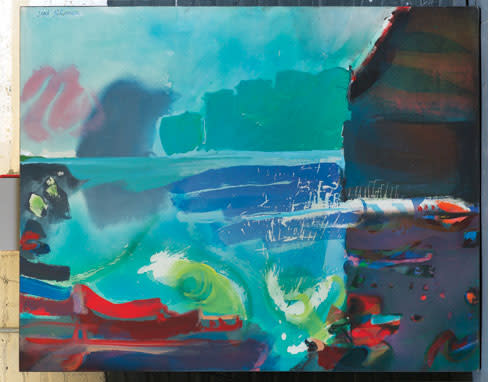 When the adventure fabulist novel, King Solomon's Mines, was written in 1885 by H. Rider Haggard, it was promoted in London as "The Most Amazing Book Ever Written," and it became an immediate best seller. Once the contents at The Solomon Archive become known through a documentary film we are producing about my parents, Syd and Annie Solomon, I'm hoping that a similar response may occur. Their story is certainly an amazing one.
My father, Syd, was an Abstract Expressionist artist who created vibrant, multilayered paintings. He also played important roles in the development of art in Florida and the Hamptons. His work is in many museum collections, including the Whitney Museum of American Art, the Tate Gallery London, the Hirshhorn Museum in Washington, D.C., and the John and Mable Ringling Museum here in Sarasota. He and Annie moved to Sarasota on New Year's Day in 1946. In the 1950s, they began dividing their time between Sarasota and the Hamptons, where they spent the summers and fall.
The dimensions of my parents' lives are almost unbelievable when you add it all up, which is what I set out to do when I decided to write a biography of them about 20 years ago. But like Syd's physicality—everything about him, from his presence to his oversize hands, was larger than life—the story was just so big that I had a hard time figuring out how to manage it. In the '90s, when I submitted the first 50 pages of the biography with a number of photographs that I thought were indispensable, the agent I had at the time told me I would not get a publisher to print that many images. That stuck in my craw, because those images helped tell the story so well—they made it palpable. So the project stalled around this issue.
Really, I realized, my parents' story could be many books, and indeed, at least one has already been spun from part of Syd's life. That was Kurt Vonnegut Jr.'s book, Bluebeard. Vonnegut's involvement in World War II, which became the subject for his book, Slaughterhouse-Five, had something to do with the formation of his close friendship with Syd in the late 1960s. Over the years, hearing about Syd's life and war experiences, Kurt formulated the story about the character Rabo Karabekian, an Abstract Expressionist who had been in the Army Engineers as a specialist in camouflage.
Syd was also a specialist in camouflage—a camofluer. He had designed camouflage in World War II to hide "leapfrog" bases built by the 924th Aviation Engineers, his regiment for fighter-bomber groups providing tactical support behind the troupes. (His unit was among the first to arrive in Normandy.) He had previously done campaigns in England and for Africa and was considered one of the best camoufleurs in the Army. After receiving five Bronze Stars and getting frostbite in the Battle of the Bulge, he came back home to paint, and paint he did.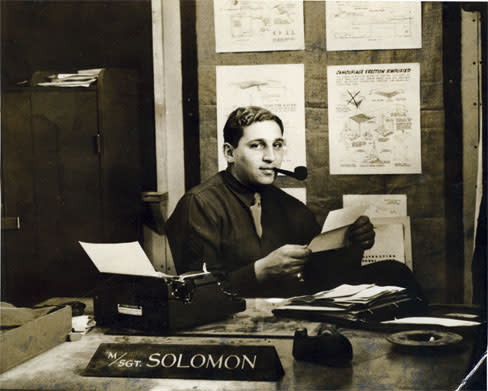 Starting with his protagonist's wartime profession, the first three pages of Vonnegut's book are basically Syd's biography, and throughout the book our family can decode many fictionalized details of Syd's life. Of course, while we all knew the source, when the book was published it was like our little secret. It is, after all, a work of fiction, too. But later, in 2000, as the tragedy in our lives was occurring—Syd's 15-year bout with Alzheimer's—Kurt wrote a deeply sympathetic letter to Annie. It praised her fortitude under such a trying circumstance; and, finally, it confirmed his source: "Your letter, which will join my papers accumulating at Indiana University, is proof which would otherwise be missing of how valuable Syd's silver tongue [and] now AWOL mind were to me long ago. I committed plagiarism on a grand scale! BLUEBEARD had everything but originality."
While my book project was stalled, other problems arose. Syd's art career and the market for his work were fading. Even with his formidable 50-year track record, if an artist is out for a few years, the art world moves on. Things had fallen away because of the Alzheimer's. He certainly couldn't function as he had, as his own best promoter, and Annie couldn't do that, either.
That was never her role, anyway, though she was crucial, indispensable to how it all went. It was she who made everything work smoothly behind the scenes, she whose warm personality, generous hospitality and amazing cooking made their homes in the Hamptons and in Sarasota social and cultural epicenters. It was Annie's support that allowed Syd to fully shine. Now all that was over.
She had a new role now, as the main caregiver in the early stages of a disease that makes a person, even one who seemed bigger than life, disappear before one's eyes. When his illness became acute and we had to move him to a facility, she could hardly deal with the art. Emotionally, it was just too hard.
When Syd died in 2004, I had to step into the gap, and it was as if my life had been spent preparing for it. Other than my own art career, my professional life had centered on managing and directing artists' estates and foundations. I had handled the estate of Alfonso Ossorio, a key person in the milieu of Abstract Expressionism, who had not only championed Pollock and Dubuffet, but also had made a considerable and challenging body of work himself. But his own art had been neglected during his life, due to an art establishment that preferred to see him as a collector rather than an artist.
I was able to change that perception in the years I managed his legacy, and so I established myself as an expert in revivifying artists who'd fallen through the cracks. I had some idea of what that would take to accomplish for Syd.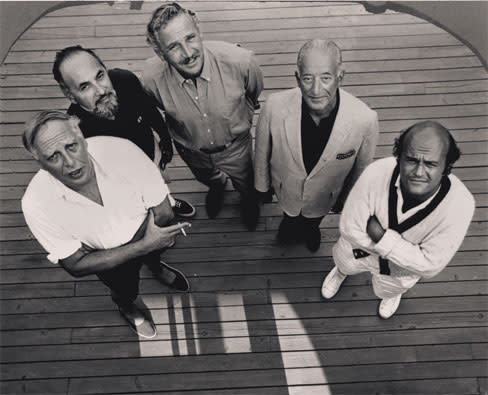 I assembled a small group of experts, and we studied the influence that techniques had on Syd's different styles. This enabled us to curate the oeuvre more accurately; and through that process of analysis and sorting, we were able to see more clearly his achievements and re-present his works in a deeper context.
This led to where we are now, with a first-rate gallery that represents Syd's work in New York—Berry Campbell in Chelsea, just down the street from Pace and Gagosian.
Having re-established a market for Syd's work, last fall I decided to move from the Hamptons, where I had lived for 25 years, to try to complete the task of telling the big story while also making new work for upcoming shows in New York. Our facility in Sarasota, The Solomon Archives, contains historic materials that indicate the breadth and scope of my parents' lives. With tens of thousands of documents in textual, photographic and graphic materials, the archive is indeed like Solomon's Mines, but one has to dig. What I mention here is just a smattering of the items that inform Syd's story.
The archive shows my parents' close association with the Sarasota School of Architecture, which eventually resulted in building their house and studio at Midnight Pass on the south end of Siesta Key. The buildings were designed by architect Gene Leedy, one of the founders of the movement.  Leedy said he thought Syd was the "Hemingway of Abstract Expressionism." The house that Leedy created was greatly admired and won a prestigious architecture award.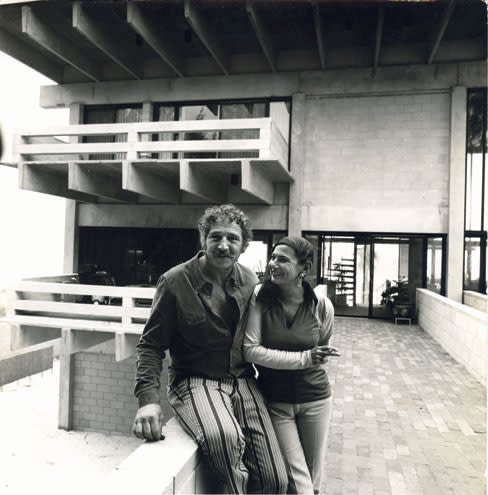 Syd loved Midnight Pass, a narrow waterway that flowed from Sarasota Bay into the Gulf, separating Siesta and Casey keys; he had been going there by boat since the late '40s.  He discovered Blind Pass Road, then a dirt road, which led to the pass, when he went to visit novelist and Hollywood screenwriter Budd Schulberg, who was staying in a cottage there, in the mid-'50s. Our archives show he wanted to preserve that area of Siesta Key from developers by buying land adjacent to Midnight Pass.  He had plans for developing an artist colony there with the help of one of Sarasota's best architects, Frank Folsom Smith. Syd eventually bought some land and built the house in 1970. That home became his version of Monet's Giverny, where the views of the Gulf and the pass from his studio and home became the subject of his painting. The great tragedy in his life is that nature took back what it gave.
In 1983, the pass abruptly migrated north and eroded our property so severely that the house became endangered.  It was saved at the last minute through an order from the governor to plug up the pass, but what little was left of our beachfront was vulnerable to additional seaward erosion. The closing of the pass became a bitter and divisive local issue. The stress triggered something in Syd, and he was never the same. Living and working in that house had been the culmination of his life, and its loss plunged him into a depression that soon became dementia, from which he never returned.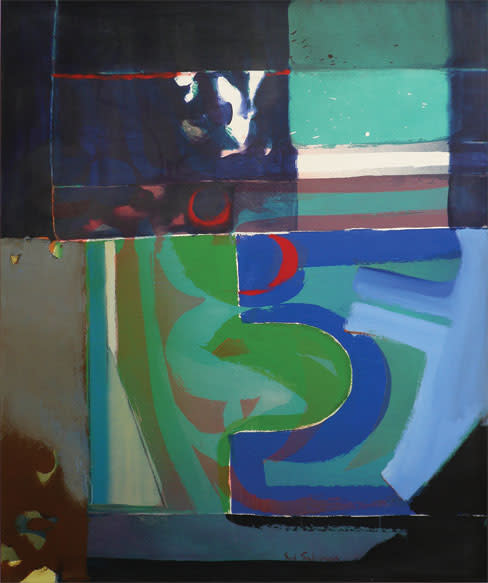 We sold the house in the early 1990s.  By 2004, the erosion was so severe that the county condemned and razed it. Syd died that same year; it was almost as if he took his treasured home with him.
Many documents in the archive reveal other merging of interests between Sarasota artists and architects in the 1940s, '50s and '60s. Syd and Bill Tracy and others functioned under the auspices of The Florida Art Colony and Decor Gallery. They made furniture, some of which went to the Truman Southern White House in Key West, and decorative sculptures, reliefs and paintings and even signage for new buildings. The Aztec Room at the Orange Blossom Hotel was one example of their work. Syd also did graphic work for the campaign of Dan McCarty, who became governor.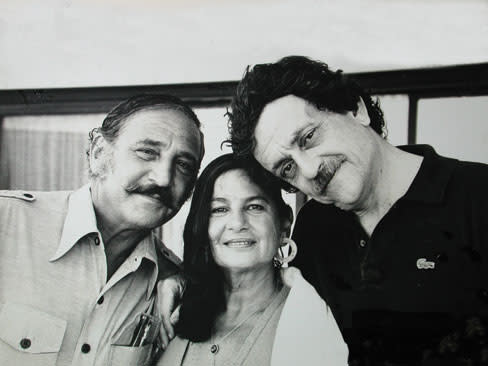 We also have documents about the many writers of that time in Sarasota. Mystery writer John D. MacDonald was very close to Syd. The titles of the 21 books in his Travis McGee series, which all have color references (Nightmare in Pink, The Green Ripper) came from Syd's suggestions. My parents also became close with Budd Schulberg when he was living at Point of Rocks. A few years later, when Schulberg was living in that cottage near Midnight Pass, he and Elia Kazan worked on the script for the film, A Face in the Crowd, which Kazan directed. I have a letter from Kazan to my mother around then, congratulating her on my birth and hoping I turn out " just like his old man." We have wonderful documents about the esteemed writer Joy Williams, too, who remains a close friend.
There are documents about Ringling College, Hilton Leech's art school and Syd's art school, The Sarasota School of Art. We have documents about some of the circus people, as we were friends with the legendary Cristiani family through artist David Budd. (A whole show could be done of Syd's 1940s works about the circus.) The Cristiani brothers built my older sister, Michele, and me a trapeze in our back yard. It swung up so high that we could see over our two-and-a-half story house.
Then there are all the materials about the art world, starting with Syd's association with Sarasota's Ringling Museum. Syd's work was the first by a living artist to be purchased by the museum. This was the suggestion of Alfred Barr, director of the Museum of Modern Art, who was advising the museum on how to expand into contemporary culture. The painting was The Silent World, named by Jacques Cousteau, who had been brought to Syd's studio by Dr. Eugenie Clark, the world's foremost shark expert, the doyenne of Mote Marine and an early and close friend. Cousteau said the work reminded him of how things looked underwater: "That's the silent world."
As my parents became increasingly involved in the Abstract Expressionist movement, our documents map the relationships they formed in the art community of the New York School. A number of Ab Exers came here to stay with us, to escape the cold New York winters, to eat my mother's unsurpassed cooking, to fish and drink with Syd, and later, to teach at the Fine Arts Institute at New College, which Syd founded in 1965.
From 1965 to 1969 in the Hamptons, in partnership with another power couple, songwriter Jerry Leiber and actress/director Gaby Rodgers, my parents collaborated to produce plays and performances that foreshadow today's performance art.
The first all-artist production was a play by Kenneth Koch, which was described in a museum press release that we have in the archive:
"The Tinguely Machine Mystery or The Love Suicides at Kaluka presented in the galleries of the Jewish Museum on Wednesday December 22, at 9 p.m. with a cast of poets and painters and the Tinguely machine-sculptures Attila, Odessa and May Fair currently on exhibition at The Jewish Museum. This will be the first time that artists and machines have been brought together in a dramatic presentation in an art museum. The play is a murder mystery. Among the players are Larry Rivers as a police chief, Clarisse Rivers as a princess, Kenward Elmslie as a Japanese priest, Syd Solomon as a detective, Jean Tinguely as a Japanese man, Kiki Kogelnik as a Japanese girl, Jane Freilicher as the city of Odessa, Niki de Saint-Phalle as the spirit of the night, Howard Kanowitz as the policeman. Sailors are Frank O'Hara, John Ashberry and Joe Brainard and Arnold Weinstein as the Admiral. Music composed by Morton Feldman will be played by Larry Rivers, Howard Kanowitz, Richard Davis and Michael Zwerin. Directed by Remy Charlip and Kenneth Koch. Bridges built by Larry Rivers, Syd Solomon and Howard Kanowitz."
My sister, Michele, has been here recently to help me go through some of the material and identify people and events. Today we found an old address book from the 1950s, one of the many impeccable records Annie kept. It's studded with names of art world stars who had become friends: There are phone numbers and addresses for Mark Rothko, Jim Dine, Bill de Kooning, Phil Guston,  Saul Steinberg and many others. To list the names of friends and colleagues of my parents could seem like an atomic bomb of name dropping, so I will try not to do much more here, but the list is incredible, both long and diverse.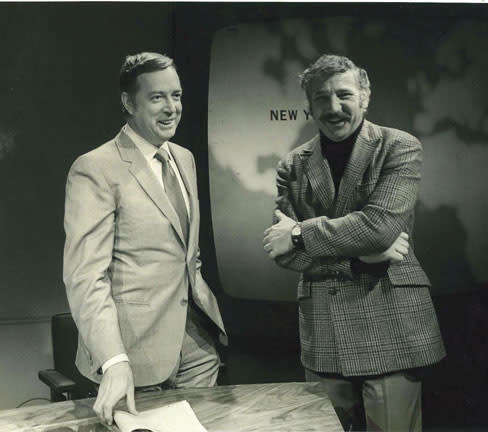 We have film and video clips, too. When I was about 12, I had a little Super 8 camera. Somehow I managed to film one of those famous artists' beach parties in the Hamptons that Syd organized, and I also filmed vignettes of him in his studios at Midnight Pass and in the Hamptons. It was just my dad doing his usual, as far as I was concerned.
We also have Syd's appearance on the Today Show in 1971, when he was interviewed by Barbara Walters, along with a video by artist Dan Flavin Jr. interviewing Syd. The minimalist king of fluorescent bulb art loved the Abstract Expressionists and collected their works. He bought quite a few of Syd's paintings and decided to produce the video on Syd.
There are also short clips of artists John Chamberlain, Jimmy Ernst and others. And we have a half-hour video of folksinger/illustrator Eric Von Schmidt playing in Syd's studio. That's incredibly rare and historic. There are also photos of Syd in the Galapagos with writer Evan Hunter (who wrote crime fiction under the name Ed McBain). Syd was invited to go as the artist-in-residence on Linblad Expeditions, and he did some incredible watercolors there, which informed a subsequent series of larger abstract works in the '80s.
Since my return to Sarasota, I have been inundated in my parents' history. And the thousands of photographs and the videos I've immersed myself in have finally shown me how to tell my parents' story. In addition to all the photos and video, at 96, Annie is still as alert and intelligent as ever; she remembers everything and is articulate and compelling in interviews.
With her presence and the wealth of visuals we have, we realized we could produce a Ken Burns-style documentary to tell their fabulous story. A small team of us, including a film professional, have started the process, and we hope to finish the film for release in July of 2017, on the 100th anniversary of my father's birth.
For more Sarasota arts and entertainment news, click here. >>
This article appears in the December 2014 issue of Sarasota Magazine. Click here to subscribe. >>