Article
From the Editor: Sarasota Arts Leaders' Favorite Shows of the Season
We ask Sarasota's arts leaders to share their favorite shows of the upcoming season.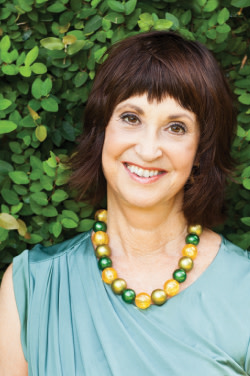 I'm not sure if it's the pursuit of perfection or an addiction to adrenaline, but we love dreaming up ambitious ideas bristling with risks, from the political ("Let's choose Sarasota's best seafood restaurants!") to the physical and logistical ("Let's get the Wallendas to model ballgowns while balancing on the high wire!").
This month's self-inflicted challenge: For this Season Preview issue, we decided to assemble 26 of the region's most influential arts leaders and photograph them chatting together in theater seats at Asolo Rep's Mertz Theatre.
But could we really get some of the busiest people on the planet to show up on a single date and instead of giving direction, as they usually do, follow our directions about looking animated and engaged? As you'll see here, we did, and they did. (And yes, Photoshopping was involved, as we mixed various takes to get the lively, convivial group we'd envisioned.) And we also asked them to share some inside information: the show they're most excited about this season. ("That's like choosing a favorite child!" wailed Asolo Rep's Michael Edwards.) You'll see some of their picks in the picture; for the rest, read on.
"Knock Me a Kiss [Jan.7-Feb. 8], a riveting drama set in the 1920s about civil rights leader W.E.B. Dubois."—Nate Jacobs, artistic director, Westcoast Black Theatre Troupe
"Buddy, The Buddy Holly Story [Jan. 6-25]. To tell his story with all those great songs…who could ask for more?"
–Allan Kollar, producing director, Venice Theatre
"The Paris version of Don Carlos is one of Verdi's greatest works and we have a great cast of wonderful singers."  –Richard Russell, executive director, Sarasota Opera
"Simply Sonatas [April 13]—hear great musicians as individual performers in an informal, intimate setting."—Sally Faron, executive director, La Musica
"Legendary Sondheim shows are a tradition at Manatee Players.  I'm excited to have many of our top performers returning for Into the Woods [Feb. 12-March 1].  –Rick Kerby, executive director
"Our Ninth Annual Concert [March 12-15]—dance by cutting-edge choreographers, including the iconic Mattress Suite by Larry Keigwin."—Leymis BolaÑos Wilmott, artistic director, Fuzion Dance Artists
"Best of Ringling [April 10]. New work, fresh ideas, variety and excellence."—Mark Ormond, curator for exhibitions, Ringling College Galleries
"Klea Blackhurst's tribute to Ethel Merman [Nov. 15]—great songs and a dynamite actress with powerful vocal pipes." –Lee Dougherty Ross, artistic director, Artist Series Concerts
"Songs of Wars I Have Seen [Nov. 20-21]. It combines theater, literature and music with a subject matter that's absolutely spellbinding."—Dan Jordan, concertmaster, Sarasota Orchestra
"Inspired by the killing of five Amish schoolgirls, The Amish Project sends a powerful message of forgiveness for a seemingly unforgivable act." –Jerry Finn, executive director, Banyan Theater Company
"Cantus Carmina Jubilate, an exciting new choral work by Dr. David Brunner [April 12]."—Stephen Johns, artistic director, Exsultate!
"A performance [Nov. 23] highlighting philanthropy through the art of music; joining us will be Sarasota Young Voices and Gulf Coast Community Choir." —Joseph Holt, artistic director, Gloria Musicae
"Repurposed [Feb. 13-May 17]. Contemporary artworks made of nontraditional materials demonstrate the powerful and complex meanings embedded in everyday objects." –Steven High, executive director, The Ringling
"The 35th annual Jazz Festival [March 1-7], featuring world-renowned musicians in day and evening events."—Dave Walrath, president, Jazz Club of Sarasota
"An Evening with Dick Hyman [Feb. 28]. The legendary jazz pianist and composer's world premiere of his Second Piano Concerto, written expressly for the Venice Symphony."—Kenneth Bowermeister, conductor
To see more of our picks for the 2014-2015 Sarasota arts season, click here. >>
This article appears in the November 2014 issue of Sarasota Magazine. Click here to subscribe. >>