Article
Behind the Scenes at the Best of Sarasota 2014 Party
Loren Mayo shares her favorites from Sarasota Magazine's Best of Sarasota 2014 party, including aerial bartenders and delicious cupcakes from Cakes by Ron.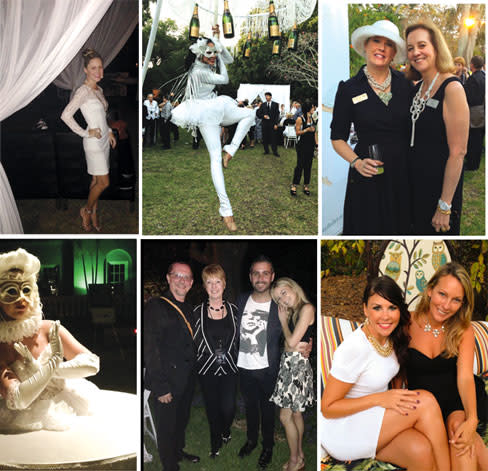 Ever since Selby Gardens added its new Children's Rainforest Garden, I feel like an explorer discovering the Amazon whenever I walk into the place. Cougars, jaguars and anacondas—are they peering at me from behind the cascading waterfall as I trek over the Epiphyte Canyon?  What do they think of my new heels? Thank goodness my girlfriends grabbed me and pulled me back from the brink. I was about to climb up to the canopy walk and scurry across the rope bridge, perhaps to be lost in the jungle forever. But there was a party a-happening that just can't wait—Sarasota Magazine's sold-out, "Best of Sarasota" party—this year, celebrating the magazine's 35th anniversary, too, and with a black-and-white theme, over-the-top food and drink, sparkling crystal lights, and a guest list that seemed to include everybody in town.
I took a few moments to admire the vintage chandeliers shimmering in the twilight as they dangled from tree branches. I strolled past fancy automobiles, black and white of course, and oodles of black-and-white gift boxes, and wind my way around Selby's famous banyan tree (not black-and-white but impressive nevertheless).  And then the most astonishing sight of all—two magnificent beauties, each performing in the center of a cocktail table layered with Chinese-style take-out boxes filled with decadence from Cakes by Ron. One beauty, Lacey Harper, was dressed in black and the other, Bre McCaughey, in white. They gracefully shifted their stances every few seconds. When Lacey mentioned something about an aerial bartender, I decided to take a lap around this lavish paradise to find her.
More than 800 people were meandering about the grounds, past the kiosks from retailers and the booths from bars and restaurants, each serving up some seriously delicious signature delicacy. The aromas of ceviche, crab cakes, foie gras biscuits and tacos seduced my senses as I continued deeper into the flora and fauna. I passed Sally Schule and Anna Palukoshka, having a grand ole time at their Saks Fifth Avenue station, playing dress up with gold chain necklaces galore. Nearby, Rachel Vrancken, private event coordinator for Jack Dusty at The Ritz-Carlton, Sarasota, was pouring something called "Mermaid Bait" into eco-friendly plastic champagne flutes complete with finger grooves. But wait, what the heck is Mermaid Bait? It's a vodka cocktail made from an enticing elderflower spirit called St. Germaine (one of my personal faves, which is actually chilling at this very moment in my freezer), and fresh melon juice topped with Prosecco and lemon juice.
Suddenly, 100 adorable young flash mobbers, choreographed by Stage Door Studios, sprinted onto the scene, performing to a montage of music that spanned the 35 years of the magazine's existence, starting with Staying Alive by the Bee Gees and culminating in Jonathan Cortez singing Pharell's Happy. A little jealous, I immediately felt the need to enhance my bucket list with "participate in a flash mob."
I finally pried myself away. There was so much more to explore. Students from Booker Middle School's Dragonfly Café were giving poetry readings, the Woman's Exchange offered guests "spin to win" chances and Take Care Advisor sisters Courtney Snyder and Erika Borland, along with mother, Susanne Wise, handed out scented candles. My favorite? Gardenia.
I wandered over to the State Street crew—Grace Haitz, Kyle Battie, Victoria Baga Snyder and co-owner Christian Hershman—who were filling pint-size glasses with Bramble cocktails. They were just as much of a home run with guests at the party as they are at State Street Eating House + Cocktails. Hey, can you guys please open your new lounge already?
Nearby, Lindsey Young, Shauna Maglieri, Sarah Wertheimer and Sammi Calabrese, were sipping yet another alluring creation: a bourbon lemonade with fennel simple syrup made by Sarasota's famous restaurant trio: The Francis, Libby's and Louies Modern. The group was talking about the enchanting chandelier bartender. "I'm excited about chandeliers in general tonight," Lindsey confided. Off I went, determined to see this for myself. But the pretty blonde I bump into next is almost as enlightening—she's Molly Hunsinger, marketing and events manager for Sarasota Magazine, and she helped plan this marvelous bash. She's looking remarkably relaxed.  Maybe it's the cocktails. "The best part of all this was working with amazing and talented professionals like Maria Brady and Phil Mancini," she said. "They know how to throw a party!"
They do indeed. But then, finally, I came face-to-face with a sequin-masked, feather-covered, tutu-clad aerial acrobat who was pouring champagne while swinging from a rope that's attached to a massive beaded chandelier. I wished I were the one twirling around like that, the center of attention. And as I looked around at the guests lining up in front of this glamorous apparition, I bet they were thinking the exact same thing. My only regret: I was so busy gabbing with the guests and sampling the Best of Sarasota that I somehow missed Anastasia Yakusheva, who roamed the entire gardens wearing a chandelier on her head!
Soon nighttime set in and the moon was in full effect, and the party started winding down. It had been a magical evening. The music was still playing, the air was salty and warm, and the sky a dark, dark blue. As I made the journey back toward the Amazon, it was all I could do to not jump into that waterfall.
Click here to see more photos from the Best of Sarasota 2014 party. >>
This article appears in the July 2014 issue of Sarasota Magazine. Like what you read? Click here to subscribe. >>