Article
New Bradenton Hot Spots, Restaurants and Shops
A hip Brooklyn-like vibe is infusing our neighbor to the north with new energy and attractions.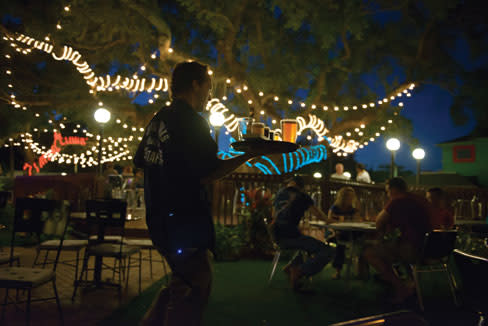 To many people, Bradenton has always functioned as a sort of Brooklyn to Sarasota's glittering Manhattan. There it is, adjacent to all the glamour and sophistication, but not really part of it. Sarasota is the place for the millionaires. Bradenton, in the eyes of too many snobbish locals, is the place where the plumber lives.
In the real Brooklyn, though, an odd thing happened. People started moving there, young, hip people beguiled by the borough's charm, housing opportunities and lack of pretension. More came; bars and restaurants and boutiques sprang up; and a whole new lifestyle appeared out of nowhere. Today, parts of Brooklyn—particularly Williamsburg—are among the most fashionable places to live in all of New York City. Prime Williamsburg real estate is more expensive than the Upper East Side, and infinitely hipper.
Could the same fairy-tale trajectory be in store for Bradenton? OK, not the "more expensive" part. That's kind of a long shot. But the hip part? It's already starting to happen.
There's a new energy to the town. The city government has gotten on board. Riverwalk, a mile-and-a-half-long promenade along the Manatee River, is a big hit. The Manatee Players' new building, and the plays inside, are getting great reviews. There's a beautiful new hotel right in the middle of downtown, inside the renovated shell of an old historic hotel.
But what's really driving much of this new energy is a hardy band of pioneers, some young, some not, who are creating their own sort of Williamsburg. The key word here is artisanal. They are creative people who follow their bliss. They make things with their hands. They're in it for personal satisfaction rather than the possibility of some new app that will make them millions. They have a reverence for the past, for the well-used, the irreplaceable, and the handmade.
They're a key factor in Bradenton's renaissance. And they're a clue to the city's future.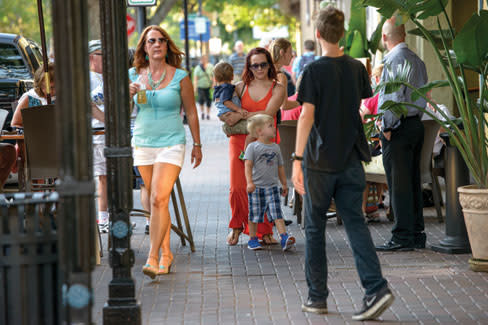 Like Brooklyn, Bradenton is a big place, spread out, with all sorts of neighborhoods. The west side, near the beaches, is pleasant and middle-class, a mix of families and retirees and even some extremely wealthy residents in the mansions lining Riverview Boulevard. The eastern part, beyond the city limits in Manatee County, is dominated by newer developments that attract the same demographic, but offer them more up-to-date homes, along with shopping and dining at the same chains you'll find in Atlanta or Dallas.
And then there's the middle. This is where the interesting stuff is, a mix of not-quite contiguous neighborhoods, mostly old, many with a nitty-gritty edge and a population that is largely working-class.
Some of these neighborhoods are quite small. Let's start with the smallest of all. It's an intersection, really, at the corner of Manatee Avenue and Ninth Street East. This is where all the orange trucks make a sharp left turn on their journey from the interstate to the nearby Tropicana factory, and the gutter is often dotted with stray oranges that tumble off the truck—an only-in-Bradenton image if there ever were one.
This is the most historic corner in town. The ferry dock used to be a block away, and back in the old days that's how you got anywhere—by water. Commercial buildings sprang up to accommodate and feed the travelers, and they're still there, 100 years later, looking like they should have signs reading "saloon" and "opera house." In fact, there actually is a ballroom, now dusty and unused, on the top floor of the one on the corner. And on the ground floor, Pelot's Pharmacy is a time capsule of a 1950s small-town drugstore.
It's here that three of the businesses that typify the new/old Bradenton reside. The one that's been there longest is called Retro Rosie and Cobweb's Unique Finds. If at first glance it looks like a funky old thrift shop, don't let that fool you. It's one of the best vintage clothing stores in Florida, with a client base that stretches to New York and Europe. Two of Sarasota's style icons, perennially best-dressed Jacqueline Morton and glamorous attorney Deborah Blue, are regular customers.
The merchandise is not "used" but rather "vintage," classic clothes from the past that are perfect for the woman—or man—who is creative and perhaps a bit ironic about the way they present themselves. The store is also popular with young, fashion-conscious girls with an arty streak.
Retro Rosie is run by the Lucy and Ethel of Bradenton retailing, Nancy Cobb and Kris Grooms, who are always ready with a wry observation and an interesting piece of gossip. A trip to their store is like visiting an information booth at the state fair. By the way, if you're wondering what is selling these days in vintage clothes, it's the Downton Abbey look. "We can't even keep it in stock," Grooms says. (Mad Men is fading fast.) Prices here are very reasonable, though spectacular finds, like a vintage wedding dress, can go for as high as $600.
Around the corner on Ninth Street, and located in a similar, cavernous old-fashioned storefront, is the legendary Braden River Antiques. Owned by a handsome young man named Jess Sturdevant, it's an antique store for collectors rather than decorators—all of Jess's objects are chosen with such a refined eye that it takes an hour or so to do the place justice. The look is part industrial, part mid-century, part handmade, with a little bit of kitsch thrown in. You'll see a tremendous number of paintings, each one worth studying. The atmosphere here can get a little Dickensian, with some dark corners and the hint of dust in the air, but that only adds to the appeal. Prices are great. I currently have my eye on an Italian secretary—the furniture, not the office worker—from the 1950s, completely clad in green leather. Jess wants $575, but he may come down.
Next door to Jess the newest addition to Old Manatee, as the micro-district is known, is Ocean Rock Design, which could be transported lock, stock and barrel to Williamsburg and fit in perfectly. It's the creation of Veronique Lindell, a Bradenton girl who went to New York and studied at the Fashion Institute of Technology. After designing for Ralph Lauren and the Gap, she returned to Florida and is now making hand-sewn bags, totes and carryalls that you instantly recognize as something new and special.
"I find the fabric and badges at estate sales," she says. "The inside is lined with vintage fabric, from shirts and kimonos. Other than the leather, we don't use anything new." Her French seamstress mother, Marie, helps with the sewing, and they do it right in the shop. Also for sale are interesting knickknacks—old vases and glasses, toys, etc. My friend, Amy, bought one of Veronique's bags, made from an old World War II duffle bag and accented with a Boy Scout badge for $125. She's already received several compliments ("Where did you get that?") back in New York.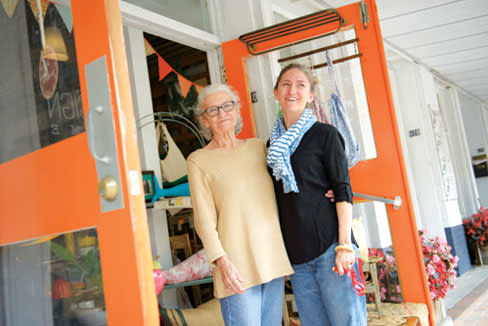 But ultimately, what makes a neighborhood take off is not retail but bars and restaurants, and here the new Bradenton is hitting its stride. When I lived there eight years ago, there was nowhere to eat. Oh, there were some nice "home cooking" type places like Popi's (classic Greek coffee shop food, with six locations all over town). But if you wanted something special, you went out to the beach or down to Sarasota.
Not anymore. Some of the most interesting new restaurants in the area are in Bradenton. In the Old Manatee micro-district, Central Café has established itself as both trendy and tasty, with an aesthetic that's part industrial, part hipster. It looks like an old warehouse, with exposed brick walls and high ceilings, and there's a lovely patio in back. The food is classic artisanal, with the emphasis on fresh local ingredients—try the tomato blue soup, the tuna tacos and the famous Key lime pie. The servers are young, urban, and dressed in black. Best of all, there's a full bar. And save room for an after-dinner ice cream sundae next door at Bradentown Scoop, where they have an amazing old bar made out of onyx, plus antiques for sale and classic sitcoms on the TV.
Even more hip restaurants are located on Old Main Street, in the epicenter of downtown. The Manatee County Courthouse is around the corner, so there has always been a certain amount of activity. But lately the place has blossomed. On the block just north of Manatee Avenue you'll find more than a dozen places to eat and drink, many of them old-fashioned and wood-paneled. On weekends there is live music and the block is packed with the young professional crowd. If you don't know where to go first, start with O'Brick's, which bills itself as an Irish pub and martini bar.
"We started with the bar five years ago, with the restaurant a couple of years ago," says co-owner Rick Willats. "And the difference between five years ago and now is night and day. I've been in this business for 40-some years, and I've never seen a downtown area explode the way this has."
O'Brick's is busy all day, with biz types at lunch, out-of-town visitors in the afternoon, theatergoers having an early dinner in the evening, and, after 10:30 p.m., a younger crowd, 25 and up, hitting the bar scene. "There's a vast age and demographic difference," says Willats.
You can also try the highly touted Soma Creekside, a block or so away, and the town's newest sensation, Derek's. It's a few miles farther west, on Manatee Avenue, and chef Derek Barnes has such a following from his days as a Sarasota restaurateur that people are lining up to get into his new, more casual venue.
The new Hampton Inn on 10th Street is another a big hit. It was remodeled from the famous old Manatee River Hotel (affectionately known at the Pink Palace), which dates back to the 1920s and is on the National Register of Historic Places but for the last decade or so had sat abandoned and derelict. Now people are coming for the weekend. There's plenty to explore: the South Florida Museum and Bishop Planetarium, which includes an aquarium with the world's oldest manatee, the award-winning Manatee Players in its fancy new theater, the Saturday morning farmer's market and the riverfront marina where people live on their boats.
For the Manatee Performing Arts Center, the new, larger, more technically adept space has provided opportunities for growth, says executive director Janene Witham: "We were constantly sold out in our old theater, but here we can offer films, concerts and other programming and engage different audiences that way. We've had rentals from everyone from the Sarasota Opera to the Brandon Ballet, and we've increased our reach beyond Manatee and Sarasota"—to Pinellas and Hillsborough counties, for example, for which Bradenton is actually pretty convenient. She says they're filling the new facility seven days a week, often with multiple events reaching not just boomers but audiences of all ages and interests.
And everybody loves Riverwalk. Bradenton has always been famous for its riverfront location, right on the mile-wide Manatee River, but for decades any sort of capitalizing on this asset was stymied by politics and lack of funding. That all changed when Riverwalk opened in October 2012. Now it's one of the crown jewels of the community—a promenade along the river, with playgrounds, an amphitheater, outdoor "living rooms," a fishing pier, plus all sorts of activities that are perfect for the young and creative, including a blues festival in December and even a successful gay pride celebration.
Leading the efforts to jump-start Bradenton and to pull all its assets into attractive package is an organization called Realize Bradenton. It's headed by Johnette Isham, who used to be vice president for academic affairs at Ringling College but now spends her time talking to people, organizing events, dealing with the city government, and figuring out how to connect all the pieces to promote economic and cultural growth.
When Johnette and her husband, Jeff Plunkett, moved up from Sarasota a few years ago for her new job, they thought they would probably settle in an old house in Wares Creek. After all, part of the fun of living in a Brooklyn kind of place is the house or apartment you can get, hopefully cheap and full of character. And Wares Creek is a classic bungalow neighborhood, right on the western edge of downtown. It has block after block of homes dating back to the 1920s, all on shady, tree-lined streets.
But after carefully examining the closet space and plumbing problems in those older homes, Johnette and Jeff decided on something else. They built a brand-new house, in the Craftsman style, but with 2,100 square feet of living space and bright open interiors filled with their art collection—mainly local artists and Ringling faculty members. The exterior is pure Old Bradenton, but the interior suggests, well, a hip Brooklyn loft.
And it's not in Wares Creek but rather one of the other old neighborhoods, Point Pleasant. Located on a peninsula that juts into the river, the Point is a mixture of grand old houses, small apartment buildings, waterfront townhouses, and the atmospheric old Point Pleasant Apartments, a Spanish-style building that dates back to 1925. It has housed many generations of creative people just starting out in their careers, including at least two senior staff members here at Sarasota Magazine.
Johnette's favorite Bradenton moment occurs early in the morning. "Around 5:30 or so we can hear the whistle from the orange juice train, heading out from Tropicana for points north. And sometimes, when the wind is blowing right, there's the fragrance of oranges in the air. History, a sense of place—it's all more apparent here," she says.
By this time you're probably wondering, what about Village of the Arts? It was the original harbinger of all this artistic redevelopment, a half-square mile of dilapidated old houses in a rather blighted part of town a mile or so from the river. The theory was that artists and craftspeople would buy the houses, fix them up and then operate live/work galleries that would bring in tourists.
This was back in 1999, and the journey has been rocky. Just as things were getting off the ground, the recession hit. Some artists moved, some were foreclosed upon, and the whole concept seemed like it might peter out.
But now, thanks to Realize Bradenton and a much more enlightened policy at City Hall, Village of the Arts is getting a second chance. The galleries are sprucing up, new signage is planned to give the place more visibility, and the recent—and beautifully done—refurbishment of nearby McKechnie Field, spring training home of the Pittsburgh Pirates (and summer home of its Bradenton Marauders League) and one of the oldest ball parks in the country, is creating a whole new district for future growth. Three new micro-breweries—the surest indication of hip lifestyle—are springing up and are packed with young people on the weekends. The potential is unlimited—sports, the arts and craft beer—all in an historic setting.
Still, some people complain that Village of the Arts is tricky to visit. The neighborhood has improved—but not all that much. Most of the artists have day jobs elsewhere, and the galleries and stores have erratic schedules. The best time to plan a trip is when one of the monthly art walks is scheduled. You can wander from one brightly painted bungalow to the next, sipping wine and checking out the art. It's the sort of place where cats seem to be everywhere, sleeping on chairs and wandering in the gardens.
Don't miss Divine Excess, which features high-quality folk art. Owner-artist Zoe Averkamp creates beautiful Mexican-inspired pieces, crafted with bits of old jewelry and found objects ($50 to $250). The Village Mystic has a variety of New Age stuff. While I was there a young man came in, a little sweaty and exhausted. He had just bicycled up from Sarasota to check out the crystal skulls. And Retrobaked has delicious cupcakes, which, amazingly, are made without gluten, dairy, or eggs.
But a cupcake isn't going to be enough. Plan to have a meal. Nowadays, people choose their restaurants based on the online reviews, and Village of the Arts has three of the four top-rated places to eat in Bradenton, according to Trip Advisor. No. 1 on the list is Arts and Eats. Located in a tiny house with a charming back garden, Arts and Eats features food both idiosyncratic and superb (if a trifle expensive). On a recent night the place was packed, and they had a man with a bushy white beard playing guitar and singing The Night They Drove Old Dixie Down.
Which brings up another point. Not all of the creative class is young and starting out. Some got their bohemian credentials back at Woodstock. Now that they're retiring, they still want a place that suits their way of life. Can Village of the Arts, along with the rest of the new Old Bradenton, fill this niche? Who knows? Maybe soon, along with the creative class and the young entrepreneurs, aging Williamsburgers will be moving down here.
Click below to see a video of downtown Bradenton retailers discussing the city's renaissance.
[iframe][/iframe]
Contributing editor Robert Plunket is author of two novels, Love Junkie and My Search for Warren Harding.
Contact Info for Businesses Mentioned in This Story:
Manatee Players
502 Third Ave. W.
(941) 748-5875
Pelot's Pharmacy
831 Manatee Ave. E.
(941) 748-8130
Retro Rosie's
817 Manatee Ave. E.
(941) 708-0913
Braden River Antiques
426 Ninth St. E.
(941) 750-0707
Ocean Rock Design
430 Ninth St. E.
(646) 247-4951
Popi's Place
5820 Ranch Lake Blvd.
Central Café
906 Manatee Ave. E.
(941) 757-0050
Bradentown Scoop Ice Cream Parlor
904 Manatee Ave. E.
(941) 757-0953
Manatee County Courthouse
1115 Manatee Ave. W.
(941) 749-1800
O'Bricks Irish Pub and Martini Bar
427 12th St. W.
(941) 896-8860
Soma Creekside
1401 Manatee Ave. W.
(941) 567-4001
Hampton Inn & Suites Bradenton Downtown Historic District
309 10th St. W.
(941) 746-9400
hamptoninn3.hilton.com/en/hotels/florida/hampton-inn-and-suites-bradenton-downtown-historic-district-SRQDTHX/index.html
South Florida Museum and Bishop Planetarium
201 10th St. W.
(941) 746-4131
McKechnie Field
1611 Ninth St. W.
(941) 748-4610
Divine Excess Folk Art Gallery
1125 12th St. W.
(941) 747-1320
The Village Mystic
1017 12th Ave. W.
(941) 744-2424
Retrobaked
933 12th St. W.
(941) 713-3051
Arts and Eats Restaurant and Gallery
1114 12th St. W.
(941) 201-6647
For more from Bob Plunket, click here to read his Real Estate Junkie blog. >>
This article appears in the June 2014 issue of Sarasota Magazine. Like what you read? Click here to subscribe.