Article
Sarasota Matchmaker Debra L'Heureux Helps Clients Find Love
Debra L'Heureux helps Sarasota singles find love.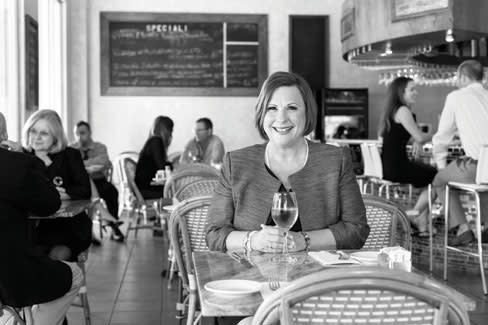 Especially in a region like ours, where many people are newcomers without family and friends to make introductions, it can be hard to find a life partner. Enter Debra L'Heureux, whose passion for the past 12 years has been helping Southwest Florida clients find love through her "My Top Matchmaker" service.
"We handcraft all our matches. This is the good, old-fashioned art of matchmaking. We don't use computers or software. People have a complimentary 90-minute consultation, where I get to know the client and they get to know me. If they want to become a client, I do a background check, employment verification, etc. When I have a match, I set up a date at a nice restaurant. They do not exchange information; they speak through me if they want to see the person again.
"[My clients] are college-educated, financially stable, and want to find love in their lives. This is not about casual dating. [Some are] very high-profile and they appreciate that through the introduction process only their first name is shared. There's a sense of security in that.
"Nice people do online dating, but it's like looking for a needle in a haystack because a lot of people misrepresent themselves online. You have to weed through who is telling the truth. It becomes a part-time job. And how can you tell through a computer who you're really attracted to?
"One client is a widower who was married 40 years. His wife died and he waited five years before he started dating again. Now he's in a serious relationship. He called me and said, 'Debra, I got up this morning and I have joy in my life again.' That is my heart. It is all about love and passion and finding someone to spend your life with.
"Matchmaking is a process. It takes time. Some people want instant results, but they have to be patient. I take between 15-18 hours per match. I study their interests, their personalities, their backgrounds, all of that. I tell women it only takes one man to change your life. I am committed, but we don't have a crystal ball. I am extremely empathetic, however. I put myself in their position and help them work through their emotions.
"If a woman or man were a gold digger, they would probably not be in the financial position to pay for the membership. Through the interview process I would be able to discern that. I have financially stable, single adults who are widowed or divorced, but I do not have gold diggers apply for my services.
"[The biggest mistake people make] is when they decide to date someone based on physical appearance alone. There has to be a physical, emotional, and intellectual connection. You need to have all three."
Debra's Tips for Finding Lasting Love
Call a Pro
"If you want to lose weight, you hire a personal trainer. If you want legal help, you go to an attorney. If you want love, you go to a matchmaker."
Reality Check
"I won't match a 75-year-old man with a 35-year-old woman. We carve out realistic expectations."
Demand
"I see one to four clients a day. I'm very busy."
Click here to read past "My World" interviews. >>
This article appears in the April 2014 issue of Sarasota Magazine. Like what you read? Click here to susbcribe. >>