Article
Go Behind the Scenes at Ellenton Ice and Sports
Fun facts about the Ellenton Ice and Sports complex.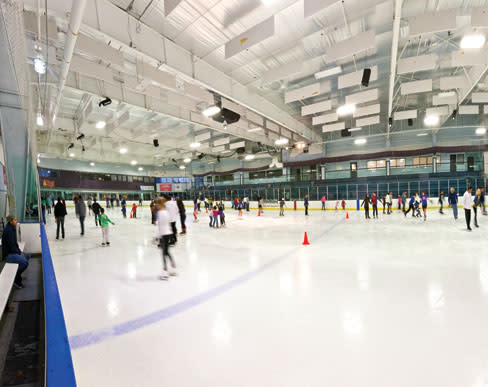 In the middle of northern Manatee County's flat expanse of sun-soaked farmland lies a cool oasis: Ellenton Ice and Sports. The 15-year-old facility, known from the outside for its distinctive dome (it was originally called J.P. Igloo) and larger-than-life hockey player skating out of the wall toward I-75, contains two ice rinks that host everything from kids' birthday parties to Olympic athletes: Three pairs of Sochi-bound figure skaters, as well as U.S. hockey's Lamoureux twins, trained here before the games. Ellenton Ice is also the annual home of this month's USA Hockey 60-and-over nationals tournament; catch the action April 10-13.
Factoids:
$30,000: Monthly cost for cooling the ice
The on-site pro-shop sells hockey gear, figure skating equipment and offers skate sharpening and other maintenance services.
150: Average number of attendees at Ellenton's regular public skate sessions
The two Zamboni ice resurfacers use Volkswagen engines.
Three compressors running 24-7 keep the ice frozen.
Home rink of the Gulf Coast Flames youth hockey team, the Manatee County Admirals and Sarasota County Rampage high school hockey teams, and the Tampa Bay junior hockey program.
The lobby's distinctive dome was inspired by an igloo.
Netting above the glass around the rink's perimeter keeps spectators safe from wayward pucks.
Martina Navratilova, then a Casey Key resident, played two seasons (2007-2009) with the Ellenton Ice-based Ms Conduct adult women's amateur hockey team.
The 115,000-square-foot-facility also includes 15 locker rooms, two referees rooms, five party rooms, one classroom, 10 offices, one multipurpose room, one indoor soccer field and a state-of-the-art fitness facility.
200 feet by 85 feet—hockey rink size
1.5 inches of ice—kept at about 22 degrees Fahrenheit—over a painted concrete base.
Click here to see past Freeze Frames. >> 
This article appears in the March 2014 issue of Sarasota Magazine. Like what you read? Click here to subscribe. >>