Article
Best of Sarasota 2014: Food and Drink
Exactly where and what to eat in Sarasota right now.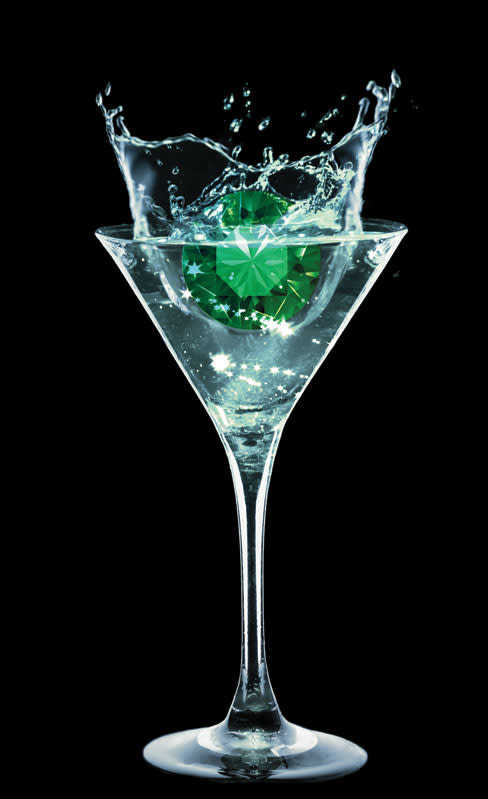 Best New Coffee Bar: Perq Coffee Bar
Tired of your usual cup of joe? At Perq in Southside Village, they're brewing single-origin craft coffees from artisan roasters on a custom-made Slayer espresso machine, famous among coffee connoisseurs. An in-house pastry chef turns out small-batch sweets, and the cool young crowd adds to the fun. 1821 Hillview St., Sarasota, (941) 955-8101, perqcoffeebar.com.
Best New Cuisine: Elevated Rustic Coastal at Derek's
We're convinced that chef Derek Barnes' new Bradenton restaurant does nothing less than establish a defining Gulf Coast cuisine, as sophisticated as it is relaxed. With dishes like wild pink shrimp with Cortez bottarga, yellowfin tuna tartare "Kentuckyaki," or Southern fried tofu and waffles, Derek's embraces the flavors and feeling along the Gulf of Mexico, from Florida to New Orleans. 5516 Manatee Ave. W., Bradenton, (941) 794-1100, dereks-bradenton.com.
Best Alternative to Ice Cream: The Donut Experiment
Shawn and Cecilia Wampole, former Philadelphians who quit their jobs to move to Anna Maria and open a doughnut shop, bake fresh cake doughnuts every day, then dip them in a choice of five icings and more than 15 toppings. The perfect snack for a day at the beach? We think so. 210 Pine Ave., Anna Maria, (941) 896-3172, thedonutexperiment.com.
Best New French Café: Lolita Tartine
This charming, sunlit spot (from the owners of Main Street's C'est La Vie) brings a bit of France to the ever-evolving Rosemary District. Named for its open-faced sandwiches (tartine) served on thin, rustic toast, Lolita Tartine also offers other French faves, from soups to wine to pastries, to a Continental-looking crowd gathered inside and at shaded sidewalk tables. 1419 Fifth St., Sarasota, (941) 952-3172, lolitatartine.com.
Best New Hotspot: Social on First Eatery & Bar
A chic cocktail spot with tasty small plates (meatballs, pretzel-dusted fried calamari, pizzas) is just what downtown Sarasota needed, and Social is the perfect name for this place. With its modern-urban design, including an outdoor bar with sleek couches and a stylized fire pit, it's become a hotspot for everyone from artists and socialites to young professionals. 1219 First St., Sarasota, (941) 444-7072, socialonfirst.com.
Best New Downtown Restaurant: Louies Modern
Yes, it is modern, from a menu that showcases the latest flavors (burrata with heirloom tomatoes on a pink Himalayan salt block, a salmon BLT, vegan shepherd's pie) to couture cocktails and a cool, contemporary design. Big windows overlooking bustling Palm Avenue admit ever-changing light, the open kitchen provides interest and entertainment, and beautiful people fill the room, creating a festive buzz. 1289 N. Palm Ave., Sarasota, (941) 552-9688, louiesmodern.com.
Best New Back Yard: Owen's Fish Camp
We've loved Owen's since it opened, but these days we're hanging out there even more thanks to the inviting new outdoor space. The bar now opens up to a porch and grassy yard, complete with rocking chairs and swings, and there's often folksy live music, too. Grab a drink, head out back and mellow out while you wait for your table. 516 Burns Court, Sarasota, (941) 951-6936, owensfishcamp.com.
Best News for Carnivores: Roast Restaurant and Bar
One of downtown's most charming vintage buildings finally has a restaurant that can live up to the space. Roast delivers creative starters, seafood and cocktails, but it also serves up some serious protein, from osso bucco, duck and lamb to a full menu of steaks. Don't forget to order the duck-fat fries, and do check out the comfy upstairs lounge. 1296 First St., Sarasota, (941) 953-1971, roastsarasota.com.
Best New Reason to Love Chef Shiplett: Soma Creekside
"Southern style with California attitude" is how longstanding Bradenton chef Dave Shiplett (formerly of Ezra and SOMA Diner) describes his new Soma Creekside cuisine. The menu changes often, but you can expect Shiplett's famous fusion of French, Southern, Asian and more—including his popular calamari salad with that fantastically kicky wasabi dressing. 1401 Manatee Ave. W., Bradenton, (941) 567-4001, somacreekside.com .
Best News for Beer Lovers: Motorworks, Big Top, JDub's
Suds lovers, rejoice: Three new breweries—Bradenton's hot rod-style Motorworks (brewing, tap room and beer garden) and Sarasota's beachy JDub's Brewing Company and circus-themed Big Top Brewing (brewing and distribution; tasting rooms to come)—have finally made our beer scene something to brag about. Motorworks: 1014 Ninth St. W., Bradenton, (941) 567-6218, motorworksbrewing.com; Big Top Brewing: 6111 Porter Way, Sarasota, (941) 371-2939, bigtopbrewing.com; JDub's Brewing Company: 1215 Mango Ave., Sarasota, (941) 955-2739, jdubsbrewing.com.
Best New Cocktail: Bert's gin and tonic at P.F. Chang's China Bistro
We knew all about the legendary lettuce wraps, but we never dreamed that the sleek and airy new P.F. Chang's would serve such killer cocktails. This refreshing, sophisticated sipper is the star. Your choice of premium gin is poured onto a big round ice cube (melts slower) with fresh citrus, star anise and a little bottle of Fever-Tree tonic. 766 S. Osprey Ave., Sarasota, (941) 296-6002, pfchangs.com.
Best New Alternative to Your Neighborhood Bar: Sarasota Tea House, Elixir Tea House
Who knew? Tea houses are the hot new meet-up spots, and we have two lovely ones, each offering nuanced menus of the steeped stuff and cozy, inviting environments for sipping, savoring and conversation. The Tea House: 1869 Fruitville Road, Sarasota, (941) 346-6361; Elixir Tea House: 1926 Hillview St., Sarasota, (941) 373-1800, elixirteahouse.com.
Best New Way to Get Religion: Blue Rooster's Sunday gospel brunch
Praise the Lord and pass the catfish: Blue Rooster's Sunday brunch elevates biscuits and bloody Marys to pure heaven. The Southern-style Sunday buffet ($24.95; think cheesy grits, buttermilk waffles, fried chicken and brown sugar-glazed ham) is accompanied by live gospel singers and a rotating menu of toe-tapping musical offerings. 1525 Fourth St., Sarasota, (941) 388-7539, blueroostersrq.com.
Best New Specialty Italian: Sardinia
The South Trail space is lovely and tranquil, and the food from the owner/chef's kitchen captures the earthy, satisfying flavors of his native Sardinia, a pastoral island off Italy's west coast. Be sure to try the signature house-made ravioli topped by tomato sauce and flavored with fresh oranges, and prepare to swoon over the thin, crispy "sheet music" bread. 5770 S. Tamiami Trail, Sarasota, (941) 702-8582.
Best New Venice Bar: Aperitivo at Made in Italy
This is not your grandmother's Venice. Named for a pre-meal cocktail, Aperitivo Bar boasts
a sexy décor with blue-lit liquor shelves and adds a jolt of urban sophistication to the once sleepy small town. It's worth a drive to take in the scene, sip fresh-fruit cocktails and hear live music, too. (The Italian-born co-owners run the excellent Made in Italy restaurant next door.) 117 W. Venice Ave., Venice, (941) 488-8282, madeinitaly-venice.com.
Best Roadside Renovation: Hob Nob
We fretted when we heard our beloved downtown drive-up was getting a fancy new facelift. But not to worry—the iconic, 57-year-old landmark is now cleaner and diners are more visually separated from traffic; but it hasn't lost any of its funky charm, from the wooden picnic tables to the classic menu of beer, burgers and fries. 1701 N. Washington Blvd., Sarasota, (941) 955-5001, hobnobdrivein.com.
Best New Juice Bar: CROPjuice
The pitch-perfect acronym stands for "Cold-pressed, Raw, Organic Produce," and this former Downtown Sarasota Farmers Market standout now has a store in Gulf Gate. Its handcrafted juices, made from local products, include big servings of leafy greens flavored with combinations of citrus, apple, beets, ginger and more, served cold and delicious within 72 hours of juicing. 2320 Gulf Gate Drive, Sarasota, (941) 923-8640, cropjuicesrq.com.
Best New Vietnamese Restaurant: Le Anh's
From this unassuming former Pizza Hut on the North Trail comes a fantastic new option for the French-Asian flavors of Vietnam. Sure, we could list a few of the 130 or so authentic Vietnamese dishes on LeAnh's menu, but that might make us seriously hungry. But can we just mention those pork-skin-stuffed spring rolls? 2901 N. Tamiami Trail, Sarasota, (941) 355-7909, leanhrestaurant.com.
Best New Neighborhood Cafe: Matto Matto Italian Café & Wine Bar
The sunny patio at the intersection of Orange and Pineapple now sports lively tables of diners enjoying wine and real-deal Italian fare. The full menu of pastas, pizzas, panini and more is served inside, too, but we love the alfresco setting for a lazy lunch, twilight aperitif or after-Burns Court-movie dinner. 543 S. Pineapple Ave., Sarasota, (941) 444-7196, mattomatto.com.
Readers' Picks
Best Amish Restaurant
Yoder's
Der Dutchman, Dutch Valley
Best Japanese Restaurant
DaRuMa Japanese Steakhouse & Sushi Lounge
Jpan, Pacific Rim
Best French Restaurant
C'est la Vie
Café L'Europe, French Affair
Best Latin-American Restaurant
Selva Grill
Columbia, The Cottage
Best Italian Restaurant
Caragiulos
Carrabba's Italian Grill,
Primo Ristorante
Best Mexican Restaurant
Mi Pueblo
Two Senoritas
Best Seafood Restaurant
Walt's Fish Market & Restaurant
Owen's Fish Camp, Phillippi Creek Village Restaurant & Oyster Bar
Best Sushi Restaurant
Pacific Rim
Jpan, Yume Sushi
Best Vegetarian, Special Diet or Gluten-Free-Friendly Restaurant
Veg
Ionie Healing Center & Raw Food Cafe, Simon's Coffee House
Best Venice Restaurant
Sharky's on the Pier
Crow's Nest Marina Restaurant, Made in Italy
Best Manatee County Restaurant
Pier 22
Central Café, Beach Bistro, Ortygia
Best Restaurant to be Seen At
Yoder's
Red Clasico, Louies Modern
Best Restaurant for Breakfast
First Watch
Blue Dolphin Cafe, Yoder's
Best Restaurant for Brunch
First Watch
Shore Diner, Station 400
Best Romantic Restaurant
Ophelia's on the Bay
Chart House, Indigenous
Best Thai Restaurant
Bangkok
Pacific Rim, Thai Wasabi
Best Restaurant/Bar for Craft Beer
Mr. Beery's, World of Beer
Best Waterfront Dining
Ophelia's on the Bay
Marina Jack, Old Salty Dog
Best Restaurant for Steak (Chain)
LongHorn Steakhouse
Fleming's Prime Steakhouse & Wine Bar, Ruth's Chris Steak House
Best Restaurant for Steak (Non-Chain)
Michael's On East
Mattison's City Grille, Alpine Steakhouse
Best Restaurant Wine List
Michael's On East
Fleming's Prime Steakhouse & Wine Bar, Libby's Café + Bar, Ruth's Chris Steak House
Best New Restaurant
Social on First Eatery & Bar
Louies Modern, MADE
Best Chef
Paul Mattison
Darwin Santa Maria, Mark Woodruff (MADE)
Best Burger
State Street Eating House & Cocktails
Patrick's 1481, Yoder's
Best Barbecue
Nancy's Bar-B-Q
The Oaks Open Pit, Sonny's Real Pit Bar-B-Q
Best Caterer
Michael's On East
Mattison's, Morton's Gourmet Market
Best Coffee Shop (Non-Chain)
Perq Coffee Bar
Pastry Art Bakery & Sandwich Shop, Simon's Coffee House
Best Special Occasion Restaurant
Indigenous
Euphemia Haye, Michael's On East
Best Dessert
Yoder's chocolate cake
Café L'Europe's bananas Foster, Duval's New World Café's bread pudding
Best Pizza (Non-Chain)
Il Panificio
Pizza SRQ, Rico's Pizzeria & Pasta House
Best Sandwich
The Surfer at Anna's Restaurant & Deli
Main Bar's Italian, Mozzarella Fella's eggplant Parmesan
Best Specialty Food Market
Morton's Gourmet Market
The Fresh Market, Whole Foods Market
Best Gourmet Store
Morton's Gourmet Market
As Good As It Gets, The Fresh Market
Best Place to Buy Wine
Total Wine & More
ABC Fine Wine & Spirits, Norman's Liquors & Fine Wines
Best Bakery
Flour Parlor
Publix, Yoder's
Best Sports Bar
Gecko's Grill & Pub
Evie's Tavern & Grill, Miller's Sarasota Ale House
Best Cocktail
The Bramble at State Street Eating House
Bloody Mary at Libby's Café + Bar, Blueberry Smash Mule at Social on First
Best Happy Hour Menu
Libby's Café + Bar
Bijou Café, Hyde Park Prime Steakhouse
Best Mixologist
Ashley Bruce at Miller's Sarasota Ale House
Adam Stoneking at Libby's Café + Bar, Brad Coburn at Pangea Lounge, Mike Yoder at Shore Diner
Click here to read more editors' and readers' picks for the Best of Sarasota 2014. >>