Article
An Insider Glimpse at the Annual "Camp Kotok" Financial Summit
Every summer, Sarasota's David Kotok invites some of the biggest names in global finance for fishing and freewheeling discussions deep in the woods of northern Maine. Contributing editor Tony D'Souza listens in.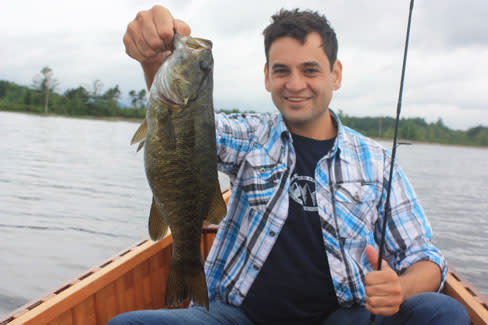 Some people in this world are well-liked. Then there's David Kotok.
It's because of Kotok's power of personality that in early August of last summer, I find myself standing in the rain in what has to be one of America's most remote corners. It's taken me three flights to get here, a four-hour bus ride, and the rest of the trip I've done in a rental car. Now I'm in Grand Lake Stream, in far eastern Maine, a beautiful, forested place less than 20 miles from the Canadian border.
I've been told that there are moose in these dark woods, and I certainly believe it. I don't know that I've ever felt so cold in the smack-dead-middle of summer.
"How was the fishing?" I call from the shore to David Kotok, chairman and chief investment officer of Sarasota's Cumberland Advisors, as he arrives from his day on the lake.
"What can I say?" he says with a laugh. "The weather. We were like wet rats."
This is the 13th edition of the four-day "Camp Kotok" retreat, a coveted invitation-only meeting of some of the brightest, most influential minds in economics and finance. Held at the historic Leen's Lodge fishing camp, Camp Kotok counts among its nearly 70 attendees the chief economists of Wells Fargo, Fannie Mae, Nationwide and Deutsche Bank, and representatives from the Federal Reserve Banks of Chicago, Dallas and Philadelphia.
Over the two days that I'm here, I'll meet high-profile financial analysts, fund managers, leading economic professors, one former Presidential adviser, and even a commodities meteorologist. Collectively, these luminaries manage roughly $100 billion.
That the affable Kotok, 70, continues to convince these people who could certainly be on a beach somewhere to join him up here in the rain should illustrate just how well-liked this man is. If the ridiculous journey weren't enough, it should also be noted that these wizards of Wall Street spend the Camp Kotok weekend sleeping on rustic bunk beds.
Tonight, the second of the retreat, Kotok has invited yet another luminary to address the group at dinner—Maine's outspoken Gov. Paul LePage. But right now, everyone is gathered on the lodge's back deck to enjoy the evening drizzle over fine wine and steamed clams. If there has ever been a happier group of cold, wet people, I've never seen it.
I strike up a conversation with Danielle DiMartino Booth, senior financial analyst and adviser at the Federal Reserve of Dallas, and Jack Rivkin, who among many other projects, serves on the board of directors of Idealab, a Pasadena-based venture capital incubator associated with Caltech. Why have they chosen to subject themselves to this subarctic weather, I ask?
"This is probably the most unique, interesting, friendly gathering in all the country," DiMartino Booth tells me as she sips a red supplied especially for this event by California's Martinelli Winery. "It's Chatham House Rule. You can say whatever you want."
"There is a lot of animated discussion," Rivkin agrees. "But no one is calling anyone else names."
"Or they won't get invited back," DiMartino Booth explains.
Chatham House Rule, a confidentiality protocol that prevents anything that anyone says here from being quoted without their permission, allows everyone at Camp Kotok a rare, unguarded forum for sharing their opinions. Many of those here—including Kotok—are regular commentators on CNBC, able to affect markets with their words. Camp Kotok is a welcome respite from that.
The financial press is all here, Bloomberg, Dow Jones Newswires, Reuters and the Wall Street Journal, for scheduled media interviews, but otherwise as bound by Chatham House Rule as everyone else.
A well-known money manager pulls me aside to tell me a story he says I can quote as long as he remains anonymous. "I learned my lesson during the '89 crash," he tells me. "I was at Salomon Brothers, the Wall Street Journal interviewed me, the quote they pulled out was that the economy was making me cancel my second patio and a cobblestone driveway. I got back to work and was told, 'This won't happen again. You get quoted by the Wall Street Journal again this year, you're out on your f------ ass.'"
"Camp Kotok's great," Rob Arnott, chairman of Research Affiliates, nods and says. "You know you can relax and say what you want. You get fierce debate over seemingly minor minutiae, and what happens in Vegas stays in Vegas."
David Kotok found this wild, rugged place a quarter century ago on a lucky tip. As we wait for Gov. LePage's arrival, Kotok, with his trademark bonhomie, recounts for me the story of how he was shopping in the L.L. Bean in Freeport, Maine, one day with his son, then 13, when a guide asked if he wanted to go to a great fishing hole.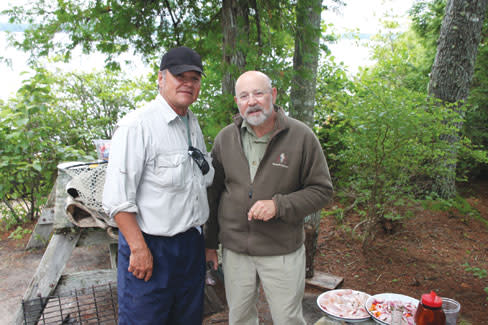 "He had a boat, the three of us got in his truck, and then we rode forever," Kotok tells me. Where he ended up was right here, Grand Lake Stream, a tiny "plantation"—the Mainer word for a small, rural town—adjoining the Passamaquoddy Indian Reservation. They headed out on the lake, the fish started biting, Kotok came back with friends, and the rest is history. That guide? It was a young Pat Keliher, now commissioner of the Maine Department of Marine Resources.
Camp Kotok is a major annual event here, employing nearly every local member of the Grand Lake Stream Guides Association, and bringing much-needed revenue to one of the Northeast's poorest regions. The town itself is a small collection of weatherized homes, many with boats in their yards, centered around the Grand Lake Stream Fish Hatchery, which rears the area's signature landlocked salmon. In the Pine Tree Store, you can admire the mounted deer heads, choose from a huge assortment of dry flies, or order a pizza. The bench by the door is called The Liar's Chair, where the locals tell fishing tales.
Charles Driza, once a city engineer in Patterson, N.J., and the owner of Leen's Lodge, is tending a huge pot of Maine lobsters outside as we wait for the governor. Steam blows off the boiling waiter like smoke from a refinery. His niece, Angela, is here to help out with the cooking, as is the extended family of Laura Jean King, the lodge's Passamaquoddy head cook. Driza's son, Charles Jr., 26, a University of Connecticut graduate with a degree in finance, takes a moment to tell me about how coming up to the woods was a lifestyle decision his father made to spend more time with his son.
"He bought it when I was 13 years old," he tells me. "When we first came up here it was literally just him and me. You're talking about a business that had been famous, but had become ragged buildings and empty bunks. We've almost rebuilt every cabin over the years. The success comes partially from ignorance about what we were getting ourselves into."
Back in the '50s, Leen's Lodge was a favorite haunt of Ted Williams; the sportscaster Curt Gowdy and the band Three Dog Night entertained their friends here later on, too. And now the Drizas have David Kotok, who they've taken in like family. Charles Jr. tells me, "The connections David brings here are just ridiculous. The odds of seeing one of the guys on TV are very high. If a guy cancels that day, the bed will be filled that night. People really want to come to this event."
An SUV arrives in the small gravel lot. It's embattled Gov. LePage come from the politically divided state capital, Augusta, with a security guy and a press secretary. I catch him on his way in, ask why he's here. He gives me one of his rumbling laughs and says, "Anytime you're invited to this part of the state, you neva say no. Neva. You have to spend a day in Augusta to see why this is such a treat."
Inside the lodge's trophy fish-lined dining room, David Kotok calls for silence, reminds the group of friends who have passed and the scholarships in their memories, then transitions into a story. He tells us, "Last year we had an honored guest and we had a lot of fun. I said to him, 'Governor, you have to be nice to me.'
"He said, 'Why do I have to be nice to you?' I said, 'Because our firm has 350 million in Maine bank bonds. You owe us money.' We had a glass of wine and toasted each other and he said, 'David, you have to be nice to me. You're the one who wants to get paid.'"
It's LePage's turn to talk, and the Republican tells his audience, "Last year was tough for the state of Maine. The President was re-elected handsomely, we took a real licking. We lost a majority in the House and Senate. What I care about is this: If you're going to be respected in the world, you pay your bills. There is an enormous amount of brainpower in this room and we'd like to tap it to help Maine move forward."
Then the governor's mood changes; he grows quiet, almost reflective. He puts his hands together like he's praying and tells the group, "My latest comment was a very bad slip of the tongue. That was not a good comment and I apologize to everybody. I got a couple cases of Vaseline sent to me by a lot of people; I can have a sale on it. I'll try to leave the Vaseline at home because, man, I'm running out of room."
He's talking about the scandal he ignited back in June, when he said of a rival party state senator, "[He] claims to be for the people, but he's the first one to give it to the people without providing Vaseline." He's been the target of withering criticism ever since, and if I hadn't fully understood the power of the people David Kotok has assembled here, I do now. Perhaps the brashest governor in the United States has brought his apology to them.
David Kotok brought Cumberland Advisors—a registered investment advisory firm (RIA) with more than $2 billion under management in 1,700 separately managed accounts and another significant amount under management for institutional clients—to Sarasota from New Jersey four years ago. The move was widely regarded as a coup for the city. A member of the National Business Economics Issues Council, the National Association for Business Economics, and director and program chairman of the Global Interdependence Center, Kotok calls some of the most important names in U.S. economics friends. He's been generous with his connections, supported students and programs at New College, and has invited Sarasota financial advisers to his retreat.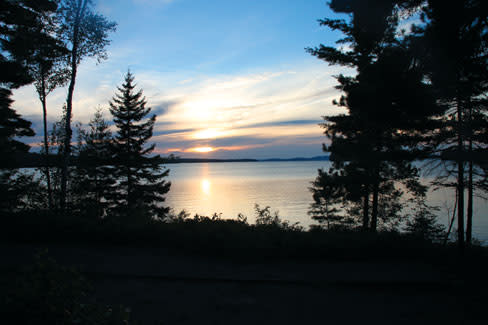 Over breakfast on my second day, I chat with Carla Plush Smith of the Sarasota accounting firm Plush Smith PA, who's enjoying her first weekend at Camp Kotok. She tells me, "He invited me; it sounded like an adventure. With all these people who are learned, intelligent, who is going to pass that up? David loves to get people together. He's an awesome resource for Sarasota."
Judy Schwartzbaum, a Morgan Stanley senior VP of wealth management in Sarasota, is also a newcomer to Leen's Lodge. As we head out to meet our guides, she tells me, "This is an opportunity to hear from some of the best minds in a casual environment. I've been doing more listening than talking, coming away from all of this with new ideas. This is good for my clients, absolutely."
Fishing seems to be the perfect metaphor for what the people assembled here do. Among the topics that have been hotly debated over the dinner tables and late-night poker games are who President Obama will chose to replace Ben Bernanke as the next Federal Reserve Chairman—the near unanimous consensus is Janet Yellen—and when the Fed's highly anticipated tapering of stimulus policy will begin, on which there is no consensus at all. Attendees have been making $5 bets on everything from what the price of gold will be this time next year, to oil, the euro, and the level of the S&P 500. There are fiscal hawks and doves in this group, people from both sides of the political aisle. I've heard so many opposing opinions on housing, it feels like everyone is fishing, even when they're not in the boats.
I arrived too late yesterday to make it out on the lake, but today I'm assigned a canoe with Bill Strauss, senior economist and economic adviser in the Economic Research Department at the Federal Reserve Bank of Chicago. It's his first Camp Kotok, too, and he tells me that the day before, the rain had drowned his luck. But today the sky is clear, and for all my teasing about how cold it's been, I'm able to strip down to just three warm layers. We help our guide, Steve Schaefer, put our canoe in the water, and he motors us out onto Big Lake.
I've come to understand that this is David Kotok's master plan, to have unlike minds spend the day together, trading ideas in a boat. And it's not just any boat, Schaefer reminds me, but a handcrafted Grand Lake Stream canoe, a source of prestige around here. He should know; for 10 years he was Grand Lake Stream's "First Selectman," roughly equivalent to mayor. "The canoe is the only thing I've taken care of in my life," he says with a grin.
We end up a half hour later in a small wooded cove called "Chet's Hole," bait our hooks with worms, toss out our lines. We're there a while, nothing's happening; Strauss asks me what the writing life is like, and I ask him how he sees the economy. "I'm very optimistic," he says. "The viability of U.S. manufacturing is very strong. With hydraulic fracking and horizontal drilling, we'll have relatively low-cost energy for decades. With energy, we're just on the cutting edge, like computers in the 1980s. The plants are just now being built."
Then my pole bends and Schafer hollers, "Hit 'em!" which is exactly what I do. It's a strong fish, lively, tons of fight on the line. Soon enough, I'll be posing for a photo with a beautiful 18-inch smallmouth bass.
Strauss and I will catch dozens of bass that morning, banter Fed policy all day. At lunchtime, Schafer will motor us to join the others for fish chowder at a place called Spooner's Island. I'll see an image there that I'll have to take a picture of, 25 Grand Lake Stream canoes pulled up to shore in a long and photogenic row. Someone at the lunch tables will bring up China, and the voices will all weigh in.
But that's not yet. Right now, there's a fish on the line, and we're just three excited guys in a boat. Steve, Bill and me. I know that's exactly how David Kotok wants it.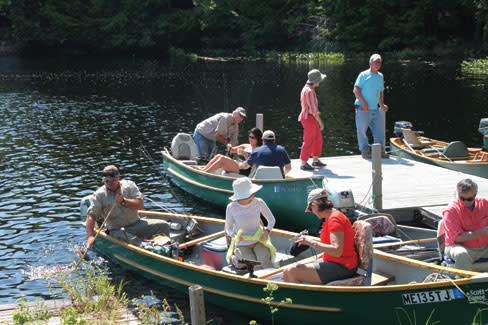 Views from Camp Kotok
Here are some predictions from the August gathering: How right were they?
On housing Josh Rosner, Graham Fisher & Co.: "If we're expecting housing to drive consumption, that will just not be. Prices are coming back not because of first-time homebuyers, but because of investors bidding against each other. If you strip out the investor share of the market, we only saw 1 percent home price appreciation last year. It's not the basis of a sustainable recovery."
On the Fed Jim Bianco, president, Bianco Research: "The street is 50-50 the Fed will start tapering in September. I'm in the camp that they're not going to; if they go on data, they're not. I've graded the economy C-. It's not in recession, but it's not great."
Danny Branchflower, CBO, professor of economics at Dartmouth: "The Fed has done a pretty darn good job. I rate the economy a B-; it's better than it would have been if the Fed hadn't acted. I come from Europe, and what people here don't understand is how good the economy is compared with everybody else. I doubt the Fed will raise interest rates until 2017."
On the economy Jack Rivkin, Idealab: "We're in a little bit of a new normal. Our standard of living is going down relative to the growth economies. For young people, it's about managing a career. You have to figure out what you're going to do sooner than you did before. [Technology] offers young people more opportunities, but often with higher risk."
Dean Eisen, family wealth director, Graystone Consulting: "It's hard not to be defensive coming out of '08 for everybody, but it's five years later. 2008 is in the rearview. A little bit of inflation wouldn't be a bad thing."
On banks Harvey Rosenbloom, former executive VP and director of research, Federal Reserve Bank of Dallas: "The 'Too Big to Fail' banks dragged the economy down, they're holding it back, and they're going to mess it up in the future. They're allowed perverse incentives that encourage them to take on too much risk. We have to restructure the banks through legislation to make the cost of the next 'Too Big to Fail' as cheap as possible."
On Obamacare Bill Dunkelberg, chief economist, National Federation of Independent Business: "Obamacare is terrible. In June, part-time jobs rose 360,000 while 240,000 full-time jobs disappeared. In macroeconomic terms, it works out perfectly, a one-to-one swap. You want two part-time workers doing what one full-time worker could do? It's just the beginning of a trend."
On the Middle East Michael Drury, chief economist, McVean Trading & Investments: "I was in the World Trade Center on 9/11. That was an event, it was terrible, but hundreds of people have died in terrorist events in Europe, in the Middle East. We have tunnel vision. When Russia was the biggest country in the world, what was our fixation? Russia. China is the biggest country in the world and what is our fixation? Syria."
On economists Anonymous: "Why did God create economists? To make weathermen feel good about themselves."
Contributing editor Tony D'Souza has won a number of awards in the past year for articles for Sarasota Magazine. He was a finalist for the Society of Professional Journalists' 11-state Green Eyeshade award and the SPJ's Sunshine State award for Investigative Reporting. He also won Florida Magazine Association awards for Best Investigative Reporting and Best Feature Story.
For more from our wealth issue, click here to read Rich Rescigno's "The (Multi)Millionaire Next Door." >>
This article appears in the March 2014 issue of Sarasota Magazine. Like what you read? Click here to subscribe. >>