Article
Freeze Frame: Behind the Scenes at Rectrix Aviation
Get an inside look at the inner workings of Sarasota's Rectrix Aviation.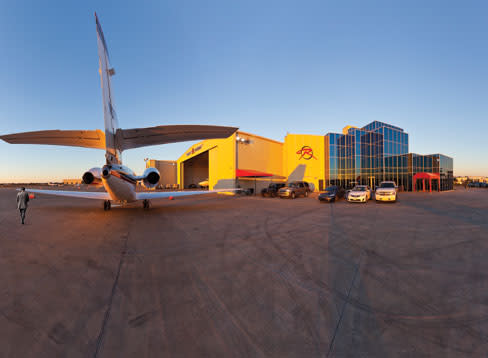 Operating out of Sarasota Bradenton International Airport for the past six years, Rectrix Aviation services more than 7,500 flights a year—including lots of private luxury jets. Rectrix's management and concierge services range from refueling and de-icing to providing coffee and meeting space, charter flights and custom-built "Hangarminiums." And business is growing. With 21 local employees (and 110 total over six East Coast Rectrix FBOs—or airport Fixed-Base Operators), president and CEO Richard Cawley says his favorite part of the job is hiring additional staff. "Have you ever seen the smile on someone's face when you tell them they now have a full-time job with benefits?" he asks. "It's a great feeling."
Factoids
$20,000: Approximate cost to charter a 10-passenger Challenger jet from Sarasota to Boston
Most-requested in-flight amenity: Internet access
20,000 sq. ft.: Largest of its hangars
Fuel dispensed annually: 2 million gallons
125,000 sq. ft.: Total size of facility
Typical client: Entrepreneurs and corporate execs with a second home here.
Rectrix occupies nearly 20 acres of airport property.
Leather recliners, mahogany finishing, flat screen and oriental rugs are decor staples.
Rectrix high fliers: Dick Vitale, Mitt Romney, President Obama, Dick Dickinson
The venue hosts charity events, often featuring a red carpet on the tarmac. People are drawn to "the excitement of being at an airport," says CEO Richard Cawley.
Hangar doors can accommodate the largest Global Express and Gulfstream 650, the biggest general aviation airplanes manufactured.
Jets range in size from those with two-man crews all the way up to Air Force One.
To see past Freeze Frames, including Cat Depot and Tervis Tumbler, click here. >>
This article appears in the March 2014 issue of Sarasota Magazine. Like what you read? Click here to subscribe. >>