Article
From the Editor: Remembering Marcella Hazan
Pam Daniel on the creation of this month's "Marcella and Me."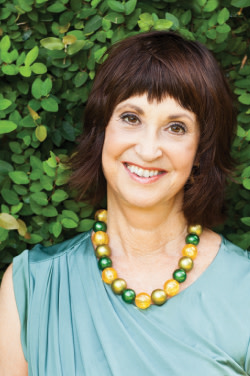 At the heart of this issue lies a love story, and it's about one of the world's most celebrated couples. In "Marcella and Me," Longboat Key's Victor Hazan shares intimate memories of the beginning and end of his life with his beloved wife. Marcella Hazan, who died at 89 in September, is widely known as the teacher and cookbook author who introduced Italian home cooking to the world. Victor, whose passion for the subject was equal to her own, was her constant companion and collaborator. A gifted writer, he translated her cookbooks, which she wrote in Italian, into English so clear and evocative that they've been called the best-written cookbooks of all time.
The story of Marcella's stunningly successful career, which was launched when Craig Claiborne came to lunch at their New York apartment in 1970, has been often told. But the story Victor wrote for us—which includes a wonderful picture from that lunch, with a slender young Victor in a dark suit sitting ramrod-straight at the table—reveals details few would know.
I met Victor and Marcella shortly after they moved here from Venice, Italy, in 1998. They came because their son Giuliano, an accomplished cooking teacher and author in his own right, had moved here, and because Marcella, who suffered from emphysema, was finding it difficult to navigate the many stairs and chilly winters of Venice. With some trepidation, we asked the famous couple to judge an olive oil tasting for the magazine. They good-naturedly agreed, and when they showed up, put everyone at ease with their unassuming charm and lively spirits. Over the years, we wrote about the Hazans a number of times, and Victor and Marcella even invited my boyfriend George and me to dinner. I don't remember exactly what Marcella cooked, but I do remember that it was all delicious, and that the evening in the couple's comfortable Gulf-front apartment, filled with art and books, was one of the warmest and most relaxed we'd ever spent.
Marcella never liked to be called a professional cook; instead, she said, cooking was her gift to family and friends. In a New York Times video made shortly before her death, there's a sweet segment where she says, "When I marry Victor, I never cook in my life. When I did [cook] something and it came right, he was jumping from his chair and coming to kiss me—I want to do more!" And in Victor's story—and his postings on her Facebook page since her death—memories of their life and the food she made for him intermingle, all equally infused with love and loss. In his posting on his birthday in October, he described how Marcella would hug him every birthday morning and say, "Best wishes, my love, I hope you will always be happy," and then make as his birthday gift his favorite, multi-layered lasagna verdi.
Our art director and I visited Victor to select photographs for the story. As charming and as sharp as ever, he greeted us in jeans and a red pullover.
Everywhere, we felt Marcella's spirit. With those wise, penetrating eyes, she gazes at you from a photograph by the front door; Victor keeps her favorite Venetian vase filled with fresh flowers; a pack of her Marlboro Lights and a lighter lie at the ready on the dining room table. You can almost believe she's out on the porch, watering her orchids and basil plants. Victor talked about how despite their very different personalities, their collaboration was always harmonious because they saw their subject in exactly the same way.
As we looked through the years of photographs, which included shots of the two with a host of culinary celebrities, I noticed how often they only had eyes for each other, Marcella looking at Victor with delight and affection, Victor smiling tenderly at her.
"Originally, I didn't think I could bear to write [this] piece," Victor told me. "But I was the only one who had access to those memories, and I realized that I had to do it for Marcella. I hope it will mean something to your readers."
Click here to read Victor Hazan's "Marcella and Me" in our February issue. >>