Article
Robert Marbut Aims to Address Sarasota's Homeless Problem
Helping cities give "smart love" to the homeless.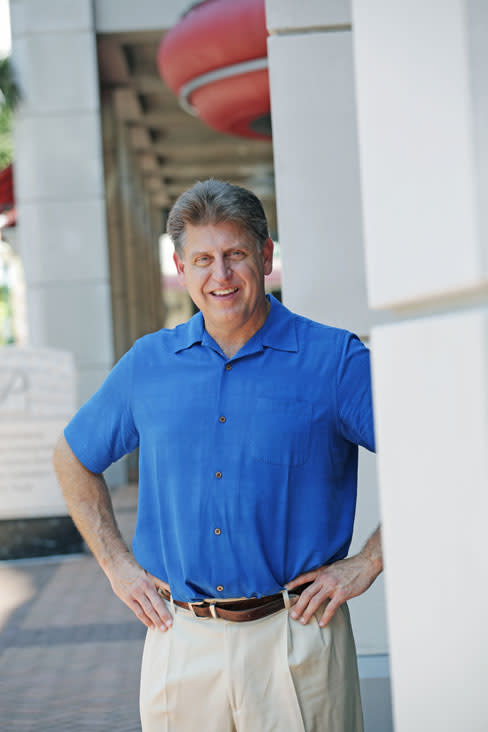 For years, starting in high school, Robert Marbut volunteered with groups serving the homeless, going to parks and under bridges to pass out food, clothes and toiletries. "I was one of those people who gave money out the car window," he says. Not anymore.
"I got frustrated that we kept seeing the same people over and over," says Marbut, 53. "We all started doing something good, but it wasn't doing anything to transform lives."
This summer, Marbut, a San Antonio-based consultant, was hired by a consortium of local governments and agencies to address Sarasota's thorny homeless problem. It's Marbut's specialty, one that grew out of the frustrations of his early volunteer work and evolved through a multitude of experiences in public service, from working as an aide to the mayor of San Antonio (during which time Marbut spearheaded efforts to build the Alamodome), to serving as a White House Fellow for George H.W. Bush. He has post-graduate degrees in government, criminal justice and international relations. "Everything I've done in my whole life has trained me to do this," he says.
"This" involves traveling across the nation to help cities and counties reduce urban homelessness. His efforts two years ago in Pinellas County, which included building a 500-bed shelter, have led to a 91 percent reduction in street homelessness there. Sarasota authorities hope that success can be duplicated south of the Skyway; and indeed, Marbut sees similarities in the two areas' homeless demographics and services. His recommendations for Sarasota include building a "24/7 first-step shelter" similar to Pinellas's and getting local homeless agencies, whom he praises for their individual efforts, to coordinate services.
He also emphasizes educating the public in the proper way to support people in need—which means not giving money to panhandlers. "Everybody who does that is very well-intended and good-hearted," he says. "But it is not smart love. Rather than give money out the window, please give money to agencies like Family Promise, Harvest House, the Salvation Army."
Although he spends half his time on the road, the 53-year-old father of six grown children says he never tires of his cause. He describes his passion as twofold: It's part of his spiritual journey as a Christian, and the logical result of a life that's given him "this really strange skill set," he says.
It's a passion he's passed on to his children. Last year, his daughter celebrated her 21st birthday by gathering friends to clean, paint and organize a Georgia food pantry. Marbut helped, too, he says, "because, you know, that's what I do."
Future
If his plan is fully implemented, Marbut estimates Sarasota's street homelessness can be reduced 80 percent to 90 percent.
Enablement
Marbut says food programs that aren't aligned with other services (job training, resume building, etc.) can actually increase homelessness.
Panhandling
93 cents of every dollar given to panhandlers goes to alcohol, drugs and prostitution, according to several studies by Marbut.
Causes
A lot of homelessness is caused by combat-related PTSD. "Nobody's producing homelessness like the U.S. Army and Marine Corps," says Marbut.
Number
Estimates of the number of chronic homeless people in the region range from 50 to 3,500. Marbut is working to determine the real number.
Read editor Bob Plunket's experience sleeping on the streets of Sarasota with the homeless here. >>