Article
Food Blogger Jaden Hair's Vietnamese Summer Roll Recipe
Jaden Hair shares a recipe for Vietnamese summer rolls from her new cookbook.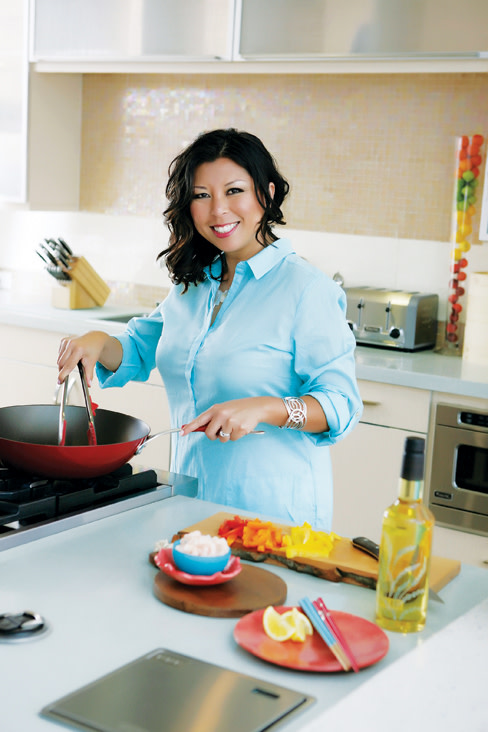 Asia is on the rise, and that's influencing everything from fashion to food. Locally, Jaden Hair has amassed a national following with her blog, Steamy Kitchen, which intersperses Asian recipes with engaging stories and photos of her family's life on a five-acre homestead in eastern Bradenton, where she, her husband and their two young sons raise vegetables and chickens—and all pitch in on growing her business, too.
Hair was born in Hong Kong but grew up in Nebraska, where her mother ("a master of combining Asian techniques and flavors with everyday supermarket ingredients and my hero") had to drive four hours to find Asian ingredients. Hair has just published her second cookbook, Healthy Asian Flavors (with an introduction by good buddy and Food Network star Ree Drummond, aka "Pioneer Woman"), in which she puts her own modern spin on Asian classics, with simple recipes that often borrow ingredients and accents from other cultures.
Just back from L.A., where she taped several episodes of Recipe Rehab for ABC, Hair says, "My goal in every single recipe is for a fan to say, 'I can do that!' I try to stay away from high-calorie, goopy sauces; I like my vegetables vibrant. And I think visual appeal is as important as taste." She credits that approach for the popularity of her blog, which is at 3 million page views a month and growing.
Vietnamese Summer Rolls with Roast Pork
Serves 4
Roast Pork
2 pounds boneless pork roast
Salt and freshly ground black pepper
1 teaspoon ground coriander
1 cup freshly squeezed orange juice
1 cup chicken stock
2 tablespoons fish sauce
6 cloves garlic, smashed
2 teaspoons chopped fresh
Ginger
1 onion, cut into 1/4-inch-thick slices
1 orange, cut into 1/4-inch-thick slices (skin on)
Summer Rolls
1 carrot, julienned
1 cucumber, julienned
1 bell pepper, seeded and julienned
4 ounces baby spinach leaves
10 mint sprigs
10 basil sprigs
1 to 2 (12-ounce) packages rice
Paper spring roll wrappers
Season the pork on all sides with salt, pepper, and coriander. To a slow cooker, add the orange juice, chicken stock, fish sauce, garlic, and ginger. Layer half of the sliced onions and sliced oranges in the cooker. Place pork on top. Cover with remaining sliced onions and oranges. Cook for 4 to 5 hours.
Remove pork from slow cooker, let cool for 15 minutes. Slice the pork as thin as you can. To make the rolls, make sure all of your ingredients are prepared. Fill a pie plate or large bowl with hot water (about bath temperature). Dip each rice paper wrapper in the hot water for 2 seconds per side. Let excess water drip off. Lay the damp rice paper on a clean, dry surface. When it begins to soften, fold the wrapper in half. Lay a slice of roast pork on the bottom half of the roll. Layer on the vegetables and herbs. Beginning at the bottom and keeping the roll tight, roll the filling up in the wraper. Repeat with remaining ingredients and wrappers. Cover with plastic wrap and refrigerate until ready to serve. Serve with the dipping sauce.
Reprinted with permission from The Steamy Kitchen's Healthy Asian Favorites, by Jaden Hair, copyright © 2013. Published by Ten Speed Press, a division of Random House, Inc. Jaden Hair © 2013. Photo by MyUnionhouse.com 
For more Sarasota restaurant and food news, click here to read Chef Judi Gallagher's "Foodie's Notebook" blog.