Article
Architecture Guru Carl Abbott Releases New Book
Mr. Chatterbox salutes famed Sarasota architect Carl Abbott.
I found myself in Rizzoli's recently, the elegant bookstore on Manhattan's 57th Street, perusing the latest releases, and there on the table where they display the fancy new books on architecture was a volume that I immediately recognized. It was Carl Abbott's new book, entitled In/Formed by the Land. I was very excited, as Carl had just given me a signed copy and now I didn't have to buy one.
In/Formed by the Land was certainly in good company. On one side was a volume of the complete works of Richard Neutra and on the other was a hefty tome about Albert Speer, Hitler's favorite architect and the guy who designed the "look" of the Third Reich. I guess this goes to prove that there is good architecture and evil architecture, but of course, living in Sarasota, I already knew that.
We're in the middle of an architecture crisis. Among the issues facing the town: What are we going to do about preserving the Paul Rudolph wing at Sarasota High School? What are we going to do about architectural preservation in general? And are we going to get serious about turning the town into an architectural destination? We have the Sarasota School homes and buildings, of course, but we also have examples by I.M. Pei, Skidmore Owings & Merrill, and Frank Lloyd Wright's Taliesin West's Studio. There's certainly plenty for two or three days of exploring and sightseeing, and some towns in similar situations—Palm Springs, South Beach—have made a lot of money out of this. Shouldn't we give it a try?
One place that won't be on the tour, at least if Carl is in charge, is Golden Gate Point. He may be a well-known sweetheart, but not when it comes to that over-built peninsula jutting into the town's bayfront. "The buildings are pretentious, they have nothing to do with Florida and they're all copies of something else," he says. True, but to me this only proves that they have everything to do with Florida, where the imitation of past styles, pushed to the very boundary of kitsch, is the time-honored norm. Carl is a purist, though, and it offends him to see the art form he loves corrupted.
Carl has been designing buildings in Sarasota and elsewhere—all over the world, really—for 50 years, and his Sarasota structures are among the most sought-after in town. They are instantly recognizable. The lines are long and mostly horizontal, usually with a tantalizingly simple façade facing the street. Then you get inside and everything opens up. Big walls of glass face trees and vegetation—or if you're lucky, the water. Wings intersect and go off at unusual angles. The plan is always unique and carefully thought out. They are never symmetrical, but rather take their cues from the lay of the land, as if they grew there, fitting into the topography.
Carl is what you might call a "land whisperer." The first thing he does with a client is "walk the land." They note the vegetation, the way the sun hits the trees, and most important, the view. He always asks clients why they bought this particular piece of land. What drew them to it? Then he wants to know their favorite colors and what kind of plants and trees they like. From all this information a plan starts to form. But whatever happens, it always goes back to the land itself. When you thumb through the book, you are struck by all the greenery. Every picture is full of trees and sky, even though you're inside.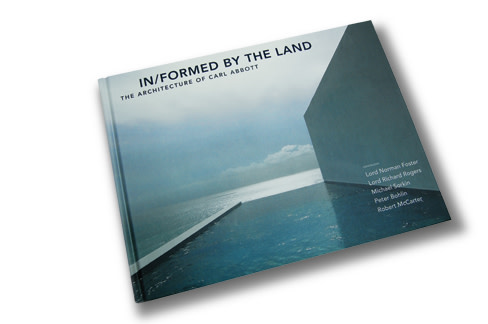 Carl knows more about architecture in Sarasota than just about anybody; and now, in his 70s, is becoming a wise old guru or a grand old man, depending on how you look at it. He's been instrumental in the fight to save the classic Paul Rudolph-designed schools in Sarasota. Riverview ended up being destroyed, and now it seems that after a rancorous debate and even a little name-calling, the Rudolph wing of Sarasota High will be preserved, but in a way the town's architectural purists find unsatisfactory. This particularly disturbs Carl because he considers it the culmination of Rudolph's Florida years—"certainly one of the most important buildings in Florida."
Carl is one of those rare people who seem to age in reverse. Sarasota does this to some people. "I was a hard-ass worker in my youth," he says. "Now I'm getting younger. My sons and my grandkids helped me here." He loves to go to Esalen, the New Age center in California where he apparently rolls in the mud and then dances ecstatically in the middle of the drum circle. His latest obsession is Mayan architecture, particularly the Post-classic site of Uxmal, and he's off to the Yucatan this summer to study it in detail; he'll be hanging out with some prominent archaeologists and sleeping in a tent.
Closer to home, he's taking up line dancing and paddleboarding. And, oddly enough, he lives and works not in a building of his own design but in an old, old house on the edge of Newtown. It's surrounded by a jungle that slopes gently down to a creek. It's very atmospheric, particularly on a cloudy day. One almost expects Hansel and Gretel to wander by, looking for the way back home, or, more likely, "walking the land."
If you're interested in finding out more about the architectural scene in Sarasota and maybe even getting involved in preservation and seminars, the group to get in touch with is the Sarasota Architectural Foundation. Their website is sarasotaarchitecturalfoundation.org. They have put together a wonderful guide book called Tour Sarasota, which documents the town's architecturally significant buildings and outlines a two-hour driving tour. You can get a copy ($10) at the Visitors Center, 701 N. Tamiami Trail. And as for Carl's book, try Barnes & Noble—or Rizzoli's.
For more from Bob Plunket, read his Real Estate Junkie blog.