Article
My World: Myakka Airboat Captain Forrest Orebaugh
Myakka airboat captain Forrest Orebaugh on the Gator Gal, sandbars and vulture jokes.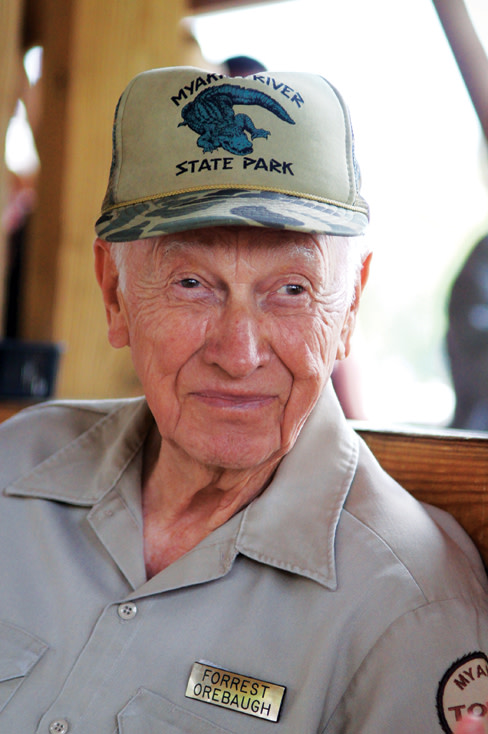 How long have you been giving airboat tours? I just completed my 26th year; I started after retiring from teaching biology in Cincinnati.
Was there a learning curve? Oh, yes. That lake has several sandbars, logs and other sunken objects, and airboats are not the easiest things to operate—particularly in windy weather. Once in a while I'd get stuck and have to get out and walk among the alligators.
What's the most popular draw? Alligators. They are very sensitive to the weather, so [to spot them] you want a cool, sunny, calm day.
What kind of reaction do you hope for after tours? It warms my heart when they say that was the best tour they've had. The other day this man asked if he could come back and record the tour. That's the greatest compliment I've ever received.
Do you ever think about retiring? I'm 80 years old, and almost daily I get asked, "How in the world can you still do this?" It's for the love of the job. The people are wonderful—some come back now with their children and grandchildren. Some recognize my jokes and say they rode with me years ago.
What kind of jokes? I tell jokes about vultures, like the one about how they had a problem migrating to Ohio this year, so they went to the airport but weren't allowed on because they had too much carrion. But there are a lot of stories you can tell, too. I enjoy talking about the history.
Does anything still surprise you? The behavior of animals, like some raccoons we saw frolicking last week. And I never cease to be amazed by the variety of people that take those tours and the reasons they do.