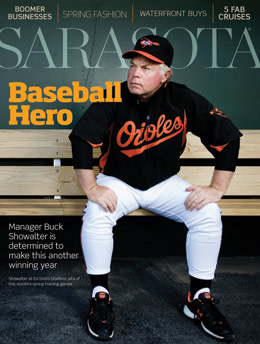 Subscribe to Sarasota Magazine
---
FEATURES
A look inside the regions biggest and busiest Latin Market. Photography by Gene Pollux.
Fashion writer Heather Dunhill spots the style and beauty trends that are right for Sarasota this season.
Web extra: Heather Dunhill shares her top five must-haves from this season's runways.
Bob Plunket says "Yes, you can" afford to live your waterfront dream--if you buy in one of the low-profile neighborhoods he loves.
Hannah Wallace talks with five baby boomers who decided retirement meant opening the door to a new career.
Which cruises should be on your bucket list? Carol Tisch finds five amazing adventures for sophisticated travelers.
Web extra: See a slideshow of stunning travel photos that couldn't fit in the story.
Just in time for spring training, Baltimore Suns sports writer Dan Connolly profiles the Orioles' acclaimed--but modest--manager, Buck Showalter.
Web extra: See video from the Orioles' 2012 winning season.
---
DEPARTMENTS
What will you do with your "10 good years?" By Pam Daniel.
INSIDER
The latest scoop, including Carol Tisch's eyes on emerald as this year's big color, one hot dish from Judi Gallagher, Cooper Levey-Baker talking with state Sen. Nancy Detert, rodeo days, Bob Plunket's Home of the Month and more.
Mr. C learns a life lesson from a bout with the flu.
A paparazzi-eye view of the Sarasota social scene.
Veronica Pastore hits the Big Top at the Circus Sarasota gala spectacular.
Style blogger Heather Dunhill shares loot and looks she loves.
LUXURY HOME
Ilene Denton reports on an all-natural Ritz penthouse makeover and a burst of new model homes on the market. Plus: neighborhood watch: Longbeach Village, how to blend past and present in your home, top of the market and more.
Kay Kipling's calendar of March's best arts and entertainment events.
Breakthroughs for your aching feet and tips for the boomer brain. By Hannah Wallace
FOOD AND WINE
John Bancroft is just wild about Harry's and talks wedding cakes with pastry chef Lyndsy McDonald. Plus: Sarasota's best meatloaf, "What I'm Drinking" and more.
John Pirman sketches a mid-century marvel, the downtown post office.