Article
The New Traditional
The Luxury Home: A kitchen renovation in Sarasota's Harbor Acres.
By Ilene Denton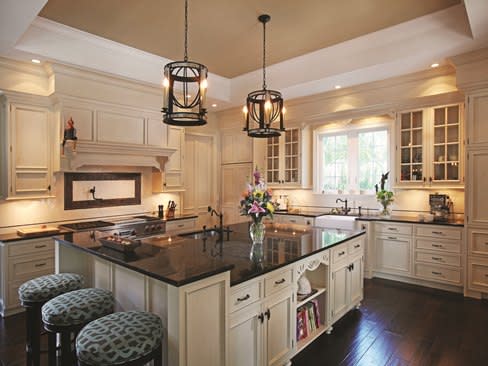 The owners of a brand-new custom residence in Harbor Acres wanted a kitchen that hints at traditionalism without hitting you over the head with a frying pan.
They're right on trend, says David Asher of Eurotech Cabinetry. Traditional design is still popular, he says, but with a modern twist. "Finishes and details are cleaner, simpler, not overdone as in years past, when complex, multi-stepped finishes and lots of accouterments were in vogue," he explains.
Nothing heavy or overly ornamented in this 350-square-foot room. This is a crisp, clean traditional kitchen that Asher designed with his colleague, Tracey Scalzo, a certified master kitchen and bath designer, and interior designer Gail Carlson. The fretwork valances above the window and atop the island's open shelves have a restrained elegance, and the cream-colored antiquing glaze on the cabinets was applied with a subtle brush.
"It's easy to go over the top," says Scalzo. "This is just enough."
Elements of Style
The maple cabinets, Eurotech's private label, American Estate by Eurotech, evoke a classic look with inset doors that have recessed panels and applied molding, as well as exposed, oil-rubbed bronze hinges. Mullioned glass doors on cabinets above the sink and bun feet on the island contribute to the furniture look. "It's a bit more costly because you have to be exacting," says Scalzo. "Once upon a time when they built cabinets in houses, that's the way they built them."
A home chef's dream come true, the focal point is a 60-inch-long Wolf dual-fuel range, with six gas burners above and two electric ovens below. It's the only appliance that's not hidden behind cabinets. (The fridge is in the tall bank of cabinets to the left of the sink, the dishwasher is to the right of the sink, and the microwave and warming drawer are tucked into the island.) "Because the kitchen opens onto the great room, it was crucial to not look too kitchen-y," says Asher.
The spacious farmhouse sink and oil-rubbed bronze faucets lend themselves to traditional design without being overly fussy.
Interior designer Gail Carlson made a graphic statement with geometric-patterned stool cushions in a cross between teal and soft sea-glass blue. The dramatic light fixtures have an old iron finish with antique cut glass within the framework. "It adds a little bit of sparkle," says Carlson.
Sources
CABINETS: David Asher and Tracey Scalzo, CMKBD, of Eurotech Cabinetry, 1609 DeSoto Road, Sarasota (941) 351-6557; INTERIOR DESIGN: Gail Carlson Interiors, 1517 State St., No. 101, Sarasota (941) 650-4197; COUNTERTOPS: European Marble, 1820 N. Lime Ave., Sarasota (941) 955-9536; TILE BACKSPLASH: La Casa Tile & Stone, 1777 Northgate Blvd., Sarasota (941) 358-6464