Article
Town Hall: January 2013
Will a wave of huge new rental homes ruin Anna Maria Island?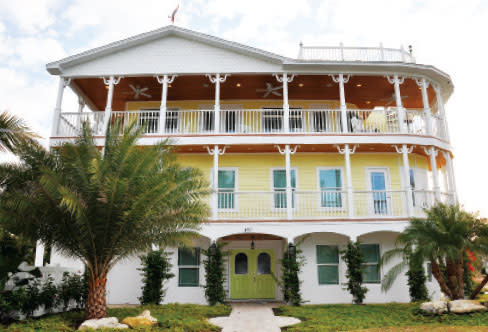 "They're just monsters," Jean Peelen says, gesturing toward a pair of three-story, snow-cone-colored vacation homes. "I don't know how else to put it. They just loom."
We're driving through the town of Holmes Beach, on Anna Maria Island, and the rest of 69th Street is mostly lined with modest, one-story bungalows. Peelen's "monsters," situated just a few feet from one another, tower over the rest of the quiet lane.
Peelen, now a Holmes Beach city commissioner, moved to Anna Maria just five years ago. "There isn't a more healing place on earth," she says. But the recent "proliferation" of dozens of multi-story homes like the ones on 69th Street began "to threaten the whole life of the island," Peelen says. First off, they're massive and ugly, the 71-year-old says, and what's more, they are being built to attract large groups of short-term tourists rather than single-family renters or owners.
"There's a big fear that we will become Disney or Daytona," Peelen says. That fear drove her into politics. She believed the Holmes Beach commission was ignoring the public's concern about the new construction, so she canvassed neighborhoods to listen to citizen complaints and won a seat at the table in November 2011.
Since then, she's waged a relentless war against the developers behind the new homes, and has zeroed in on one name in particular: Beach to Bay Construction, owned by Shawn Kaleta and Scott Eason. According to the Beach to Bay website, Kaleta "has bought, sold and built nearly 250 homes in the area," making it "the top builder on Anna Maria Island."
The name Kaleta comes up frequently as Peelen drives me around the island, and Kaleta's company is at the center of "Crisis in Holmes Beach," a strident report submitted by Peelen to the commission in August. The document accuses Beach to Bay of building homes "drastically out of scale with the neighborhoods they are in," among other misdeeds, and blames city leaders for letting it happen. (Kaleta did not return our calls asking for his comments).
Apparently, island residents agreed. Two commissioners and the Holmes Beach mayor were thrown out in last November's elections, and the controversy over the mega-homes played a central role. Manatee County Commissioner Carol Whitmore, who chairs the county's Tourist Development Council, says she's "happy to see" citizens taking an active role in the debate.
"We rebranded Manatee County as the 'real authentic Florida,' so as a TDC member we were concerned about what we were seeing happening," Whitmore says. She's lived on Anna Maria for 44 years, and she's worried the redevelopment is driving away full-time residents, saying the number of Holmes Beach residents has declined from 5,000 when she ended a spell as mayor in 2006, to 3,800 today.
Holmes Beach City Planner Bill Brisson found that the scale of homes relative to overall property size has indeed spiked in recent years. Between 2006 and 2008, the average Living Area Ratio of new Holmes Beach houses was .32— that number jumped to .44 between 2009 and 2011.
Peelen says the remade commission will take a hard look at how to contain those numbers and will begin enforcing existing rules more strictly. I ask Peelen if she and other islanders are just NIMBYs resisting changing times. She acknowledges that people today do like bigger homes, and that the commission should consider that in making new regulations. "Change is inevitable," she says. "Responsible change is what it's about."
3
The number of elected Anna Maria officials kicked out of office last November, largely because of the fight over the new homes.