Article
Wonderful, Waterful City Island
This scenic sliver of land with its iconic collection of amusements and institutions captures Sarasota's soul.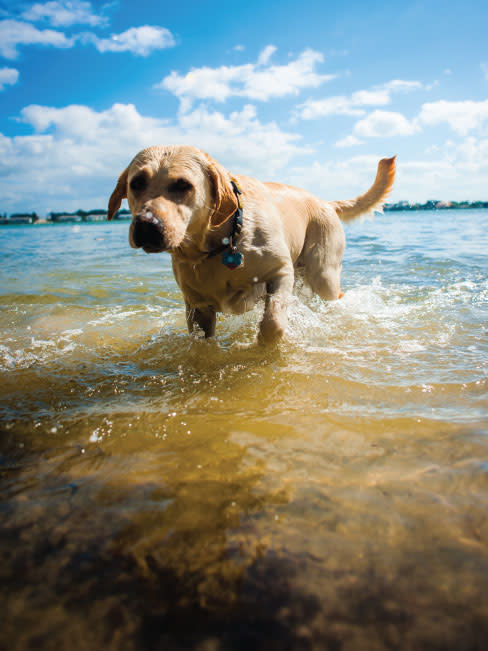 Look for the single stoplight that hangs over the traffic hurtling toward New Pass Bridge. Blink, and you're on Longboat Key. But take the turn, and the soul of Sarasota unfolds before you.
City Island is Sarasota, concentrated—a scenic haven where science, history, dining, entertainment, sports and even charity work their magic against the backdrop of Sarasota Bay.
Yet a hundred years ago, City Island didn't exist. The land rose up out of the bay in 1926, 58 acres in all, the byproduct of a dredging project aimed at creating a deep-water harbor to attract larger ships. But the supporting infrastructure was never built, and the ships never came. A newspaper account ultimately dubbed the project a "$1 million boondoggle." Left untended, the dredged channel eventually filled in, and the manmade land mass slowly attached itself to Lido Key—now, technically, not an island but a peninsula.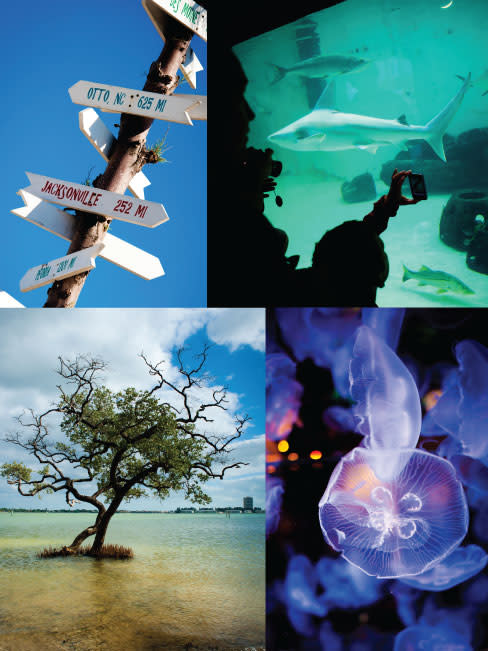 These days, as you drive west over the Ringling Bridge, City Island—there on the right, the green peninsula surrounded by white flocks of sailboats—seems as close to downtown Sarasota as Bayfront Park or Golden Gate Point. But by the time you make it around St. Armands Circle and past Lido Shores to that lone traffic light, City Island feels very much like its own, self-contained world.
If you know anything of City Island, chances are you know Mote Marine Laboratory and Aquarium, which dominates the area in both reputation and physical scope. Mote's 10.5-acre campus spans both sides of the island's lone road and draws 360,000 visitors annually. Since moving to this location in 1978, Mote has also drawn international attention for its scientific research, including groundbreaking seahorse studies, a center for shark research dedicated by Congress and the world's longest-running study of wild dolphins.
But most people, of course, visit Mote for the critters. "We're huge sea turtle fans," says Mote visitor Roger Nunkester, a 46-year-old Pennsylvanian. Grinning, he reveals a sea turtle tattoo on his shoulder and points to another on his wife Maria's ankle. The couple are celebrating their honeymoon with the aquarium's resident sea turtles and sharks, petting stingrays and even taking a Mote-guided "Sea Life Encounter" boat trip on the bay. "We have a lot of cows in northeast Pennsylvania," Roger jokes, "but we don't have any sea cows."
[caption id="" align="alignnone" width="488"]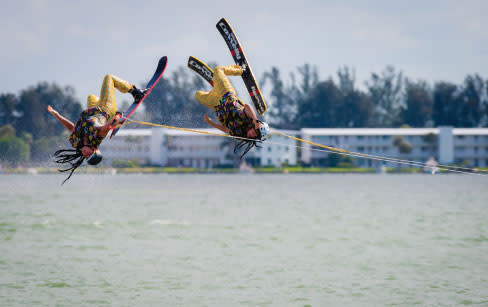 Ski-A-Rees performers.[/caption]
Mote public relations specialist Hayley Rutger sees a lot of people who are unfamiliar with the Florida wildlife on display at the aquarium. "My dad's from Ohio," she says. "He didn't believe manatees were real animals." Children, she adds, often know more than the adults: "You hear kids tell their parents, 'No, Dad, it's the male seahorse that carries the babies.'" On the other side of the dusty parking lot, trading water for wind and fins for feathers, Save Our Seabirds stands as a plucky counterpoint to powerhouse Mote, but it generates the same delight and wonder in young visitors. Surrounded by dozens of wood-and-netting aviaries, kids skip down the boardwalk, squealing and pointing at pelicans and buzzards; parents hoist babies and crane their necks to see reticent osprey and sleeping horned owls. A pet parrot, abandoned by its owners and perched on the shoulder of a volunteer, sings Twinkle Twinkle Little Star.
S.O.S. carries on the rescue work of its predecessor, the Pelican Man Bird Sanctuary, which was founded on the same site in 1981. (Founder Dale Shields, "The Pelican Man" himself, passed away in 2003.) Behind the scenes, volunteers feed orphaned chicks while veterinarians mend broken wings and free feathers from fishing line. "Most of the injuries are human impact," says longtime S.O.S. volunteer Helene Adams, describing falcons hit by cars and pelicans wounded by fish hooks. "We get a lot of sandhill cranes; their injuries occur on the golf course—they get hit by the balls." The animals along the S.O.S. boardwalk are actually permanent residents—birds deemed unable to return to the wild, usually because of permanent injury or a dangerous acclimation to humans.
These animal exhibits are not mere novelties, and City Island as a whole is more homey neighborhood than tourist trap. Across the street from Mote and S.O.S., serenaded not by parrots but by the lapping waves of New Pass and the distant, ghostly moan of cars zooming over the bridge, locals and out-of-towners alike loosen their ties or hitch up their board shorts at two of Sarasota's most popular open-air eateries: Old Salty Dog and New Pass Grill and Bait Shop—the former, a perfect blend of English pub and waterfront fish shack; the latter, a charming, no-frills bait shop and snack bar famed for its cheeseburgers and 83-year presence on the Pass. "You never really get anyone cranky, because of the ambiance and the view," says New Pass Grill manager Carol Marcinowski. "We get every walk of life—businesspeople, fishermen telling their lies."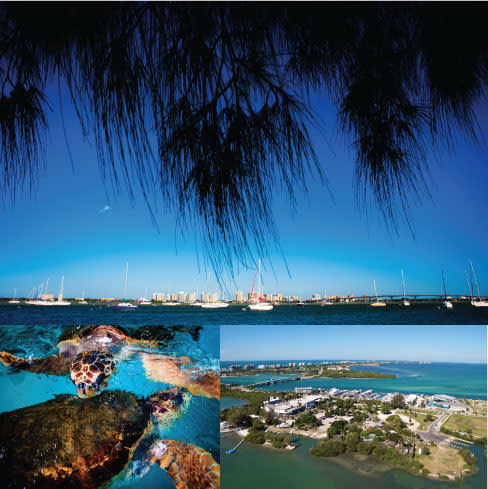 From the patio of the Salty Dog, the honeymooning Nunkesters, hungry after their tour of Mote, watch boats float up to the dock as casually as cars in the parking lot. Roger marvels, "This is so different." If you find yourself lunching here on a Sunday from February through May, you'll want to hurry down your hamburger and cross the street once again, this time to a grandstand along the water, seemingly set up just to stare at the bay.
But at 2 p.m., the real show begins: With the skill and showmanship of circus acrobats on the water, a dozen performers on water skis execute choreographed jumps and crisscrossing pyramids. Created in 1957, the Sarasota Ski-A-Rees weekly water ski shows are a throwback to 1950s Florida kitsch and a tribute to Sarasota's live-performance tradition.
Over the years, the amateur community group has spawned dozens of professional water skiers for venues like Sea World and Six Flags. But when you watch from the shore, the experience is surprisingly intimate and quintessentially Sarasotan.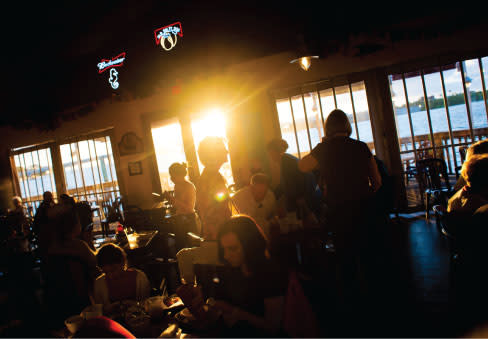 This bustle and energy at the western end of City Island melts into windswept, sun-washed nirvana a few hundred yards east down the lone road, where it ends—or really, continues ad infinitum, winding around in a great, grassy circle. To your right is Ken Thompson Park; to your left, the Sarasota Sailing Squadron.
When the Sailing Squadron claimed its spot on the northern tip of City Island in 1958, its only immediate neighbors were a tiny radio station and an airstrip for mosquito-control planes. Now, as at Mote, world-class work is done here. International racing champions have grown up launching from these docks, and the club plays host to many competitive races, including its own 67-year-old Labor Day Regatta and the upcoming F-18 North and South American Championships in November 2013, which will serve as an Olympic primer for many participants. "We have the most consistent favorable breeze year-round," says squadron regatta director Donna Hillmyer of the wind that sweeps across Sarasota Bay. And that breeze does not discriminate. Visit the Sailing Squadron's shady headquarters on any given day, and you'll find not a stuffy yacht club but a communal living room and bayfront back yard. Longtime friends swap stories in the gazebo; a parental coffee klatsch comes together after the kids set off on the water; an all-volunteer women's group, the Luffing Lassies, stand by their boats, as casual as a bridge club and as confident as longshoremen.
"We all get along, and we all have a different opinion on what we think sailing is all about," says squadron manager Craig Bridges. "There's such a wide range of experiences. There are people who've sailed all over the world, and they come in here and talk about where they've been."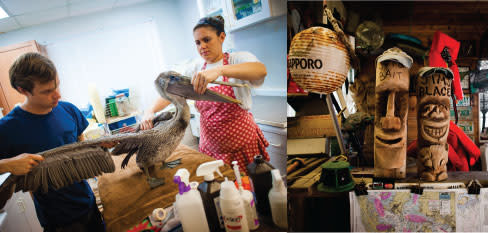 Across the island, the breeze that filled sails here ruffles mangroves. Next to its established neighbors, Ken Thompson Park, built in 1996 (and renovated six years later), is a relative newcomer to City Island. (Ken Thompson was a gruff and visionary Sarasota city manager from 1950 to 1988—the longest-serving city manager in U.S. history; the island's lone road is also named for him.)
But for all its attractions, City Island centers on the park, a pastoral place for anyone and everyone to experience the heart of Sarasota while getting away from it all. Families picnic in the grass; old-timers read at the tables. Like the island itself, it is both communal and blissfully solitary.
Look for the boardwalk, tucked into the mangroves, that winds through a sun-speckled canopy. At one point, it empties out into a wide-open dock jutting into the bay, reaching toward the Ringling Bridge and the downtown skyline, looking back on St. Armands and north to the belly of the bay. With all that you know is around you, your ears strain for the commotion of children and traffic, talking birds and tale-telling fishermen. But all you hear is the wind and the waves.
Mote Musts: Six sea life exhibits you just can't miss.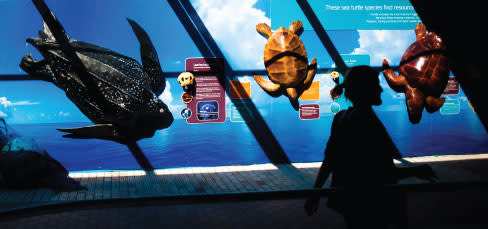 1 | Sea Turtles: Ancient Survivors
Take a trip back in time with these ancient reptiles: Sea turtles were swimming in these waters when dinosaurs roamed the earth. Mote's resident turtles are here because they have injuries requiring lifelong care, but they also help spread the word for sea turtle conservation (many species are endangered or threatened). Plus, interactive displays reveal sea turtle life cycles and show how Mote scientists use special tags to track turtles for hundreds of miles at sea.
2 | Hugh and Buffett
Have a sea cow, man. Hugh and Buffett are the world's most highly trained manatees, which lets them aid in their own veterinary care as well as participate in groundbreaking research regarding the hearing and other senses of this endangered species. They're also big into salad. Together, Mote's two resident manatees devour more than 75 heads of lettuce a day.
3 | Sea Lions: On The Water's Edge
Here in Sarasota, we're used to spotting manatees, but this special, limited-time exhibit invites you to come face-to-face with another type of huge (but oddly adorable) flippered mammal. The lumbering, majestic sea lions (Patagonian species) will be here through spring. We're practically roaring with excitement.mote.org/sealions
4 | Seahorse Conservation Laboratory
Look a seahorse in the mouth at this working laboratory for the conservation of seahorses and related animals. They're cute and they're scientifically significant. Through a groundbreaking breeding program, Mote has provided seahorses to more than 60 educational institutions across the nation, minimizing the need to collect them from the wild. mote.org/seahorsetours
5 | Shark Habitat
Go ahead and hum the Jaws theme—it's appropriate, especially when you see dorsal fins surfacing out of this 135,000-gallon tank, where a number of big sharks glide alongside other sizeable swimmers like tarpon and goliath grouper. Better still, show up for the regular feedings (11 a.m. Mondays, Wednesdays and Fridays) to see all those teeth in action. There are even limited private tours where you can feed them yourself—just don't slip on the edge of the tank. mote.org/sharkencounter
6 | Touch Pools
It's not your parents' petting zoo: Mote's touch pool exhibits invite you to handle sea urchins, horseshoe crabs, sea cucumbers and more (safely, of course). Trust us: You absolutely must pet a stingray—they may not be cute and cuddly, but they're surprisingly velvety. We've seen kids spend half an hour at this exhibit and protest when their parents finally pry them away.
Along the Boardwalk
Nature sightings on the bay walk at Ken Thompson Park.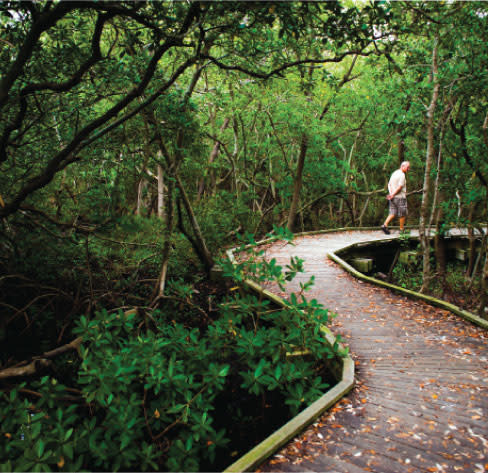 1 | Red, black and white mangrove trees are the primary vegetation of the baywalk shoreline. Along with submerged seagrasses, mangroves are the basis of the bay's food chain.
2 | You've got to keep your eyes peeled for the tiny mangrove warbler because it blends in so well with the yellow-green of the red mangroves. But even if you can't spot it, the little songbird, a subspecies of the more common yellow warbler, serenades the swamp with a lovely song.
3 | Mangrove tree crabs do their crab-walk along the roots and branches of the red mangrove trees. The omnivorous crabs are the important first link in the bay's food chain, consuming small parts of marine organisms, macro algae, seagrasses and mangrove leaves and releasing larvae into the estuary.
4 | The bay, a protected cove with lots of lush, tasty seagrass, is a haven for the West Indian Manatee, our very own gentle giants. Look for a large ripple on the surface of the water; the docile sea cows are famously slow-moving.
5 | The less-common reddish egret can be identified both by its reddish hue and its characteristic feeding dance: While hunting the shallows, it steps quickly with its wings partially outstretched (to reduce glare from the sun).
6 | Night herons can often be seen perched on the boardwalk railing or along the mangrove shoreline. Unlike their long-necked, long-beaked brethren, the smaller night herons have a shorter, stronger beak and almost no neck at all.
7| Protein-craving raccoons, distant relatives of bears, find a veritable buffet of fish, shrimp and oysters along the shoreline. The mangrove swamp keeps the furry critters perfectly happy, and healthy—so please, don't feed them. —John McCarthy
Spirit of the Squadron
A longtime member introduces a newcomer to the club.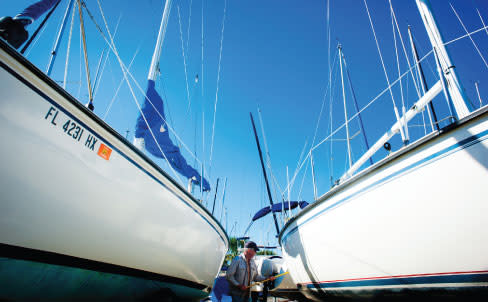 I was cooking when Tom showed up. Flippin' burgers for hungry sailors, doing my volunteer gig for the Labor Day Regatta. A sea breeze cooled my brow as it propelled more than 300 boats across the bay in search of trophies.
Tom was with his wife, Peggy, and I said I'd be with them in just a few minutes. I found them in a gazebo overlooking the bay. I knew it well. Me and a bunch of other volunteers built it in the '80s. Just like a previous generation of volunteers built the clubhouse in the 1950s and '60s.
Tom was brand-new to Sarasota, and I'd invited him out to see the soul of the city, the Sarasota Sailing Squadron. "Everything you see here was built by volunteers," I said. "This isn't a yacht club."
I told him how it was formed by teenagers who met in city hall in the 1930s. And re-formed by the same young men, now hard veterans of World War II. They held a big regatta on Labor Day 1946. As we have every year since.
They dug a pit and roasted a pig on the city hall lawn, and boats came from all over the state. When the city tore down the pier and city hall, legendary City Manager Ken Thompson offered the sailors a barren stretch of spoil called City Island.
On that spit of city-owned land, the sailors built what many now call the finest volunteer sailing club in the world. Sailors from eight to 80 call it home. Their boats are as modern as their club is rustic.
I swept my hand across the city's skyline beyond the sun-spackled bay. "Over there is a whole city of volunteers, people helping each other out of love and respect and kindness," I said. "Be good to them."
Tom Barwin, the new city manager on his first Saturday in Sarasota, smiled and said, "I'll do my best." —Stan Zimmerman