Article
Queen of the Beasts
Just a few miles east of downtown, big-hearted circus matriarch Kay Rosaire rules over a menagerie of rescued animals at her Big Cat Habitat and Gulf Coast Sanctuary.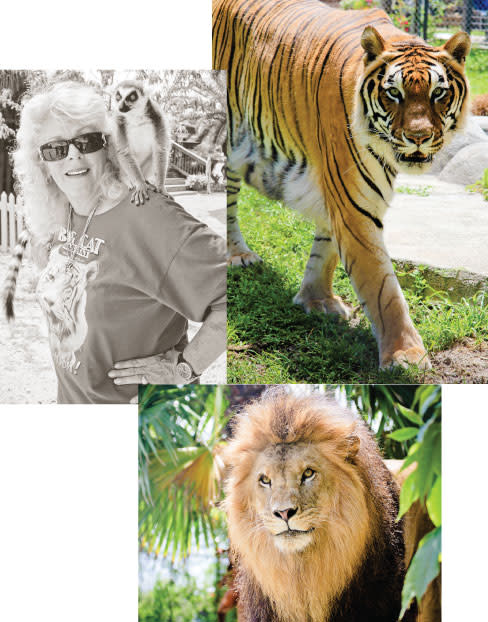 Evening is settling across a green and sweltering swatch of tropical, savanna-like land. The ibis are coming home to roost in their white-winged flocks, while the frogs in the murky waterways that line the safari's path are setting up their nightly chorus of croaks. Suddenly, the lord of this lawless terrain offers the world a loud announcement of his presence, a deep-throated roar that carries for miles. Yes, a lion, king of the beasts, is resting somewhere in the grass ahead.
Sound like Africa? As neighbors in the subdivision across Palmer Boulevard are happy to tell me, it's not. It's our very own Sarasota, and they can hear the lions roaring from their patios day and night. My "safari"—consisting of me and my two kids in their car seats behind me in our Subaru—takes me just east of I-75 near Fruitville, past the running track and hill at Celery Fields Recreation Area, to a gated gravel road minutes from downtown. The A/C has barely had a chance to cool down the car, and my kids are already hooting that they've spotted something—"Oooo, Dad, oooo! Look!" my three-year-old daughter shouts in excitement. "A humpy-thing!"
"That's a camel," I say with a grin, spying a pair of the sedate-looking dromedaries in the adjoining field as I pull into the parking lot.

Where we've come is Sarasota's best-kept secret, the Big Cat Habitat and Gulf Coast Sanctuary. I've been here half a dozen times over the past couple years, and it's among the places I consider "The Highlights of Fun and Amazement in Sarasota." There are so many things to like about this refuge for charismatic megafauna, not the least of which is how close it is to town. By comparison, the admittedly wonderful trip out to see the 'gators at Myakka State Park requires all day, a picnic basket, and a plan to keep the kids entertained in the car. The Big Cat Habitat, on the other hand, is just a mile and a half from the Fruitville library.
One of the best things about a visit to the lions, tigers, bears, leopards, panthers, birds, and yes, even camels that call this sanctuary home is that the refuge is not-for-profit and the price of admission goes to the upkeep of the animals. But the Big Cat Habitat also supports the preservation of something else vitally important to our city's unique and historic identity: the circus.
The Rosaire family that lives on the sprawling compound and tends the animals like beloved pets traces its circus roots to the court jesters of England. Kay, the matriarch of this extended traveling clan of animal trainers, is the eighth generation in her line, and she's one of the few women in the world to work with big cats. Her son, Clayton, 31, is the ninth generation, and the only remaining performer in the United States to put his head in lions' mouths.
The family first came to the United States in 1960, when Kay's late father, Derrick Rosaire Sr., performed on the Ed Sullivan Show with his act, "Rosaire and Tony the Wonder Horse." That led to stints in Atlantic City, touring performances with various troupes, training "Gentle Ben the Bear" of '70s-era TV fame, and eventually—like so many other circus families, including the Flying Wallendas, who the Rosaire kids went to school with—winter breaks and permanent settlement in Sarasota. Derrick Sr. even performed at the White House and is enshrined at St. Armands' Circus Ring of Fame.
Kay and her siblings each specialized in the "gentle training" of different kinds of animals. Kay worked with big cats, Ellian with horses, Pamela with chimpanzees, and Derrick Jr.—who passed away two years ago—with bears. Along with Clayton and his big cats, other ninth-generation Rosaires include Pamela's daughter, Dallas, who works with dogs, and Derrick Jr.'s sons, who are trained to handle bears. The whole family is honored with a display at the Ringling Circus Museum. In 2008, they were also the subject of a feature-length film, Circus Rosaire, which highlights their lifelong dedication to their animals.
Today, my kids and I slowly—and somewhat nervously—make our way past the dozens of cages where huge cats and bears loll, pace, occasionally growl, and splash in their personal pools for a small army of camera-toting tourists. We stop for cotton candy at the concession stand, then feed/fend off the little goats that swarm us at the petting zoo.
There's a festival feel to any visit to the Habitat; people are starting to take their seats in the performance building where the Rosaires will soon put on one of their daily animal-training demonstrations. The star today is slated as "Chance," a precious young chimpanzee whose act I've seen before and like even more than the massive, scary, leaping tigers. Most of Chance's shtick is intended for simple laughs; his trainer, Pamela Rosaire, plays straight man in the ring to his wild Jerry Lewis-style pratfalls and general habit of ignoring her every command.
More than 100 animals call the Habitat home, and visiting Kay in her trailer at the refuge's far end before the show, I can see she feels a personal kinship to all of them. Her refrigerator is decorated with as many pictures of lions as it is of her grandchildren, and it's hard to tell in conversation whether she's talking about one of her human relations, or, say, a tiger. She has a tiger-themed clock, tiger statues, tiger bookends, tiger-skin-patterned chairs, and she's wearing leopard-print slippers. Outside her front door, the latest additions to her family, two rambunctious tiger cubs in their big enclosure, are entertaining my captivated kids.
"Originally, I just wanted to save animals," Kay tells me as a handful of volunteers pop in and out to discuss various issues with her—the construction of a new building to house elephants, educational outreach programs involving local schools, and the donations of meat and produce for the animals from area vendors like Sweetbay, Whole Foods, and Inter City Meats. "I especially wanted to save the big cats, because nobody else would take them. All of these animals are born in captivity. Releasing a non-native species—people who turn snakes loose—it's just wrong. People [who buy exotic animals] must be committed for the life of the animal; they don't realize how long the animals live. A lot of the animals outlive their owners. Many of our birds are in their 60s."
Every training demonstration at the Habitat includes a conversation between the Rosaires and their audiences about the ethics of keeping animals in captivity. It's a discussion that Kay knows is contentious, and she revisits it with me as she shows off a "Certificate of Excellence" the Habitat has just received from TripAdvisor, a popular online vacation planning website. She tells me, "We're federally licensed to do what we do. Our animals are treated really well. I once took in seven lions in one go. A few years ago I had 12 animals from photo booths. Local humane societies do the best they can. Our mission is to provide a safe place for these animals to live out their lives. Otherwise they would be euthanized."
Caring for so many large, exotic animals is expensive, time-consuming, and a day-and-night labor of love. Founding the Habitat in 1987 on land left to her by her father, Kay initially supported her rescued animals out-of-pocket from her traveling performance earnings. But as the menagerie grew over the years, she sought out volunteers and charitable contributions. In 1996, the Habitat was incorporated as a nonprofit, and it has since hosted annual animal-education programs for Sarasota and Manatee schools. Last year, 35,000 people visited.
Pattie Walsh, a conservation biologist and director of research and operations at the Lemur Conservation Foundation in Myakka City, recently treated a sick ring-tailed lemur at the Habitat. "[The Habitat's] spacious and well-lit cages directly contribute and benefit the animals' welfare," she tells me. "As with all nonprofits, times can be tough and there are ups and downs, but they are able to prioritize and have invested in the animals' health when needed. They are giving a home to animals that have limited options. They are slowly introducing their cats to an appropriate life with more free choice, which is hard to do in a captive setting."
Aside from visitors eager for close encounters with Bengal tigers and grizzly bears, the Habitat has also attracted the sort of loyal volunteers who think of the sanctuary as a second home. "Volunteering here is the best day in the whole world," says Marsha Vezin, a member of the Diva Angels women's motorcycle club, which has raised thousands of dollars to support the Habitat. "I just love being out here. I'm 'generally useful'—I talk to people and clean up. I love the way the animals are treated. They eat really beautiful food. The [Rosaires] built the lions and tigers a beautiful house, and Kay lives in a trailer."
Donna Defant, another Diva Angels volunteer at the Habitat, tells me, "Kay's not about collecting animals. She educates people about what's going on in the world, the poaching of tigers, which nonprofit organizations are operating for the animals' benefit and which are out for their own benefit. She's rescued animals from circuses, Hollywood, [abandoned] pets. She's an activist for animals."
Over at the packed performance building, my kids and I take our ringside seats as Habitat staff member Meg Ozbirn warms up the crowd with the help of "Salt," a beautiful rescued macaw who she tells us spent 20 years in a small cage. As Salt does a spot-on impression of a chainsaw to the laughter of the rows of kids, Ozbirn explains, "When an animal comes to the Habitat, it will never have to be 're-homed.'" Soon, Pamela Rosaire enters the ring with the three-year-old Chance, and the naughty chimp steals the show with his stupendous tumbling and misbehavior. Every time he does a back flip off the table set out for him, I tell my grinning children, "No way, amigos. Don't even think about it."
Of course, the act ends with Pamela gathering her beloved "son" in her arms, and Chance planting a big wet kiss on her. She laughs to the happy crowd, "He kisses better than my husband. And he's a lot better looking, too!"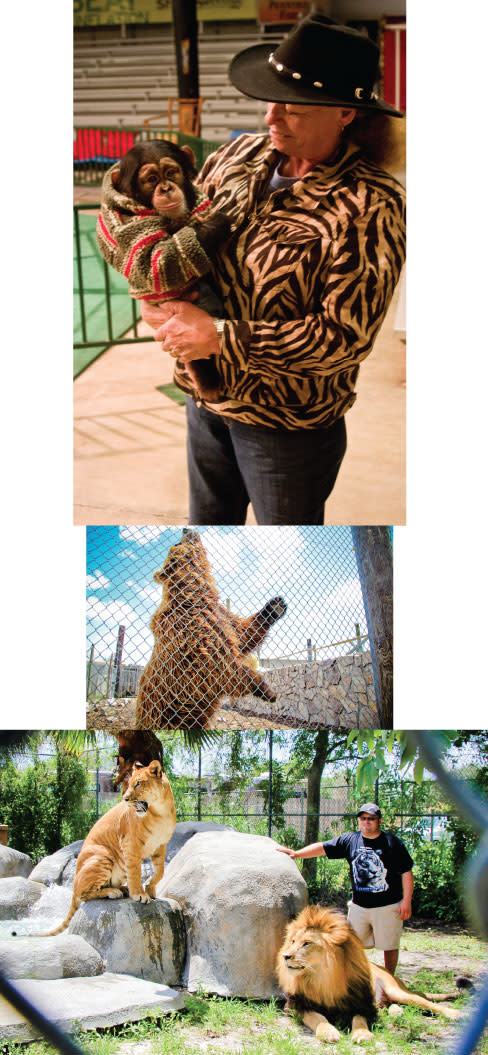 On our way out, my kids beg to feed the bears, and my 25-pound, two-year-old son fearlessly pokes a stick with a sausage link on the end of it into the slurping mouth of a half-ton brown bear. Clayton, Kay's son who has followed in his mother's footsteps, stops by; tomorrow, he's going on the road with his big cat act. Last year, the kids and I saw his show here. It's filled with some of the worst one-liners ever told (Example: "Hey, kids, you know why lions can't talk? Because the cat's got their tongue. Ba-dum-DUM"), only forgivable because he delivers the groan-worthy punch lines as huge tigers run in frighteningly close circles around him.
His mother told me earlier that when Clayton was a teenager, she always knew when he was sneaking home late at night because the lions would start roaring. She claims credit for setting him up with his wife of four years, Danielle—who herself is part of a flying trapeze family. Now the couple's two small children, Ella Marie and Clayton Jr., often make appearances at the end of Habitat shows—the 10th generation of performing Rosaires.
Listening to Clayton's stories of spending his childhood with big cats and now performing with them all over America, I'm envious of how different circus people's lives are from mine, and in the case of the Rosaires, how closely knit they are. The family will ride horses together later this evening as a way of saying goodbye to him. (Clayton's aunt, Ellian Rosaire, operates Rosaire's Riding Academy.)
"I've had both arms bitten through; one tried to bite through my skull," Clayton tells me of working with his cats, his trademark good humor somehow making the dangers of his job seem like any other day at the office. "My wife trusts me. She hopes I'm capable. We're one of the most famous animal handling families. In the end, we choose to do it. 'The pride is the pride.' We love animals and what we do. We love to show the public how important, how amazing these animals are."
VISIT THE SANCTUARY
Big Cat Habitat and Gulf Coast Sanctuary, 7101 Palmer Blvd., (941) 371-6377 (Wednesday-Sunday, 4:30-7 p.m., $15 adults, $7 children, free parking, animal training demonstrations at 5:30 p.m., holiday hours vary)
Rescuing Tony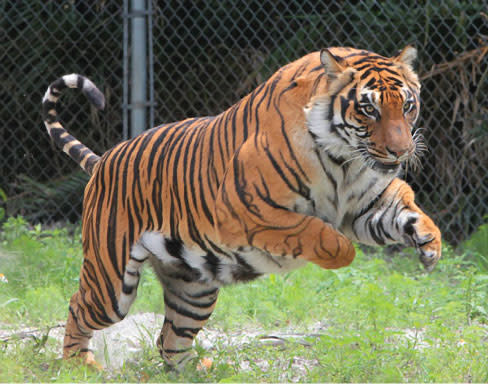 Like all animals at Big Cat Habitat and Gulf Coast Sanctuary, "Tony," a nine-year-old Bengal tiger, traveled a winding road to his permanent home in Sarasota. Born in captivity, Tony was discovered working as a photo cat in a Texas flea market by Pamela Rosaire Zopp, eight years ago. When Pam saw Tony, she knew he was well beyond the weight guidelines for the use of big cats in the photo industry. She approached the man running the operation, who told her he didn't know where Tony would go after he "retired." Knowing that many big cats used in the photo trade are euthanized, Pam offered an alternative: Tony could live permanently at Big Cat Habitat and Gulf Coast Sanctuary. "Tony the Tiger" now shares an enclosure with "King," his large male lion cage mate. Described by the staff as a sweet and lovable guy, Tony can be seen playing with Boomer Balls, large plastic balls used for animal enrichment, and lounging in the pool with his friend, King, nearby.
Big Cat Habitat and Gulf Coast Sanctuary does not endorse the use of big cats in the photo industry and strongly encourages people to refrain from getting their pictures taken with these magnificent creatures, as it only contributes to their exploitation.
Tony D'Souza is the author of three novels; his most recent, Mule, is set in Sarasota. He wrote "Eyes Wide Shut" in our September Guide to Giving issue.