Sarasota is a magnet for creative spirits. Meet six who came to follow their art.
Back in the 1950s, young artists and writers started discovering Sarasota. The light was beautiful, the climate balmy, and you could buy a shacky little place on Siesta for next to nothing. What's more, the Sarasota School of Architecture was gaining national attention for its startling modernist structures, and the burgeoning Ringling Museum added to the cultural cachet of the city. Over the next few decades, Sarasota became known as an artists' colony, with a lively mix of characters that included painter Syd Solomon, mystery writer John D. MacDonald, Pulitzer-Prize-winning novelist MacKinlay Kantor, Dik Browne, creator of cartoon strip Hagar the Horrible, and many more. They were well-known in the community, and their personal lives were often as colorful as their works, adding a Bohemian element to what was otherwise a quiet little town full of Midwestern retirees.
Today Sarasota is known more for its sophisticated lifestyle and luxury real estate than as an outpost for artists. Yet more artists than ever now live in our city. Many are drawn by our cultural reputation, and quite a few are employed by our cultural and educational institutions. Others appreciate the natural beauty and unhurried pace. We've grown beyond being a colony of a few close-knit artists to a city where artists are an integral part of the community. We asked six, from a young ballet dancer to a trial attorney-turned-mystery-writer, what it's like to create in Sarasota today.
Dee Hood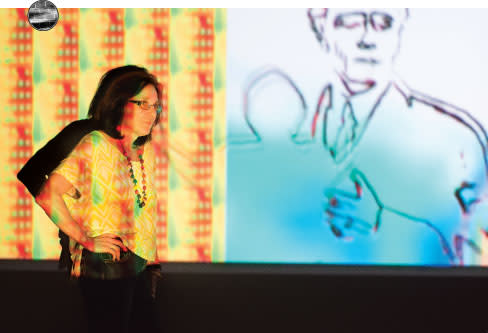 Video artist Dee Hood didn't have to travel far to participate in Sarasota's arts scene; she grew up in nearby St. Petersburg, and once co-owned a gallery in Clearwater. Her background is in painting and sculpture, but, she says, "I always had an interest in video. It's just that when I was getting my M.F.A. at the University of South Florida, they didn't have the equipment" to explore the medium that much. Now, having been on the faculty of Ringling College of Art and Design for 18 years (where she teaches in the photography and digital imaging department), she's been able to branch out into the burgeoning world of video.
"It's definitely experimental," she says of her work, which centers on issues of time, technology and connection and has been shown at festivals in India, Australia and Germany, as well as here in the States. "And video art is still something of an orphan. But that's changing."
While she used to travel out West and to Mexico to shoot, lately she's been focusing her lens closer to home. "I live on the Little
Manatee River, which is absolutely beautiful, and it's also easy for me to get to New York or Boston if I need to see shows. When I come back, I have a refreshed view of where I live."
Hood laughs in relating that some viewers have described her work (which she says "is not about the purity of the images, but about how I can manipulate them") as "TV on crack" or a "Timothy Leary daydream." She sometimes collaborates with fellow Ringling instructor Sheryl Haler and friend Dolores Coe on installations and group shows—a happy byproduct of working in a town full of artists.
Ricardo Rhodes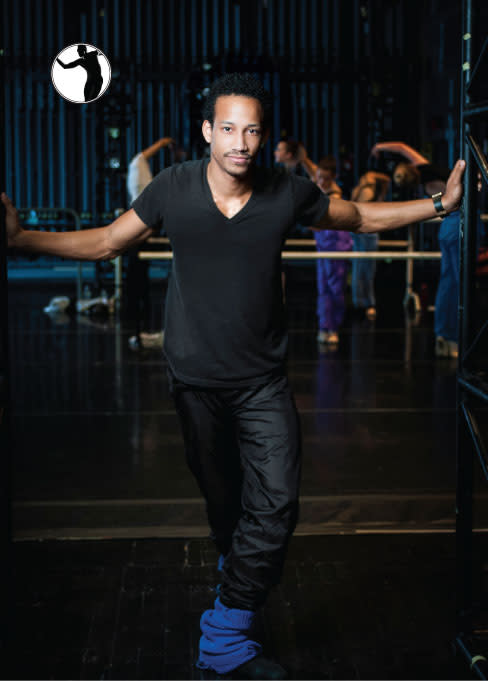 In 2007, as a trainee at the Boston Ballet School, Ricardo Rhodes heard about Iain Webb, the new director of the Sarasota Ballet, who was bringing international works and artists to the small Florida city. Thrilled by the prospect of joining a dance company with that kind of ambitions and energy, Rhodes traveled to Sarasota for his first professional audition. He was tapped by the company, promoted to solo dancer in 2010, and now, at 24, is a principal dancer in the company.
Rhodes started dancing at eight years old, and he still spends hours every day in classes, rehearsals and training. He says it is both "intense and challenging to be strong and athletic, yet subtle and elegant." Sometimes, after a long day of practice and a grueling performance, he will return to the gym for further work. What makes it worth it? Rhodes's first answer is a sentiment shared (though perhaps not verbalized) by artists of all types: "The applause at the end of the show." Also, he adds, the hushed, still moments before the curtain rises. "That adrenaline rush is the best thing I've felt in my life. If I don't have the butterflies, something's wrong."
While he doesn't tend to plan much beyond the next season, Rhodes has no intention of leaving Sarasota. He describes his peers as a family, and he loves mingling with locals at "Afterglow" events following performances. "Sarasota is welcoming to the arts," he says. He still has dream roles he hopes to learn and perform, like Baryshnikov's opening dance in the 1985 film White Nights, but for now he takes it one show at a time: Train, rehearse, perform, bow, repeat.
Terry Griffin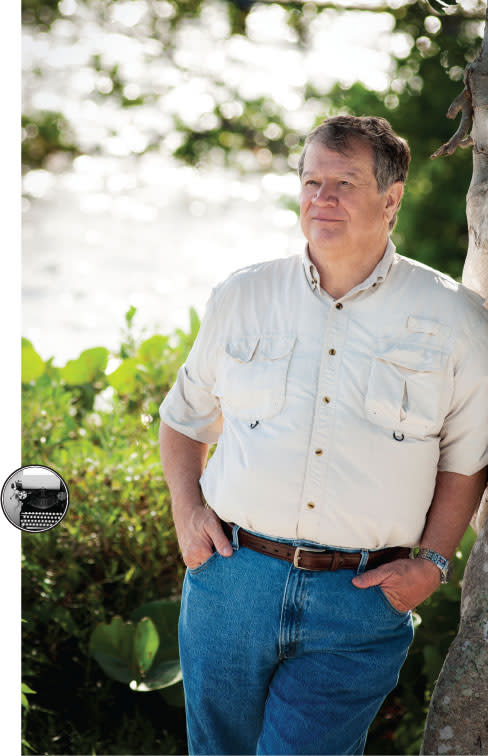 As a prominent trial lawyer in Orlando, Terry Griffin spent 60 hours a week "going 100 miles an hour" preparing and arguing cases. (In his closing statements to jurors, the Georgia-born Griffin often read the instructions of another Southern lawyer—Atticus Finch in To Kill a Mockingbird.) In 1981, he and his wife, Jean, and their three kids vacationed on Longboat Key and "fell in love," says Griffin. They bought a condo, and after he retired, started spending more time here.
The genial Griffin seems to know just about everybody on the island, and it's also been the inspiration for his second career. Since discovering the late Sarasota author, John D. MacDonald, in college, Griffin has devoured mysteries, and in 2002, he decided he'd try writing one. He's now seven books into a series about Matt Royal, a trial lawyer who retired early to spend his days fishing and boating on Longboat. Matt may be a retired lawyer, but the resemblance ends there, Griffin insists. "He's 6 feet tall, runs four miles a day and has regular sex with a series of beautiful women," he jokes.
Many of the books were written on the tranquil back porch of Griffin's bayfront condo, and they're full of local sounds and sights. Royal watches heat lightning spark over the Gulf, fights off a motorcycle attack on Fruitville Road and hangs out at Mar Vista. And his creator is having the time of his life. When his first book came out, "I felt like I was standing in front of all my friends stark naked," he says. But he's gaining confidence—and new readers—with every book. "It's absolutely surprised me how this has taken off," he says. "I have to stop pinching myself."
Dianne and Steve Dawson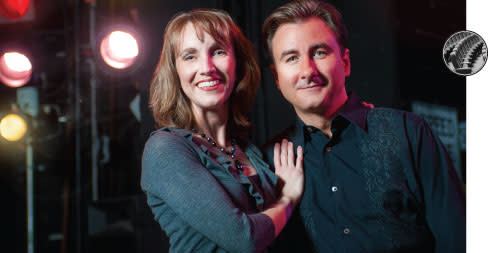 By day, he's a project manager for Sarasota County, and she works for an electrical wholesale company. But by night, Steve and Dianne Dawson light up local theater stages with their acting and singing talents, having performed frequently at the Players, Manatee Players, Venice Theatre and the Golden Apple to critical and popular acclaim. They usually perform together ("That's always our hope when we audition," says Dianne), and have done so ever since they first met during auditions for A Little Night Music at the Players, right after Dianne moved here from Tennessee. Steve, a Ringling grad, had been mulling the option of heading to New York to try his luck on the theater scene there.
But when the two clicked, they chose instead to perform for the joy of it, rather than, as Steve puts it, "take any job just for the money." Living here, the couple is near family and able to have a life outside the theater.
"My hat's off to those people who have to leave their families at home while they perform," says Dianne. "I get to do this with my best friend and husband."
They recently tackled Evita Peron and Che at the Manatee Players (where they married on the stage, 10 years ago). They've also played together in Jekyll & Hyde, Assassins, Hello, Dolly!, The Music Man and a host of other well-known musicals. "We keep our eyes open for roles we fit into," says Steve.
"There's just such a wealth of opportunities here for us to do what we love," adds Dianne. "We never would have had the chance to play the roles we've played somewhere else."
Austin Kowal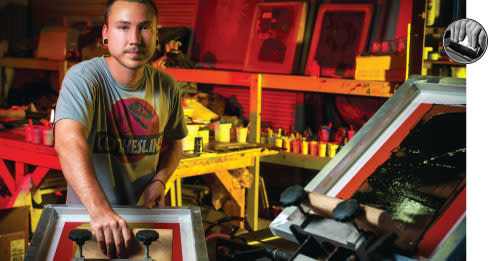 Austin Kowal, 27, grew up in a family of artists (his grandfather, Dennis Kowal, is a noted sculptor with a number of works displayed locally, and his mother, Denise Kowal, founded the Sarasota Chalk Festival). At 16, Kowal started designing apparel and jewelry, and at 19 he taught himself screen printing, which he considered an ideal medium for his abstract, colorful style. For a while, he toyed with the idea of moving to a bigger city, but his family connections kept him here; and in 2008 he opened Clothesline Tees to sell clothing created by Kowal and other local artists. In 2012, Kowal partnered with Van Jazmin to open Clothesline Gallery & Boutique. The boutique showcases apparel by a variety of artists, including Kowal; the streamlined gallery space features monthly exhibitions by local painters, illustrators and designers selected by the Clothesline staff.
Many of the town's young artists attended Ringling College or New College and decided they wanted to stay here, but Kowal, who resembles an art student himself with his pierced ears and abstract T-shirts, says they face some challenges. He'd like to see community leaders do more to support young artists, who can struggle to make a living here. "We are a creative town with a lot of outlets," says Kowal; but he adds that emerging artists often don't understand the art of self-promotion and building relationships outside their own circles. He hopes to help young artists forge those connections by turning Clothesline into a hub for them, through group exhibitions and the ongoing Creative Conversations series, which brings artists together to share ideas.