Article
Sarasota's Best Fish Tacos
Lots of our 5,200 Facebook fans weighed in when we asked who makes the best fish tacos in town. With help from chef Judi Gallagher, writer and taco enthusiast Cooper Levey-Baker and web/editorial assistant Beau Denton, we tasted our way to these winners.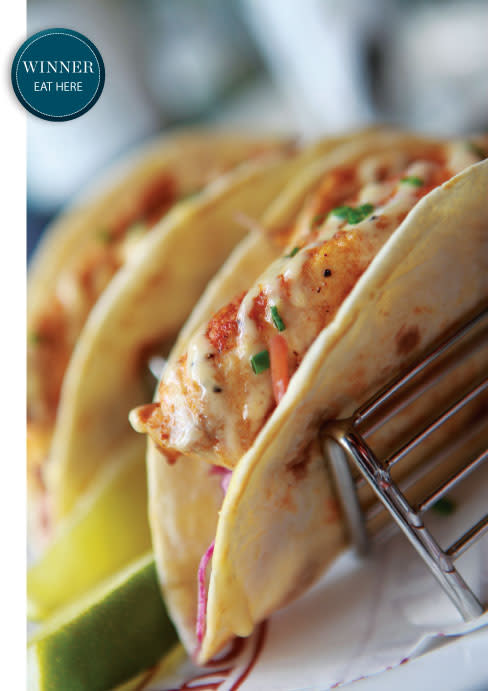 Best Overall
Downtown Sarasota's Eat Here was the clear overall winner: a no-frills flour tortilla stuffed with tender, flaky fish topped with crunchy slaw and a touch of aioli. "This is a classic fish taco," Gallagher enthused.
Best Toppings
We loved the fresh pico de gallo, guacamole and especially the arugula that topped Sun Garden Café's fish taco. "The arugula was such a great surprise," said Denton, "and the pico de gallo tasted so fresh."
Best Twist on a Classic
Shore Diner now offers taco lovers a "surf and swine" option: one shrimp- and lobster-stuffed taco served alongside another filled to the brim with pulled pork and pork belly. "The charred tortillas are a plus," said Levey-Baker, "and you get such a generous portion of lobster."
Best Gourmet Taco
Derek's Culinary Casual upped the humble fish taco's culinary ante, with chef Derek Barnes layering tender grouper cheeks, roasted peanut slaw, peanut vinaigrette and roast garlic and pepper sauce, transforming every bite into an explosion of flavor.
Best Variety
At Siesta Key Oyster Bar, we sampled shrimp, blackened grouper, North Atlantic swordfish and jerk mahi-mahi tacos filled with fresh lettuce, tomato and cabbage and served alongside housemade salsa, salsa verde and cilantro cream sauce. Here's to freedom of choice!
For photos and more behind-the-scenes details from our fish taco tasting, follow "SarasotaMagazine" on Instagram.