Article
Poster Boy
Should an illegal immigrant be allowed to practice law in Florida? At the center of that debate, which is capturing the attention of the nation, stands young New College and FSU Law grad, Jose Manuel Godinez Samperio.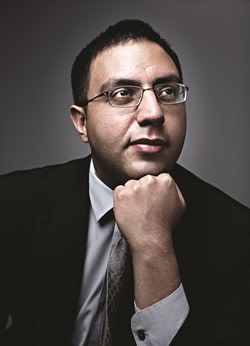 Sometime in June 1996, after spending six months in a trailer near Tampa, nine-year-old José Manuel Godínez Samperio overstayed his tourist visa. He did so while watching Barney and Friends on the black-and-white TV set his dad had rigged to receive the public TV signal.
In December 1995, he and his little sister had arrived at Orlando International Airport on a flight from Mexico City, clutching Mexican passports stamped with a U.S. visa that granted them a half-year stay. But the family had more than a six-month visit in mind. They had arrived to start a new life in the United States.
Godínez' existence since then has been orbiting around this original sin.
Since his arrival 17 years ago, Godínez has racked up an impressive list of accomplishments. He became an Eagle Scout and high school valedictorian and went on to graduate from Sarasota's prestigious New College. Last year, he was one of the top students in his graduating class at Florida State University College of Law, then passed the Florida Bar exam on his first try.
But instead of beginning his career in law, the serious, intensely self-disciplined young man is now in a state of limbo. The Florida Board of Bar Examiners, which in 2008 began requiring all applicants to be U.S. citizens or have valid immigration status, let him take the exam, anyway. Then, after he passed, they refused to admit him and, anticipating they'll be facing more of such cases, asked the Florida Supreme Court to decide whether, as an undocumented immigrant, Godínez can practice law in the state. Just as the high courts of California and New York are set to consider similar cases, the Florida Supreme Court case has put Godínez on a national stage.
To many, he has become the face of the Dream Act, which would give some young achievers a path to citizenship but has aroused fierce opposition.
The media frenzy has begun: In a one-month period since March, Godínez appeared on MSNBC and was featured in the Tampa Bay Times, the Miami Herald and National Public Radio. He has even become the subject of high-school student essays. Applicants for the "Hispanic Academic All Stars" scholarship must answer the following question: "Should the Florida Supreme Court allow José Godínez Samperio to become eligible to admission to the Florida Bar, and why?"
Windswept Pachuca, clinging to hillsides on rugged terrain in 8,000 feet altitude, is the capital of the small federal state of Hidalgo, Mexico. Even though it's just 60 miles from the 20-million megalopolis Mexico City, Pachuca is out of the way; no major highway runs through this city of 250,000.
In Pachuca and a nearby small town, Actopan, José spent the first nine years of his life, playing with cousins and occasionally visiting with his grandfather in the countryside. Elementary school in Pachuca whetted his appetite for more education.
José's parents are well-educated professionals. His father, the first in his family to graduate from college, earned a degree in veterinary science. His mother is a dentist. But there was little demand for their skills in Pachuca, and things got worse in 1993-'94, when the country's economy suffered yet another cyclical crash, and inflation made itself felt, even in young José's budget.
"I was getting a two-peso allowance per day," remembers Godínez. "Suddenly I couldn't afford anything for those two pesos anymore."
As happened with José's allowance, real wages plummeted in Mexico. At least one-third of the working-age population in Pachuca joined the "informal sector," working off the books in low-income activities. The future looked bleak for young professionals not from wealthy families, and without political connections.
José and his family became part of a rising stream of undocumented immigrants who decided to move to the United States, a boom that lasted through 2008. Some 6.8 million of the 11.5 million undocumented immigrants who now live in the United States came here from Mexico. About 2.1 million undocumented immigrants are children who came here with their parents. Unlike children born in the United States, who automatically become citizens, the children who came illegally have no path to citizenship except marrying a U.S. citizen or a special act of Congress.
In Tampa, José's father found unskilled jobs at dairies and his mother worked the assembly line. Income was better than in Pachuca, but there was no hope for the parents to use their professional skills and rise beyond the level of sustenance.
The story seemed different for the children. Fourth-grader José flourished at Dover Elementary School near Tampa. With the help of a teacher from Puerto Rico, he moved from English-as-second-language classes to English-only in just six months. First, he excelled only in math; but soon he had caught up with his classmates in reading and writing, and by seventh grade he had passed most of them and was in advanced classes.
Still, he often felt lonely, missing his relatives back home. And his intense studiousness didn't win him many friends at school. So he joined the Boy Scouts, going on camping trips once a month.
"It meant the world to me," he says. "In Mexico, I had a huge family, but here I had nothing like it. Being with the Scouts was a bit like playing with my cousins, in an environment that wasn't as controlled as the schools." He excelled at scouting, too, collecting badges and eventually becoming an Eagle Scout.
Only gradually did he begin to realize what it meant to be an undocumented immigrant. It started with a class trip to Europe in seventh grade. The trip was affordable, but without a passport, Godínez had to invent a reason why he couldn't join his classmates.
At times in middle and high school, he felt like an outcast, his undocumented status as inescapable as gravity, weighing him down as he struggled to ascend. His friends began to drive, but his status kept him from getting a driver's license. In 11th grade, though, an advanced placement class helped him put his condition in perspective.
"In American history class, I began to understand a lot. This country was always a country of immigrants. There were waves of immigration in several historic moments," he says. Back in the 19th and early 20th centuries, Godínez points out, the United States appealed to European countries to "give me your tired, your poor," requiring just a sworn statement from applicants that they were not anarchists, plus medical proof they were free of infectious disease. "I didn't understand why people couldn't see that the Mexican immigration wave was exactly the same as others before," he says.
During his senior year, the real force of his status hit. Like many thousands of other undocumented high schoolers all over the country, he watched his classmates making college and career plans but realized that despite his grades and ambitions, his path was blocked. As an undocumented immigrant, he could not get in-state tuition, on-campus jobs, government scholarship funds or loans. He couldn't even get private bank loans. His only chance was private scholarships to cover tuition and fees.
The University of Chicago wanted to accept him but didn't have the funds to grant a tuition waiver. Even nearby Hillsborough Community College was financially out of reach. The low point came when the McDonald's Scholarship program retracted an offer to cover the first two years of college, after he couldn't prove he was a Florida resident.
"It felt like being an untouchable in India," he says. "They judged me for something I couldn't control."
Then, out of the blue, New College of Florida popped up. The small liberal arts college in Sarasota wanted him, and the college's foundation found private grants to cover his entire tuition.
During the four New College years, the pressures of his status seemed to ease. At one point, Godínez had himself raffled off for a date in a full-body gorilla costume, plus tie, remembers New College roommate David Kling.
"He did fine," says Kling, now an investment banker with Citigroup in Manhattan. "New College girls like men of ideas and passion."
Godínez rallied fellow students for the cause of immigrants in several off-campus events. The serape, a blanket-like shawl, became his trademark. He forged a friendship with Kling and another roommate, Ross DeMike, who is now pursuing a doctorate in materials science at the University of Michigan. The three met through the Christian Fellowship on campus.
"José and I had very different political views," says Kling, then one of just a handful of Republicans on campus. "But it was natural; we didn't try to change anybody. For both of us it made a lot of sense. We were passionate for the New College system; we enjoyed the freedom."
Indeed, the liberal arts college encouraged Godínez to take off the academic straitjacket he initially thought he needed to wear in order to be accepted to law school. He majored in anthropology, studied Hebrew, passed the National Latin Examination cum laude and developed an independent study project about the history of the political left in Mexico. He also co-hosted a talk show on Latin affairs on Sarasota community radio station WSLR.
Godínez' achievements caught the eye of movers and shakers. The school's general counsel, Steve Pfeiffer, who had taught law at Florida State University, helped steer him to FSU's law school. In his 2008 commencement speech at New College, former Gov. Bob Graham lauded Godínez' civic activism as an example to follow.
Yet the forces of gravity were always at work. Since he could not qualify for on-campus jobs, even with his scholarship he depended on gifts from his parents and loans from other relatives and friends. Sometimes help came from unexpected quarters. When his mother needed surgery and couldn't work for several months, a former administrator at his high school volunteered to help with his expenses.
While at New College, he took a summer course at FSU for nontraditional prospective students. That opened doors to FSU's Center for the Advancement of Human Rights, whose administrators found private funding for his law studies in Tallahassee.
Godínez enrolled in law school in 2008, and soon was repeating his New College success. In his property class, he first earned, as his professor Robert Atkinson put it, "a somewhat disappointing B," but then recovered with an A, turning in one of the best exams in the class. Beyond the classroom, Godínez helped with a research project for the Florida Press Association in Tallahassee, and volunteered for three summers at Gulf Coast Legal Services in Tampa, taking on increasingly complex tasks with immigrant clients. He also turned into an immigration-reform activist with groups such as Somos Florida, Advocates for Immigrant and Refugee Rights and Florida Immigrant Youth Network.
And he found friends and mentors in Tallahassee, including one of the school's most prominent leaders—Talbot "Sandy" D'Alemberte, former president of FSU, a former state legislator and past president of the American Bar Association. New College's Pfeiffer had recommended Godínez to D'Alemberte, and the professor and his wife were soon treating the gifted young student like part of their family.
"My wife was worrying for José about eating properly," says D'Alemberte. "She made sure he ate well when he was studying for bar exams. We were also worried how he was getting around. He lived in a house far from campus, and he walked a lot. So we got him a bicycle. And when it was stolen, we helped him find a new bike."
After the Florida Bar refused to admit Godínez, D'Alemberte took on his Supreme Court case, acting pro bono.
Godínez has always been open about his situation. His application essay for law school was titled "The Consequences of My Criminal Childhood." (In fact, overstaying a tourist visa is not a criminal infraction.)
Before taking the bar exam, he also told the Florida Board of Bar Examiners that he didn't have immigration status.
"I am undocumented, I am unapologetic, and I am not afraid," he told a committee of state legislators in Tallahassee last year, when they were debating a hostile Arizona-style enforcement law.
Remembers Godínez: "I took them by surprise; they didn't know what to answer. One of them finally challenged me, asking whether I would be willing to swear and uphold the constitution if I became a lawyer. I said, 'Yes, of course.'"
Three past presidents of the American Bar Association have made friend-of-the-court submissions to the Florida Supreme Court supporting Godínez' application. One of them, Stephen N. Zack, argues that applications from undocumented immigrants should be decided on a case-by-case basis, with consideration given to outstanding achievement, character and the unique contributions a candidate might make to the nation's growing minority population.
In her brief to the Supreme Court, Tampa Democrat Rep. Kathy Castor spoke for those who see dealing with Godínez and his peers as a matter of pragmatic self-interest. "The State of Florida and its citizens ... have invested their time and money in a sound education of the applicant with the hopes of a bright future, economic success and a contributing member of society," Castor wrote. "To deny these students the opportunity to become doctors or lawyers or practice another profession is to deny the State of Florida and all of our neighbors an educated and talented workforce."
D'Alemberte agrees. "We should utilize the talent that comes to this country," he insists. "People jump over all the hurdles we pose and get an education. Any undocumented immigrant who receives a degree should get it with a green card stapled to it. It would be the sensible thing to do."
But others say that admitting Godínez would undercut immigration law and that it makes no sense to admit a lawyer who cannot legally work in the United States. For the Board of Bar Examiners, that was the crux of the issue, the board's general counsel, Arthur Pobjecky, explained in an interview with MSNBC.com. "If the law says you cannot employ—or it's against the law to employ—somebody who is not legally in this country, then when we say, 'Here's a license to practice law in this country,' are you not implying that you can hire this person and go ahead and pay him?" he asked. It's "a really serious matter," he said, and as the board expects to see more of these cases, they decided to ask the Supreme Court for guidance.
In April, Godinez went to Washington, D.C., to lobby for the "Development, Relief, and Education for Alien Minors." Better known as the DREAM Act, the law would grant access to legal residency and citizenship to educational achievers. Proposed more than a decade ago, the DREAM Act has been blocked by anti-immigration groups and many Republican politicians.
But Godínez is a fighter, with great determination—and patience. "I take everything step by step," is how he describes his tactics. "It's not prudent to worry about everything at the same time."
Godínez has now turned his attention to a Republican politician. While supporting the original DREAM Act, he is pinning some hopes on Florida Sen. Marco Rubio and his version of the bill, which would allow young people to remain in the United States if they were in school or the military but would not allow them to become citizens.
"Rubio is the son of immigrants; he studied law like me. He can have an opportunity where Obama is failing," says Godínez.
Godínez' case is still working its way through the Florida Supreme Court. Where the court is leaning and how long it will take to issue an opinion is anyone's guess.
Meanwhile, all over the country, as immigration reform stays mired in politics, the eyes of immigrants—and of those who support tighter controls on them—are fixed on Godínez and his court case. Godínez knows this is bigger than him; he is acutely aware that he is a small but very visible player in what he calls a "huge fight."
He doesn't know what he will do if the Supreme Court rules against him. Although he is on a national stage, his life is in limbo. A year after graduating, he lives again with his parents in a small house next to cow pastures on the margins of Tampa. Just as when he was in high school, he has to ask for a ride when he goes anywhere. He stays busy working on his case, from attending meetings to speaking for immigration reform and doing some pro-bono work.
But he says he does not regret his parents' decision to seek a larger life for their children in this country.
"It was worth the sacrifice my parents made when they left Mexico," he says. "It hurts saying this, because my parents suffered a lot, and my grandpa—we didn't get to see him again. But if they hadn't done it, who knows how we would have survived?"
To former New College general counsel Pfeiffer, the circumstances of Godínez' arrival in this country seem central to his case. "The injustice of the issue is that he came here as a child," says Pfeiffer. "When I was seven or eight, my family moved from Pennsylvania, which I loved, to California. But it didn't occur to me to tell my family not to take me."
$37 billion
Annual amount immigrants, including illegal immigrants, contribute to U.S. economy
12 million
Number of illegal immigrants living in U.S. in 2007; 11.2 million lived here in 2010
3.7
Percentage of U.S. population comprised of illegal immigrants
5.2
Percentage of U.S. workforce comprised of illegal immigrants; 8.2 percent of Florida workforce is illegal
Top four U.S. economic activities employing illegal immigrants 
Farming
(25 percent)
Groundskeeping
(19 percent)
Construction
(17 percent)
Food preparation and serving
(12 percent)
Sarasota-based journalist Johannes Werner has won a number of Florida Magazine Association first-place Charlie awards for stories in our Biz(941) magazine.