Baby Boomers
Where to Retire in Sarasota
Our Real Estate Junkie matches six kinds of baby boomers with the perfect Sarasota neighborhoods.
The baby boomers, they tell us, are packing their bags and moving to Sarasota.
Finally.
But which Sarasota? There are so many lifestyles to choose from that it must be a bit daunting for these affluent overachievers to figure it all out. And retirement is changing so radically these days. It's no longer the golf and mahjong of their parents' era. Besides, the boomers themselves are a new breed of retirees, with aspirations and demands their parents never imagined.
Fortunately, Sarasota is at the forefront of cutting-edge retirement. We have the options these hard-to-please boomers are looking for. Let's take a look at some of today's archetypal retirees and figure out which lifestyle—and neighborhood—will suit them best.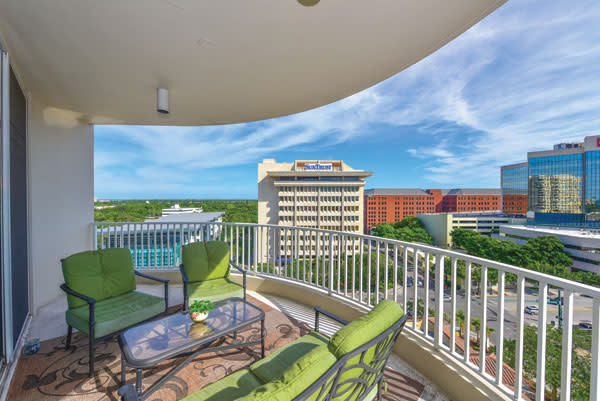 For the urban sophisticate: downtown
Some boomers couldn't care less about golf and the country club. In fact, that very image of Florida retirement may be keeping them from moving here. They want something urban, something sophisticated, something that presents an authentic cultural experience—along with a beach and balmy climate. In that case, Sarasota is one of the few towns in the country that is going to make them happy. In fact, they'll find everything artistic here but "the shock of the new"—and who wants that at age 67?
The definitive place to live this lifestyle is downtown. What you get is a very walkable core, with elegant and expensive high-rise apartments. The restaurants are great and highly individualistic—just a few chains—and the shopping is mostly upscale boutiques and specialty shops. Wealth management offices are on every corner. There are many art galleries, so window shopping offers not just standard retail, but paintings and sculpture as well. People walk like crazy—over the bridge, past the sculptures lining the bay. One older resident even travels around on his Segway scooter.
Your neighbors will be a sophisticated and worldly lot, with plenty of disposable income. They are constantly having lunch with each other, as evidenced by all those sidewalk cafes. Chances are the conversation will deal with the finances of one of the local arts groups, as many people are board members.
Downtown is particularly good if you're a little older than you'd like to be. Traditionally, the town's grande dames move here when their husbands die. And the gay community will feel right at home. But affluent newcomers of all persuasions, and from all over the world, are moving in, and on a sunny afternoon it can actually seem—dare I say it—a little European.
There are all kinds of housing downtown, but the classic setup is a high-floor apartment with a spectacular view. These showplace apartments start around $1 million and can quickly go up to five. Don't worry, though. In the older buildings you can get something nice for $500,000 or less.
All those new buildings you see going up are on the ultra-expensive side. And the new Vue on the corner of U.S. 41 and Gulfstream, with an 18-story hotel attached, is the elephant in the room. How is having that enormous building in the middle of everything going to change downtown? Let's just hope that it doesn't get too urban.
Takeaway: A rare find—an urban lifestyle in a tropical setting.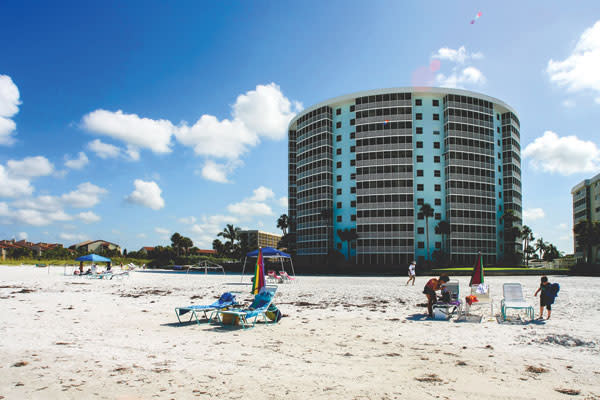 For the beach bum: Siesta Key
One of the most romantic boomer retirement fantasies is dropping out and becoming a beach bum on a tropical island. You can actually do that in Sarasota. Maybe you'll buy a sailboat and charter it out with yourself as captain. Maybe you'll open a little store and sell beach sarongs you designed yourself. It's all feasible here.
You'll definitely want to live on Siesta Key, with its world-famous beach. And you'll want to be as close to Siesta
Village as possible. That's where the bars are—crucial to this lifestyle—and during Happy Hour the sounds of Jimmy Buffett wannabes can be heard competing with each other as the sun sinks slowly into the Gulf. It's not really Key West, but it does suggest Key West and manages to pack a lot of atmosphere into a two- or three-block area.
Back in the old days this part of the key had a mellow blue-collar vibe. Now it's been gussied up and just about all the cute old Florida cottages are gone. Chances are you'll have to live in a condo. (A decent one starts in the $300,000 range.) But search a little farther and you'll find single-family homes that are still an easy walk to the beach, like a home on Avenida del Mare that's currently listed. It's big—almost 3,700 square feet, with lots of upgraded finishes and extras like a home movie theater and an elevator. Best of all, it really feels like Siesta Key, with its verandas and lanais. Oddly enough, it has no pool, but there is room for one. The price is $1.1 million.
Takeaway: Pack your sun block. We really are a beach town.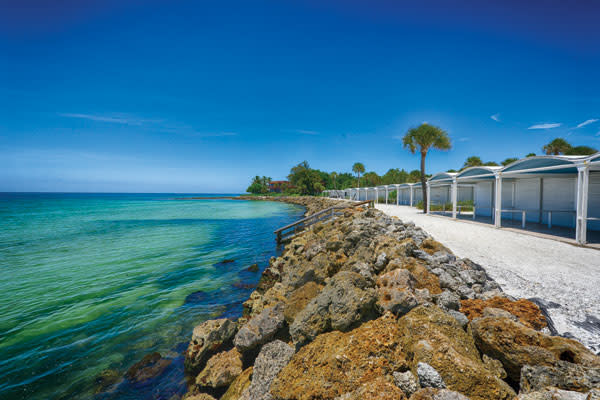 For the multi-multi-millionaire: Sanderling
A hallmark of the boomer generation is the massive fortunes some of the lucky ones have amassed. We're talking hundreds of millions of dollars here. These are the people I pity the most when it comes to choosing a neighborhood. If they don't pick exactly the right spot they'll jeopardize their cool factor. I hate to say it, but Michael Kors made a very odd choice when he selected busy Gulf of Mexico Drive in the middle of Longboat Key to build his new home. I would have told him to stick to just one of two places: Casey Key or Sanderling.
Casey is our famous celebrity enclave, a barrier island that's home to Stephen King and —until recently—Rosie O'Donnell. Lesser-known Sanderling is even more private and discreet. A gated community on Siesta Key, it dates back to 1946, when it started out as a group of little beach cottages with wicker furniture and those lamps made out of old wine bottles. Now it's one of the most exclusive neighborhoods in town.
The atmosphere is still very beachy, a sort of tropical version of the Hamptons. Look around and you get a feeling of old money and a WASP-y lifestyle that goes back generations. The roads wind through the dunes and the homes are mostly on the water—right on the Gulf, or on picturesque Heron Lagoon. Lot sizes are large—up to two acres—and some homes have 150 feet of beach frontage. Here you never forget that you're living on the Gulf of Mexico.
Sanderling was ecological before the word even existed. The landscaping follows no particular theme and looks like it just happened. The houses are eclectic in style. Anything goes in Sanderling—wild modern architecture sits next to the conservative and traditional. The one thing all the homes have in common is price. Be prepared to spend several million, even more if you want to be right on the Gulf. One place recently went for $11 million.
Takeaway: the ultimate—pedigree, history, privacy, style. Even the breeze from the Gulf smells like money.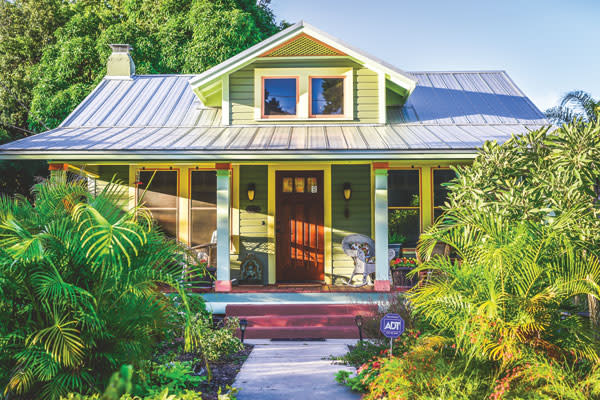 For the bohemian: Gillespie Park
Poets have to retire, too, and Gillespie Park is the perfect place. It's adjacent to downtown but a world apart. Funky old cottages are the drawing card here, although more and more infill homes are being built.
Gillespie Park is about one-half gentrified, and if diversity is important to your lifestyle this could well be the place for you. There is still a lot of shabby rental property, and many residents are working-class. But enough college professors, ceramicists, yoga instructors and playwrights have moved in to give the place a definite artistic edge.
Like all neighborhoods in transition, Gillespie Park has issues. Locals still remember when a homeless woman was trying to recharge her electric wheelchair in a socket in the park and the whole neighborhood went dark. Things like that do occasionally happen here, and the debate about how much crime there really is has been going on for years. But people who are attracted to neighborhoods like this know what they're getting into, and there's no doubt that a corner has been turned and things are getting better.
An old cottage, if you can find one—none are on the market at the moment—will start around $200,000. A new home, often modern in style and built on a smallish lot, can go for over half a million. Or buy a nondescript piece of rental property (starting around $150,000) and turn it into something special. After all, you're the creative one.
Takeaway: the only place in town where your Bernie Sanders lawn sign will be treated with respect.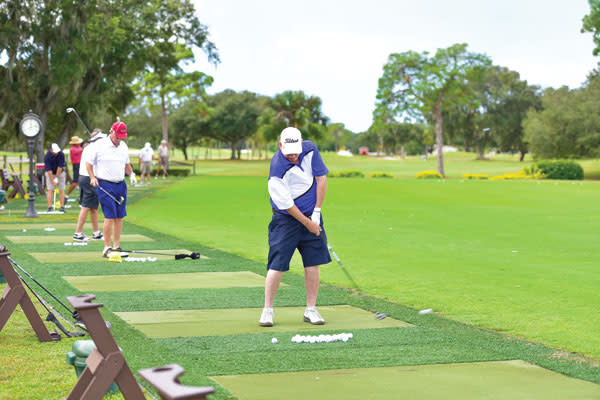 For the golfer or fitness freak: the golf course community
Even though Sarasota offers many new retirement options, it still has the old-fashioned kind, too. For many boomers, maybe even the majority, moving to a golf course community in Florida is retirement, and that's all there is to that. They want the brand-new house, the sense of community, and most of all, the feeling they're on some sort of permanent vacation, with recreation and social options at every turn.
But golf course communities may be perfect for yet another boomer archetype—the compulsive athlete. He—or she—can't stop exercising. Whether it's kayaking, hiking, handball or just plain tennis and golf, this person goes through retirement in a blur of physical activity. Golf course communities will provide great facilities to get even faster and leaner. There will be an amenity-packed clubhouse with gym facilities, a pool big enough to swim real laps (not that puny thing out on your lanai), steam rooms, saunas and more, all just a quick jog from your house.
And the social atmosphere is changing along with the new residents. There's much more variety these days; you can plunge into the camaraderie at the clubhouse or stay home and enjoy the tranquility. I should know. I live in one myself.
It's called Palm Aire and it's one of the oldest in the country. Maybe the oldest. Its 1960s architecture is looking a little dated today, but it sure is pleasant. Being one of the first means it has a great location—off University Parkway, yet not too overwhelmed by the new mall and Lakewood Ranch traffic. Most of my neighbors are not members of the country club—rules vary on this—but the golf course provides an excellent place for a sunset stroll each evening.
You can get a nice villa or condo for under $200,000, and single-family homes start around $300,000 and go up to around $500,000. Canadian snowbirds love it, and it also attracts retired African-American professionals. In fact, in all my years in Sarasota, it's the most integrated neighborhood I've lived in.
At the other end of the scale are the great communities built during the boom, when it seemed like things kept getting bigger and more opulent by the day. The Concession and the Country Club at Lakewood Ranch lead the pack, with others, like the Founders Club, in hot pursuit. Today their palace-like mansions are looking a little dated, but they remain jaw-dropping in their scale and ornamentation. Newer construction seems to be toned down a bit, in both size and style. Things used to be Mediterranean. Now they're Coastal.
The homes are what make the newer golf course communities so special. They're extremely comfortable—good-sized, well-proportioned and beautifully laid out. True, they are the same thing, over and over again, but they are great places to live. For day-to-day quality of life in a bright, open house with greenery and sunshine outside the window, with your own pool overlooking the eighth green, they are hard to beat. And when you need a jolt of excitement, downtown is just 20 minutes away.
Takeaway: Keep an open mind. You may be pleasantly surprised.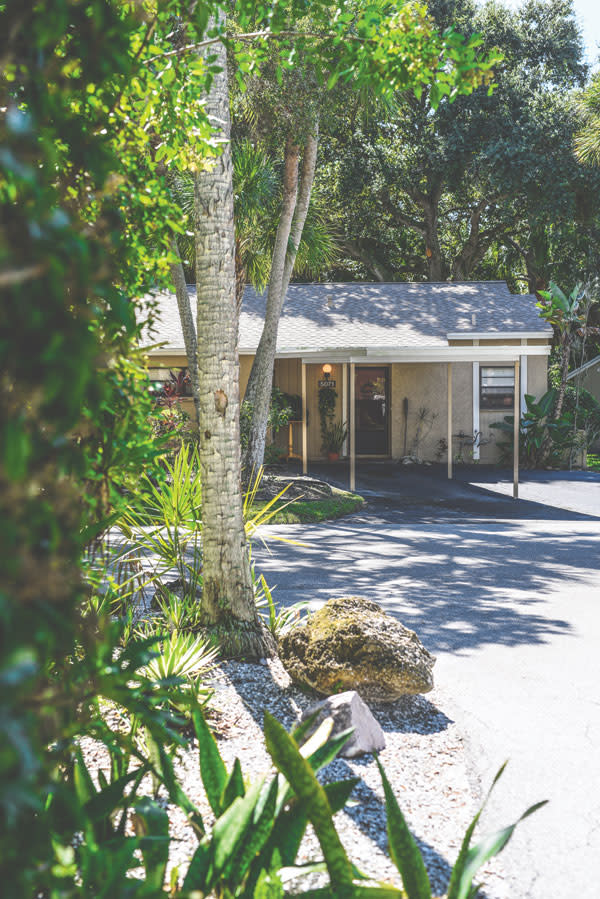 For the unlucky investor: Village Gardens
It could happen to any of us. Some financial disaster, some mini-Madoff—as actually happened here a few years ago, when an investment scammer cost local investors millions—and you could lose everything and be forced to live on $1,200 a month from Social Security. That would be the end of your luxurious Sarasota retirement, right?
Frankly, yes. But you can still live respectably in Sarasota on a budget and participate in almost everything the town has to offer. For instance, at Village Gardens, a condo complex in the north part of town, you can buy a nice unit for under $100,000 and it's regarded as a perfectly acceptable place to live. In fact, it's even a little cool, as many people from the Ringling Museum and Asolo Rep have called it home over the years.
What's your barebones lifestyle going to be like? You have a pleasant little villa that's around 1,000 square feet, with two bedrooms and two baths. The living room will probably have a vaulted ceiling with clerestory windows, and there will be a screened lanai. The setting is superb—beautiful landscaping, tall pines, lots of open space. And as for the location, well, you can actually walk to the airport—although, thankfully, you're not in the flight path. On a quiet night you can hear dogs barking from over at the dog track. I lived here for two years and would move back in a minute. In fact, after that recent stock market "correction," I may have to.
Takeaway: a real find at this price point, and it's cheaper than a trailer park.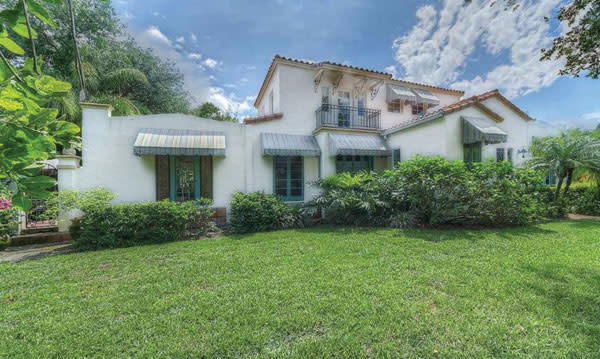 For the collector: Lido Shores and beyond
Boomers were told to "follow their bliss," and for many that meant a lifetime of pursuing such things as mid-century furniture, arts and crafts pottery, or even just endless trips to Goodwill. For this crowd, the neighborhood is less important than the house. What they're looking for is what Susan Sontag so aptly described as "a museum for their enthusiasms."
Luckily, Sarasota has plenty of these museums, usually older homes in nice neighborhoods that will come to life once more when filled with a lifetime of your mania for collecting. Yes, you can put the stuff into some suburban cookie cutter and hope for the best. But to have the right baseboards, the correct windows, the perfect flooring—that's the ideal culmination of a lifetime of collecting. In fact, your retirement home could very well be the crown jewel of your collection.
If you want our famous Sarasota School of Architecture with its elegant mid-century lines and spaces, perfect for your Eames chair and your Vasarely prints, you'll find great places in Lido Shores, but they're going to be very expensive. More affordable examples can be found tucked into neighborhoods all over town. To get started, check out the website of Martie Lieberman, a realtor with Premier Sotheby's. She's the acknowledged expert.
If you want old cottages from the 1920s, try above-mentioned Gillespie Park or much more upscale Southside Village. The latter is one of Sarasota's top neighborhoods; it's where middle-class Sarasota—the high school teachers, the nurses, the circus performers—used to live back in the old days. Now it's transmogrified into a chic enclave of the hip and stylish. The old homes have been all gussied up and start at half a million. Unfortunately, many are being torn down and replaced with brand-new homes—nice but hardly unique—so hurry up.
For old Spanish homes from the 1920s, check out the museum area. It was here that many old pioneers and early associates of John Ringling built beautiful homes with loggias, fountains and decorative tiles, with many of the materials being leftover stock from the Ca'd'Zan. Today these homes are highly prized and getting rarer. A wonderful example currently on the market is the house below, built in 1925 by John Ringling's attorney. It has all the original features you're looking for: pecky cypress beams in the living room ceiling, wrought-iron grills, stained glass windows, even a secret room. The kitchen and baths have been updated and a beautiful pool installed. The price? $1.1 million. And it's right across the street from the museum.
Takeaway: Need the perfect home to showcase your collection? Chances are you'll find it here.