Article
Neighbors Rally to Restore South Gate Community House
The building was designed by the Sarasota School of Architecture's Victor Lundy.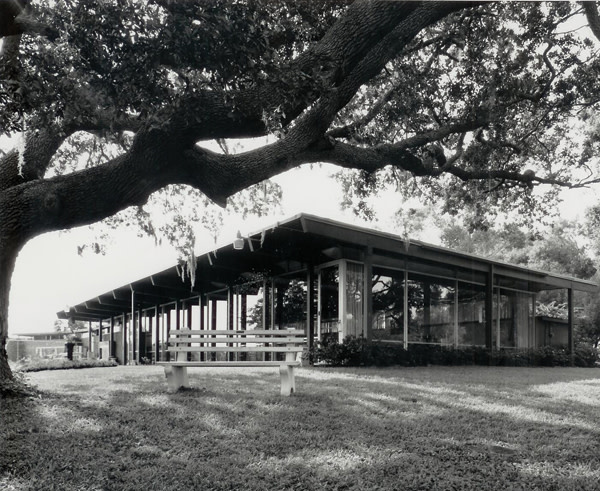 A fading jewel of the Sarasota School of Architecture, the Victor Lundy-designed South Gate Community House, may soon regain its brilliance, thanks to neighbors who've found a new nonprofit organization.
Built in 1956 at 3145 Southgate Circle, the graceful glass pavilion set on a wooded lot bordering Phillippi Creek houses the office of the South Gate Community Association and is rented out for weddings, parties, funerals and religious services.
The Foundation for the Preservation of Victor Lundy's South Gate Community House hopes to stabilize the building and correct unfortunate updates that took place over the years, most noticeably the addition of an office that closed up the original glass-front entry. "We know what needs to be done, but we don't know how extensive the repairs are and what the price will be," says foundation president Dan Beswick, who is also manager of the 2,100-home association. In late August, the group hosted its first public event to begin raising $45,000 for an engineering study to determine which comes first: a new roof, air-conditioning system "and this that and the other," he says. "We want to do it as authentically as possible."
Lundy, now 92 and living in Houston, also designed the cobalt blue-tiled Pagoda Building on North Tamiami Trail, the "butterfly wing" of Alta Vista Elementary and St. Paul's Lutheran Church on Bahia Vista Street, with their sweeping winged roofs. Among his international work, he designed the "Bubbles Pavilion" for the 1964 New York World's Fair and the U.S. Embassy in Sri Lanka.