Article
Is Harbor Acres Sarasota's Best Neighborhood?
This enclave of quiet wealth may be the best neighborhood in town.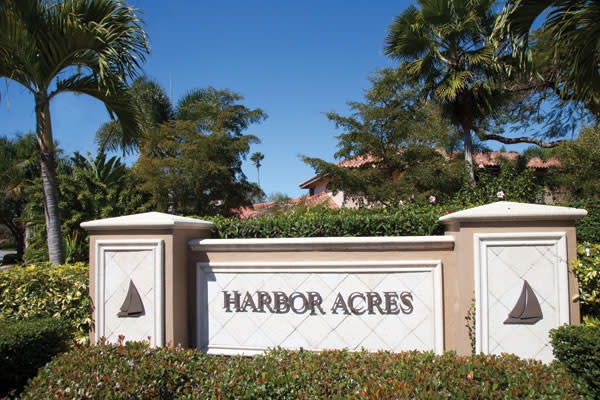 Of all of Sarasota's great neighborhoods, Harbor Acres is the one with the charmed life. No lurid scandals in its past. No flamboyant celebrities to cheapen it. No controversy attached to its development. It just keeps sailing along, its property values increasing and its prestige at an all-time high.
It has competitors, sure—neighborhoods that are almost as remarkable and just as expensive. Some are even more charming. But they all have something wrong with them. The ones on the keys have the bridge traffic—something that tends to become a deal breaker the older you get.
And as for the mainland neighborhoods and their various virtues, Harbor Acres has the greatest virtue of all—location. It is the best-located neighborhood in town, period. You can walk downtown in five minutes, and the hospital is five minutes in the other direction, in case you're a highly paid heart surgeon, which in Harbor Acres you very well may be.
The pluses go on and on. It's got great boating. The views are jaw-dropping. It was the first place to recover after the recession. Just about the only thing it doesn't have is gates. But as one resident put it, "Many of the houses have their own gates."
It's instructive to compare Harbor Acres to Lido Shores, one of its big competitors in the "Best Neighborhood in Town" contest. Both are about the same size and age, and both are on the water. But the similarities end there.
Lido Shores is tropical glamour, bright sunlight, world-famous modern architecture. Harbor Acres is discreet wealth, lots of shade, and homes that, while remaining fabulous—what $5 million home isn't fabulous?—can be found in other wealthy enclaves all over the country.
Lido Shores is also famous for its colorful residents over the years, famous names like Bobby Vinton and Adrienne Vittadini, and con men like—well, the list is so long I hardly know where to start. Harbor Acres has no celebrities and never did, unless you count heirs to major fortunes. Rumor has it there was a Crane Plumbing heiress who lived on Hillview Street, in a house full of portraits of the Spanish matador she was madly in love with.
These days Harbor Acres is the place where the town's establishment lives. The residents who own businesses own the largest businesses in town. The doctors—and yes, there are a lot of them—are the town's most highly paid specialists. The couples who moved there for retirement are retiring from CEO positions at the nation's largest companies.
And lately you're starting to hear the words "hedge fund" and "software" come up more.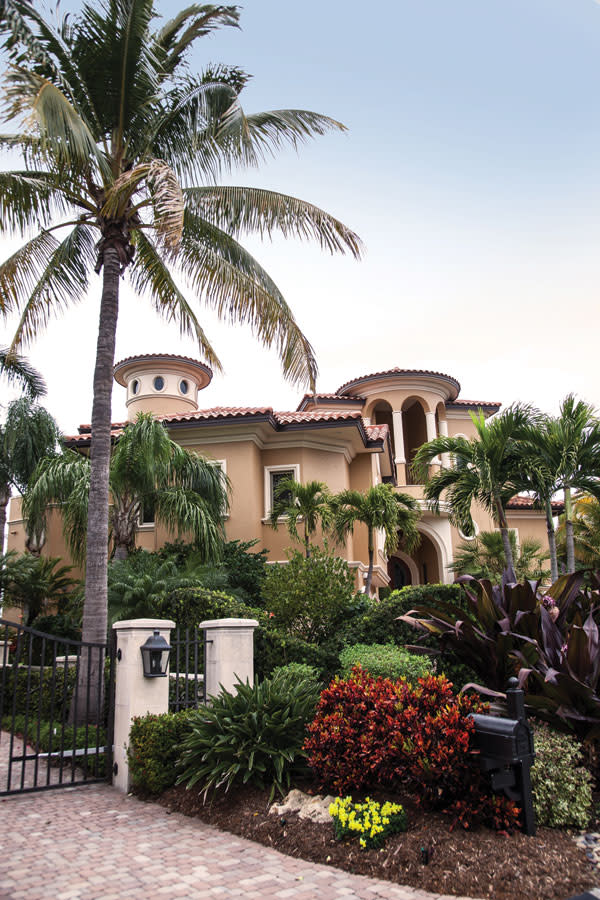 Long-established as it is, Harbor Acres wasn't always there. It used to be a "virtually impassable, mosquito-breeding mangrove jungle in the middle of Sarasota," according to an old newspaper article. There was one house at the southern extremity, a place called the Eagle's Nest.
The neighborhood wasn't developed until after World War II, when proper dredging was accomplished and a seawall built. The first lots—there are 171 of them—were sold in 1951. They started at $2,500 and went up to just over $10,000 for premium waterfront. The lot size ranged from a third of an acre to a full acre, and more than half of them were on the water.
Harbor Acres was a hit right from the start. Homes were built immediately and were virtually all custom Florida ranches, low and long, mostly done in white and pastels. This was the 1950s version of upscale Florida living—informal and around the pool, but with a spacious feeling and just a hint of formality in the living room. Harbor Acres had nothing to do with the famous Sarasota School of Architecture that began around this time. That was for the arty bohemians on Lido Shore. Harbor Acres was country club Republican.
The neighborhood has three main sections—four, if you count the string of houses that front Orange Avenue. There are the "garden homes"—a real estate euphemism that means they're not on the water. Many are original Harbor Acres homes that have been updated and enlarged over the years.
Waterfront comes in two categories: the ones on Harbor Drive, where there is a slew of new homes that suspiciously resemble McMansions, and Hillview Street—plus its appendage, Vista Drive—where the lots are larger and the trees taller, and the term "mansion" is entirely appropriate. It could be argued that Hillview is the best street in town, and it frequently is, by the people who live there.
Hillview's most famous resident was a reclusive billionairess who set the tone for the steadfast sobriety the neighborhood enjoys to this day. Jane Bancroft Cook, who many old-timers still remember—she died in 2002 at age 90—was the major stockholder in the $4 billion media empire that then included Dow Jones and the Wall Street Journal, until Robert Murdock bought it. She divided her time between Sarasota and another home in Massachusetts and functioned locally as a Lady Bountiful to just about everybody in town, particularly New College, which wouldn't have existed without her. (Today the college library bears her name.)
Mrs. Cook's neighbors back in the old days may not have been as rich, but they were the people who ran Sarasota. Ken Thompson, the legendary city manager (he served for 38 years) lived there. So did Robert Nelson, who owned WWSB, the local TV station. Lillian Burns, daughter of early developer Owen Burns, had a home on Hillview. So did developer and former city commissioner Gil Waters. There was the Hibbs family, there was Jerry Collins who owned the dog track….the list goes on and on.
Today the pattern is stronger than ever. Drayton Saunders, CEO of Michael Saunders & Company, lives in one of the "garden homes" as befits his status as one of the town's leading young professionals. "I can remember trick or treating back in the neighborhood when I was 7 years old," he recalls. "This is where my father lived." Today he serves as president of the Harbor Acres Homeowners Association.
Bill and Margaret Wise—key players in Sarasota's social-political-philanthropic scene for 25 years—have a big Southern Colonial style home on Hillview. It's a house Margaret had her eye on for years while they lived on Siesta Key. "I want that house," she kept telling Bill. "And we're going to get it." It finally came on the market and they grabbed it.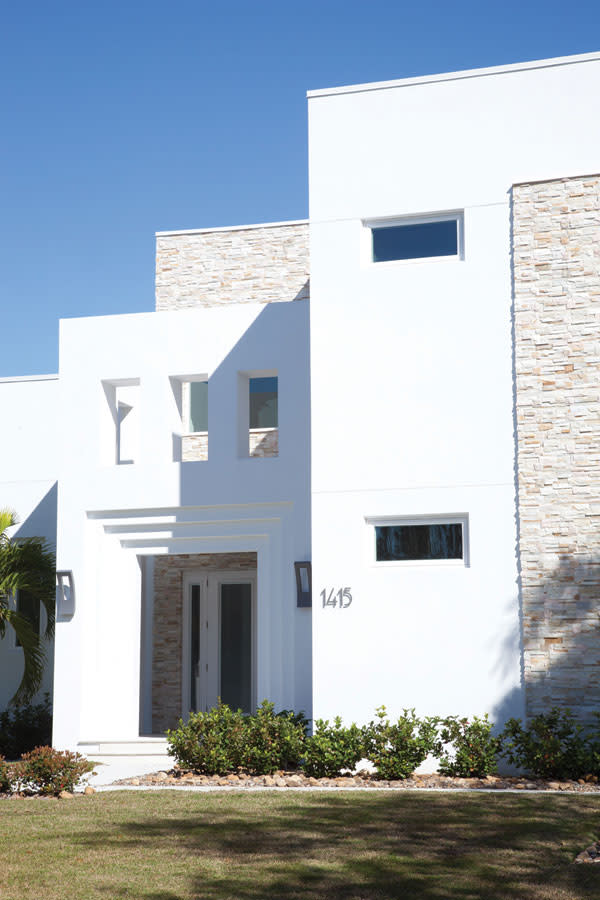 Real estate in Harbor Acres can get very pricey. Realtor Janis Collier, who has lived there 20 years, explains that tear-downs start around $800,000. "There's one currently on the market for $875,000," she notes. Renovated homes can go as low as $1.1 million; as far as new construction, there's an almost new (2012) garden home listed at $1,975,000. Prices rise for anything on the water; most start at just under $5 million. Most highly sought after are the new homes. "They sell quicker than anything else," Janis explains. "Where else can you get a brand-new home so close to downtown?"
Residents praise Harbor Acres' friendly atmosphere. "It's the kind of place where you can go next door and borrow a cup of sugar," says Saunders. Or get to know your neighbors while walking the dogs. "Our dogs wouldn't be happy anywhere else," says Margaret Wise. The neighborly feeling has remained a big draw over the years. Relative newcomers Mitchell and Dawn Epstein—they've been there seven years—chose it for that very reason. "It was important to me to have a community feel," Dawn Epstein says. "There's great energy here."
If there's anything missing from Harbor Acres, it's conflict. There are no architectural monstrosities to shock the neighbors, no traffic problems, no zoning issues. True, there was one house that was a problem, a somewhat shabby old wreck with junk in the front yard. It was owned by someone who inherited it and had let it go to seed. Neighbors say the problem is being solved in a particularly Harbor Acres kind of way—a resident is buying it, with plans to tear it down and put up a tennis court.
But surely there must be some drawbacks to living in Harbor Acres, some little unhappy secrets that only the residents are aware of. I grilled several of them about this and got long silences while they tried to think of some. A few mentioned the periodic flooding that comes during bad storms. One man told me he had seen several speeding cars over the years. And another recalled something about gypsies stealing something from a garage 35 years ago. Other than that—nothing.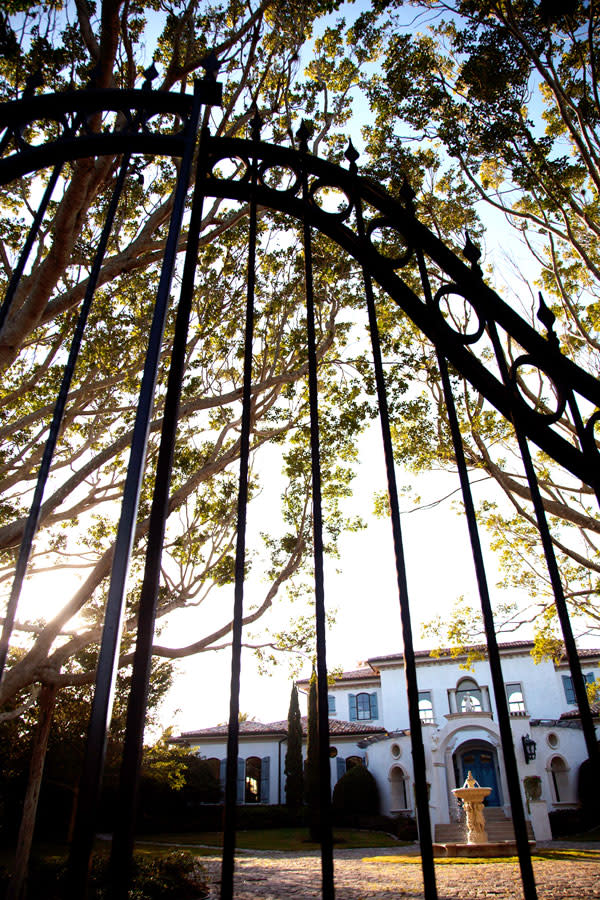 Harbor Acres is pretty from the street, but to really appreciate it you must see it from the water. Here, behind the discreet facades that present the homes to the casual passer-by, things open up in an almost giddy way. There are cascading terraces of acid-washed limestone, double-height glass walls, fountains, loggias, sculptures, swimming pools, yachts, lawns sloping down to the water. As a picture of present-day affluent Sarasota, it's pretty impressive.
Still, no one ever moved to Harbor Acres for its innovative architecture. The homes are mostly Spanish or other easily identifiable styles. True, there are a few modern houses, most notably the Malamud house at the end of Hillview, or the Nelson home nearby, now elaborately spruced up by a new owner.
A few—very few—of the original homes are left. A white, one-story ranch circa 1960 still stands on Harbor Drive, dwarfed by its three-story Andalusian-style neighbors. A handful of its contemporaries dots the neighborhood, waiting for their turn at demolition and rebirth. Even the older homes that have been expanded and updated are being torn down, for in Harbor Acres few tears are shed as the neighborhood upgrades its look and price tag every 20 years or so. Owners who have property on the premium lots are routinely approached about selling, usually for cash, and some of them take the bait. A new group is coming in—younger, richer, but still very much attuned to the quiet Harbor Acres lifestyle.
At the tip of Hillview is a vacant lot where once stood the home of Jane Cook. She bequeathed it to New College, and it was sold at auction for $3.9 million. After sitting empty and forlorn for years, it has been purchased by David and Lisa Grain—for a reported $6.5 million. The Grains, who made a fortune in telecommunications, plan to start building soon. They'll be moving from Bird Key in what has become a classic Sarasota scenario—you start out on the keys but for the long run you move back to the mainland.
And if you continue around the point on the south side of Hillview, you'll see the house purchased in 2012 by Merle and Patricia Butler of Red Bud, Ill. The Butlers had just won $157 million in the Powerball lottery, and they spent $7.5 million on the 8,437-square-foot Mediterranean-style home. Now they're contented members of the Harbor Acres community, attending the barbecue that's held every summer and the annual dinner at—where else?—the Field Club. It's a happy story and one that points out better than anything the Harbor Acres mystique—it's the kind of neighborhood you buy a house in when you win the lottery.
Click here to read Robert Plunket's Real Estate Junkie blog. >>