Article
How to Create a Spa-Like Bathroom
The Ritz-Carlton, Sarasota's bathroom redesign project manager, Jude Mulhern, shares tips for creating an indulgent, spa-like space.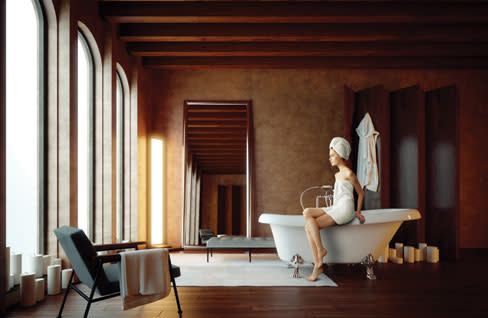 A hotel expert shares tips for creating indulgent bathrooms.  |  by marsha fottler
One of the many pleasures of high-end hotel travel is the luxurious bathrooms, those little temples of gleaming marble equipped with every imaginable indulgence. And the experience is only going to get better. Ritz-Carton hotels will refresh their luxury bathrooms starting next month, and what will go into those spa-like vacation retreats is based on focus groups and guest comments gathered over the past months. As pleasure-centric people travel more, watch HGTV programs, and complain on the Internet (demanding better water pressure, more electrical outlets and more comfortable beds), hotel guests see they can have it all in a spa bathroom, big or tiny. And many decide to create the same pampering perfection in their own homes.
We asked the experts behind the Ritz remodels to share some tips with homeowners. Turns out, it's all a matter of choosing the right amenities for creating a customized spa experience, and it can be accomplished at any price point.
Jude Mulhern, design manager at Bilkey Llinas Design in West Palm Beach, is the project manager for The Ritz-Carlton, Sarasota bathroom refreshment project. With the market research in, she's ready to give the traveling public what it wants in the ideal bath.
"A rain-shower head plus separate hand-held shower and also body jets within its own cubicle is a primary feature," she says. "And ideally people want a separate toilet room. Then there's a double-sink vanity unit. If the room is big enough, a free-standing tub with water or air jets is on a lot of wish lists of travelers and homeowners."
For surface materials, the design expert knows the luxurious bathroom calls for marble, granite or quartz on walls, floor, tub surround and vanity tops. High-quality porcelain tiles on floors and walls are also suitable and can be a less expensive option. "Frosted glass is a wonderful accent," says Mulhern, "and rough stones and mosaics to create feature walls or design accents always work. We also use high-end vinyl wallcoverings in our baths for feature walls. It's an excellent and cost-efficient solution. There are so many fabulous wallcoverings on the market that it's easy to become overwhelmed with choices."
How about a wall-mounted TV in the spa bath? "Absolutely," says Mulhern. "But to minimize the intrusive appearance of the television, opt for a TV-mirror." The television screen looks like a mirror when the TV is off. And speaking of mirrors, Mulhern suggests you go big because it will increase the feel of spaciousness. Use the mirror frame as an opportunity to make a design statement, or consider a frameless mirror with built-in lighting strips at the edges to create a contemporary feel. Add a wall-mounted magnifying mirror with built-in lighting.
Lighting in any bathroom is a crucial part of successful design. "Lighting should generally be ambient," stresses Mulhern. "However, wall sconces or an electric lighted vanity mirror provides even lighting around the face. A unique pendant fixture is a glamorous touch if you have the ceiling height. If you want a more contemporary look, go for recessed down lights. Don't forget candles, real ones or the battery-operated flameless ones. Newer models operate off a remote, and isn't that a nice convenience?"
Mulhern feels that the color scheme in the bedroom should carry into the en-suite spa bath because it will make the space feel integrated and larger.
"You want a relaxing palette that will create a tranquil, stress-free environment," says the expert. "A white or cream backdrop can be enhanced with soft blues, greens and grays—watery shades that mimic those found in nature. The use of natural sand and rock colors is also effective. If your bath is large enough, darker accent colors can be brought in to create a Zen-like atmosphere."
With all the muted color schemes, Mulhern recommends bright white towels because they always look clean and fresh, something hotel guests insist upon. "Bath accessories such as soaps and lotions should match," she adds. "Hide bath products if you can, keeping the counter looking uncluttered. Accessorizing your bathroom with top-quality natural or organic bath products will enhance the spa atmosphere and make you feel special."
As a finishing touch, designer Mulhern likes to bring in a comfy lounge chair or chaise. Relax, sip a drink and read after emerging from that luxury shower or bubble bath.