Article
How to Choose the Perfect Outdoor Lighting for Your Home
Tips from landscape designer Robert Davie; plus the history of the iconic ottoman.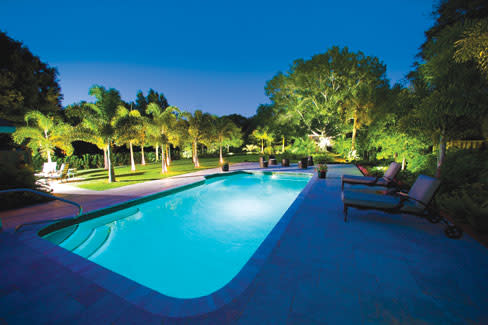 "Very few homeowners pay enough attention to lighting their outside spaces. That's a shame, because proper night lighting increases security. It also visually expands your living space, gives you more options for entertaining and shows off your plants, trees and garden architecture in a dramatic and beautiful way."
"Never go to a big box store and buy those garden path lights on stakes that you stick in the ground, one every five feet. The color of the light is all wrong, they don't put out enough light, and you end up with a yard that looks like a runway just waiting for a plane to land. Also avoid colored lights in the garden. Stick to white."
"Night lighting should approximate moonlight. You want a gentle and romantic wash of soft bluish light to cloak everything. LED options are the way to go. These new lights use less energy, put out more light and can be cleverly hidden in the landscape, because ideally you never want to see the light source."
"The purpose of outdoor lighting at the front of your house is to increase curb appeal and guide people to your door. Aim for restraint and lighting that makes the house and yard softly glow. If you have a magnificent tree or significant architectural detail on the house, do some special lighting of that feature."
"Sometimes you may want to highlight a wall instead of a tree or plants.Then you get a constant play of shadows and silhouettes on that blank canvas, which can be lovely. Also, most people up-light a big tree and sometimes that's fine; you want to show the canopy. But consider down-lighting and perimeter lighting, too. One light source is generally not enough, and the days of just sticking a big spotlight at the base of a tree are over."
"Here's a trick that works for small yards and garden areas like mine. Put lights at the farthest end of your yard. Perimeter lighting draws the eye to a far point and makes the space appear much larger. If you have some garden art or architecture out there that's lit, so much the better. From inside the house, the area will seem vast."
It's a Classic: The Ottoman
Call it an ottoman, pouf, hassock, footstool or even tuffet, the concept is the same—an upholstered, backless, usually round piece of occasional furniture that you can use for extra seating, a cocktail table or to rest your feet on. Every home needs at least one to slide in front of the sofa or position in your dressing area. A pair of small ottomans is sometimes more handy than a single big one, and an ottoman on casters is something to prize.
The ottoman, which has been around in the East since antiquity and was usually piled with pillows for extra comfort, made its way from the Ottoman Empire to Europe in the late 18th century. Today, it's hard to find a homeowner who hasn't bought an ottoman for at least one room or outdoor living space. It's versatile, practical and can deliver a big punch of color to a dull space. Some ottomans even have lift-up tops for storage. Who wouldn't love that?
For more Sarasota real estate and interior design news, click here. >>
This article appears in the April 2014 issue of Sarasota Magazine. Like what you read? Click here to subscribe. >>