Article
How Meditation Can Help Heal Your Body and Soul
Plus, health tech news, new treatments for back pain, hair loss, Parkinson's and more, and a compendium of local health resources.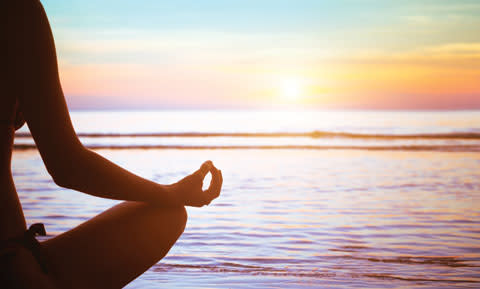 Mindfulness, like meditation, can heal the psyche, body and soul.
WHAT IT IS: "Paying attention in a particular way: on purpose, in the present moment, nonjudgmentally," according to John Kabat-Zinn, an MIT molecular biology grad who developed the modern-day mindfulness movement in 1979. While meditation is often associated with various spiritual practices, "You can practice mindfulness without changing religions," says Nancy Saum, who emphasizes secular mindfulness practices at downtown's Sarasota Mindfulness Institute (sarasotamindfulness.org). "It's present-moment awareness."
HOW YOU DO IT: A typical introduction to mindfulness is the raisin exercise: An instructor guides you through the examination of a single raisin with all your senses; after looking at it, feeling and smelling it, you eat the raisin very deliberately to recognize texture and flavor and any other factors that might be present.
Focusing on breathing is also a common mindfulness technique; other exercises might involve acknowledging the process of movement like walking—the feel of the ground against various parts of your foot, the moment-by-moment changes, weight transfer, for example. Those exercises often involve slowing down, especially in the beginning. "You do everything slowly so you can take in the complexity," says Saum, who also offers mindful movement classes like qigong and yoga in addition to guided meditation.
The "nonjudgmental" part of Kabat-Zinn's definition of mindfulness is especially important—and often the hardest to grasp, says Saum. When people's minds wander, they tend to think, "I'm no good at this." The key, she says, is to acknowledge those thoughts as perfectly natural, and then to return your focus to the present moment.
WHAT IT DOES FOR YOU: Kabat-Zinn famously used mindfulness to treat chronic pain, among other medical ailments. Nowadays, it's used for everything from dietary therapy to sports performance visualization to education and professional settings. (There's even a group in Congress that meets for mindfulness sessions.) When discussing mindful eating, Saum says students sometimes remark, "If I ate everything this way, I wouldn't eat as much." Practitioners often use mindfulness to go to sleep, focusing on breathing and other methods to "check in with our bodies," says Saum.
But first and foremost, mindfulness practice can have an immediate effect on your overall health simply by reducing stress and anxiety. The brain has a tendency to divert focus toward the past or the future; mindfulness guides it away from those stressors. "Our body thinks whatever we're worrying about is actually happening," says Saum. "Whenever we're completely in the present moment, time kind of expands. That's a place where stress doesn't exist."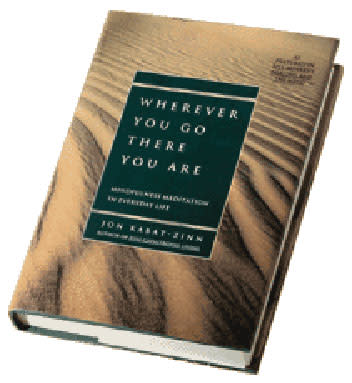 Recommended Reading
Suggestions from the Sarasota Mindfulness Institute. All are available on Amazon.
Wherever You Go, There You Are: Mindfulness Meditation in Everyday Life.  Kabat-Zinn proves an outline for practicing mindfulness on a daily basis.
A Mindfulness-Based Stress Reduction Workbook and Guided CD. By Bob Stahl and Elisha Goldstein.
Heal Thyself.  Saki Santorelli outlines an eight-week mindfulness program.
TECH TALK
Smartphone apps for monitoring tremors
Tremor Tracer -- Helps clinicians assess fine motor control by conducting and recording the results of three primary writing/drawing tests. Available for iPhone. touchdx.com/solutions/tremortracer
Tremor Test -- Uses the phone's accelerometer to create a graph of the amplitude and frequency of tremors. Available for iPhone. tremortest.com
Lift Pulse (for orthostatic tremors) -- From the makers of Liftware stabilizing technology for utensils and other tools, Lift Pulse, like Tremor Test, measures and monitors tremor activity through the phone's accelerometer. Available for both iPhone and Android. liftlabsdesign.com
HEALTH 2.0
New treatments for back pain, hair loss, Parkinson's and more.
Neurostimulation -- Chronic back pain is a common scourge. This new device treats back pain by using miniature pulsing probes that stimulate hundreds of problem points in the lower back with safe, highly concentrated electrical impulses. That neurostimulation stimulates nerve endings and triggers the release of endorphins—your body's "happy hormones." Available at Natural Healing Arts Medical in Bradenton.
Miracle Belt -- An inspired invention by former pitcher Matt Bruback, who came to Sarasota with the Orioles organization, the Miracle Belt concentrates added weight around the lower core to develop body awareness and engage particular muscles, while strengthening balance and coordination. It's a method Bruback used often in his professional baseball training, but it's also a major help in everyday activities for children with Down syndrome, movement disorders and even autism and ADHD, who can suffer from muscle weakness and coordination issues. Available through miraclebelt.com.
HairMax Laser Comb -- Hair loss can be a devastating medical crisis, especially for women. But the HairMax Laser Comb is an at-home, pain-free therapy that can stimulate the scalp's follicles. Studies have shown that you just have to use the comb three times a week for eight to 15 minutes a session to stimulate significant hair growth—about 150 additional hairs per square inch. Currently available through The Ritz-Carlton, Sarasota.
Medtronic Reveal LINQ Insertable Cardiac Monitor (ICM) System -- For hearts that have trouble keeping the beat, this new gadget is one-third the size of a AAA battery—the smallest implantable cardiac monitoring device available. It's inserted through a minimally invasive procedure, and the long-term remote monitoring helps physicians diagnose and monitor irregular heartbeats, which might cause anything from dizziness and fainting to chest pain and more serious cardiac events. This spring, Manatee Memorial Hospital became the first hospital in the region to implant the device in a patient.
RESOURCES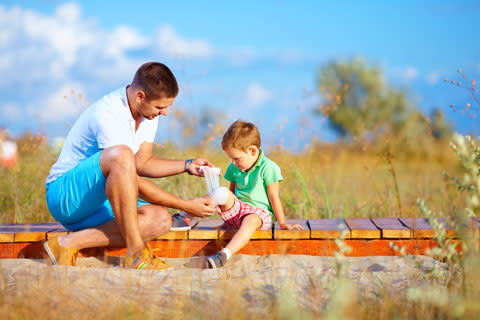 Family First Aid 
How to spot and respond to Sarasota/Manatee medical emergencies.
Overheating -- Warm Florida weather can happen year-round, so pay heed to heatstroke. Symptoms include fever above 104 degrees; dry, hot, red skin; rapid, weak pulse; seizures and unconsciousness. If you spot someone with those symptoms, have him lie in a cool place with feet elevated 12 inches. Apply cool compresses to the neck, groin and armpits.
Drowning -- Whether it's the beach, bathtubs or pools, be mindful of the hazards of even a few inches of water—especially for children. If you see someone struggling in the water, call 911 or a lifeguard; trying to rescue someone yourself can put you both at risk. Swimming lessons are offered locally through the Sarasota YMCA (thesarasotay.org), U.S. Masters Swimming (usms.org) and Miracle Swimming (conquerfear.com).
Broken Bone -- Falls, car accidents or even repeated motion like running can cause a bone to break. If you see a misshapen limb or joint, or are experiencing intense pain, apply ice packs and seek medical assistance. Unless it's an extreme emergency, never move someone with a suspected neck or back injury.
Poisoning -- Many helpful chemical products can have dire consequences if they're misapplied or overused. Medicines, pesticides, plants, household products or cosmetics may be inhaled, ingested or be dangerous to the touch. Rinse the affected area and expose to fresh air, and contact a medical professional immediately. Poison Help Line: (800) 222-1222.
Burns -- Whether the Florida sunshine gives you a nasty burn or it's something more serious like fire, electrical or chemical burns, second- or third-degree burns should be medically treated (for first-degree, cool water, aloe and ibuprofen should do the trick). Don't break blisters or use ointment; that may make it worse.
Tick Bites -- It's hot here, so wearing long pants and long sleeves can sound oppressive. But if you're spending the day in woods, protective clothing is one of the surest ways to avoid tick bites. If a tick attaches itself to your skin, don't try to burn it; rather, use tweezers to pull it out, being careful to remove the head. See a doctor if symptoms persist; tick-borne illnesses are no joke.
Save these Numbers
911 – Emergency Hotline
(800) 222-1222 – Poison Help Line
(941) 861-5800 – Sarasota County Sheriff's Office
(941) 366-8000 – Sarasota Police Department
(941) 747-3011 – Manatee County Sheriff's Office
(941) 379-9300 – American Red Cross Southwest Florida Chapter
(941) 951-2916 – Sarasota Family YMCA Metro Office
(941) 256-8767 – U.S. Masters Swimming
(800) 723-7946 – Miracle Swimming
(941) 917-9000 – Sarasota Memorial Hospital
(941) 746-5111 – Manatee Memorial Hospital
(727) 373-7233 – Suncoast Safety Council
DIRECTORY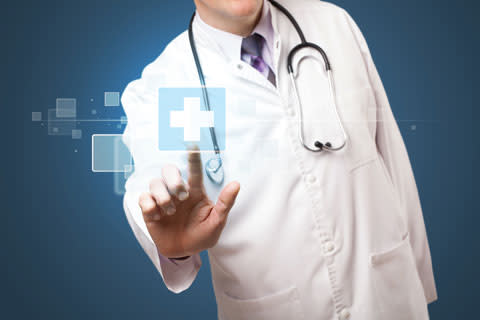 Health Care Here
The area's award-winning medical centers offer world-class services right in our own back yard.
Blake Medical Center
2020 59th St. W., Bradenton
(941) 792-6611
Featuring a level II trauma center serving the region south of Tampa, this west Bradenton hospital and emergency facility offers a full spectrum of certified care services.
Doctors Hospital of Sarasota
5731 Bee Ridge Road, Sarasota
(941) 342-1100
A 155-bed acute and general care facility, including a 24-hour emergency room and a range of certified outpatient and inpatient diagnostic, treatment and preventative services.
Englewood Community Hospital
700 Medical Blvd., Englewood
(941) 475-6571
Serving southernmost Sarasota County, this 100-bed acute-care hospital provides the full scope of health care services.
Lakewood Ranch Medical Center
8330 Lakewood Ranch Blvd.,
Lakewood Ranch
(941) 782-2100
lakewoodranchmedicalcenter.com
The region's only hospital east of I-75 offers a comprehensive range of specialties, as well as a 24-hour emergency room.
Manatee Memorial Hospital
206 Second St. E., Bradenton
(941) 746-5111
Located in downtown Bradenton, this 319-bed acute care facility and emergency room has served the area for more than 60 years, offering 400 on-staff physicians with a range of specialties.
Sarasota Memorial Hospital
1700 S. Tamiami Trail, Sarasota
(941) 917-9000
Founded in 1925, this 806-bed acute-care regional medical center is part of one of the largest public health systems in Florida, with noted heart, vascular and neuroscience services and a year-old, nine-story Courtyard Tower patient care building.
Venice Regional Bayfront Health
540 The Rialto, Venice
(941) 485-7711
South Sarasota County's 312-bed regional health care system features a nationally recognized cardiovascular program, as well as a full menu of medical, surgical, diagnostic and emergency services.