Article
How to Care for Ailing Loved Ones: Three Caretakers Share Their Stories
Three caretakers share their stories.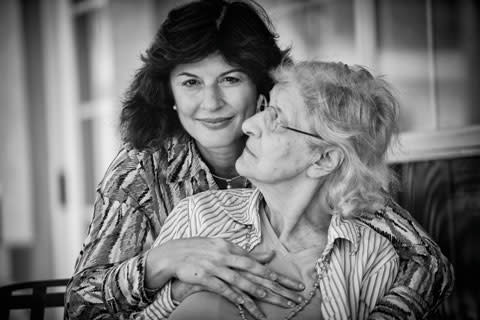 The statistic is shocking: 63 percent of elderly people caring for a spouse with a debilitating disease pass away before their loved one, according to the Journal of the American Medical Association. Caregivers are so immersed in their daily responsibilities that they tend not to exercise, eat right, socialize or keep their own doctor appointments, says Pam Baron, M.S.W., director of senior services at Jewish Family and Children's Services of the Suncoast (JFCS). "There's more stress, lack of sleep, poor nutrition, depression. That's the danger with burnout," she says.
With nearly one in three residents age 65 or older, Sarasota County is the oldest large county in the nation. Several local social service agencies offer support groups for people caring for loved ones with Alzheimer's disease, Parkinson's, neuropathy, vascular issues, macular degeneration and general frailty. "Sarasota has some incredible resources, but they're not as well utilized as they could be," says Baron. At JFCS, besides sharing stories and coping skills, caregiver group participants learn meditation and yoga. "The key is to keep the caregiver healthy and as emotionally strong as possible," Baron says. "By helping you cope, it's going to be better for your care partner."
"SOMETIMES I JUST NEED TO CRY"
Carrie Santostasi cares for her mother, Nina, 83, who was diagnosed with Alzheimer's five years ago. She and her father, Nick, 85, recently moved Nina to the memory care unit of a local assisted living facility.
"Dad's been caring for Mom, and I've been helping spell him. When she stopped sleeping through the night and he ended up in the hospital, he realized that he had to place her. Last week he said that he's ready to sell the house. He's going to a retirement center, which makes me feel better."
"There's a lot of help out there—classes and support groups. I had to push Dad to attend a Senior Friendship Center support group with me while Mom spent time in The Living Room [the center's adult day care program]. He's a stubborn Italian, but fortunately we get along well. He goes to visit Mom every morning or afternoon and I go in the evening after work."
"Everything in this process is difficult, but there's always a blessing. My mom hardly talks, but we hold hands, we kiss, we go for a walk. It's so sweet."
"My sister-in-law was very close to her parents like I am, and she's good support for me. Sometimes I just need to cry, and she is wonderful. I have good friends, a wonderful church, a lot of prayer and a lot of support."
"The best advice I got was from someone who said read everything so you know how bad it could get, but don't let your mind go there. Start planning; go to the attorney and get all the paperwork done."
"I make sure Dad and I get our nutrition and sleep. Getting enough sleep is No. 1; without rest you can't really cope with anything else."
"My brothers live out of town, and I make them aware of any large decision. They come down; the grandchildren have been here. I send pictures. I encourage them to visit while she still knows who they are."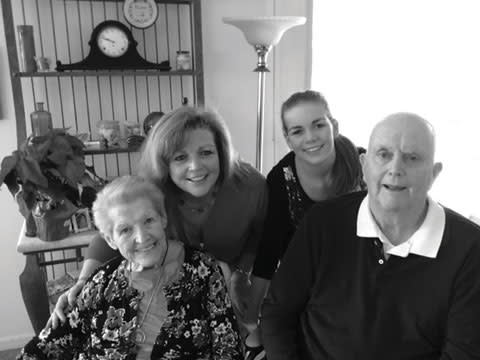 "I DO THIS BECAUSE MY PARENTS PAID IT FORWARD"
For eight years, from her home in Warwick, R.I., Maureen Flanagan has been overseeing the care for her parents, Tom, who passed away in July at the age of 86, and Marge, 83. It started when they began to exhibit signs of dementia; in December they were placed in a health care facility. "We honored their wish to stay in Florida," she says.
"My parents moved to Sarasota in 1992 and they had a lovely, lovely life. My father walked the beach every day and was very proud of his 5,000-plus hours of volunteering at Sarasota Memorial."
"For eight years, I've coordinated their doctors' appointments and medicines, arranged for in-home caregivers, paid their bills, talked to the SCAT Plus bus dispatchers almost daily to arrange for the bus to pick them up for their appointments and for church. SCAT Plus extended my parents' lives."
"Become very involved in your parents' finances so you can have a clear picture of what they're paying for. I put all my mother's banking online so I can pay all of her bills, and all their mail is forwarded to me. It's so important to have a handle on what your parents' wishes are."
"I made a commitment two years ago to come in every 60 days; now I visit every 30 days."
"Gather a support system; people who you can depend on. My father fell out of bed two days after I returned home in July; he cut his head and had to go to Doctors Hospital. I called his former caregiver who lives in St. Petersburg; she got out of bed and drove to the hospital and stayed with him until he was discharged, and sent me a picture of his head. "
"I work full-time as a first-grade teacher. I have a very supportive husband and family. I enjoy cooking, and I try to exercise, but that's sometimes the first thing to go when time is short."
"I do this because my parents paid it forward; I wouldn't have it any other way. I say good night to my mother every night. I run this household and I've run theirs for eight years. People ask me how I do it, and I tell them it's a well-oiled machine."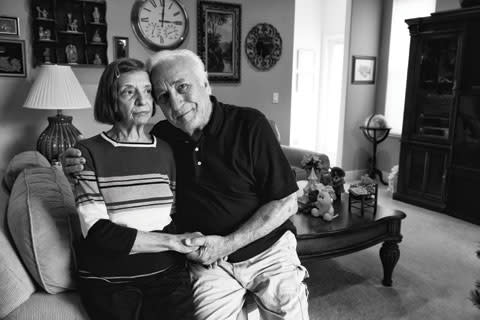 "I WILL LOVE HER FOREVER"
Arthur Lamia is the caregiver for his wife of 54 years, Lois, who was diagnosed with Alzheimer's disease four years ago. He joined a JFCS caregiver support group three years ago at the advice of a friend at the gym.
"The group becomes a family. We share personal experiences and solutions not available in any caregiving materials. It's amazing what we learn from each other. Nothing is held back, everything is very personal and open."
"I've had many breakthroughs through the group: how to accept and handle changes; every day is a new normal. That's a big statement, and it's true."
"I do everything now: shopping, cooking. In the beginning I'd bathe her, do her nails. Now, all of a sudden she's shy, she doesn't want me to bathe her anymore."
"A nurse comes Monday and Thursday and takes care of her hygiene needs, and I take her to [an assisted living facility for respite care] twice a week. She has lunch and spends the afternoon. That's when I shop, go to the gym, run errands, get my car serviced and go to my own doctor appointments."
"I happen to be lucky. She's a very loving person. It breaks my heart to tears to see her fade away. She wants to know constantly that I'll be here for the rest of her life."
"My best advice: Keep the love alive. I keep our romance alive every day: we hug and kiss; I write poetry to her. I leave her messages, one in particular. I write, 'I walyl.' It stands for 'I will always love you, Lois.'"
"I left the Christmas tree up this year. Every night she tells me how beautiful it is. That's something I've done to make her feel good."
"Most people will rise to the occasion. You do what you have to do when you have to do it."
Photography by Chris Lake