Article
Sarasota Health News: January 2014
The latest Sarasota health news, including the power of plant-based diets, skincare tips and the latest on National Blood Donor Month.

Mushroom Magic
Looking for a healthy but manageable New Year's resolution? Registered dietitian Eileen Bogo, the clinical nutrition manager at Manatee Memorial Hospital, recommends Meatless Mondays. "It's been shown in studies that people are more apt to make lifestyle/diet changes on Monday than any other day of the week," says Bogo, who supplied this veg-friendly recipe for Portobello carpaccio. By increasing your intake of a number of nutrients while decreasing saturated fat and cholesterol consumption, plant-based diets can reduce the risk of heart disease and some cancers.
Miso-Marinated Portobello Carpaccio
Servings: 3-4 (as an appetizer)
Ingredients
2 tablespoons red or white miso paste
2 tablespoons brown sugar
1 tablespoon low sodium soy sauce
3 tablespoons vegetable oil
2 tablespoons juice, plus 2 tablespoons thinly sliced zest from 1 lemon, plus 1 extra whole lemon, cut into wedges
4 Portobello mushroom caps, stems and dark gills removed
4 teaspoons extra virgin olive oil
2 ounces arugula or other spicy greens
2 tablespoons toasted pistachios, roughly chopped
Coarse sea salt
Freshly ground black pepper
Combine miso paste, brown sugar, soy sauce, vegetable oil and lemon juice in a medium bowl and whisk to combine. Rub evenly over surfaces of mushrooms and transfer to a gallon-sized zipper lock bag. Gently press air out from bag, seal and transfer to refrigerator for at least one hour, up to overnight.
Preheat oven to 350 degrees. Remove mushroom caps from bag and wipe off excess marinade with paper towels. Place on a foil-lined, rimmed baking sheet, gill-side-down, and roast until top surface is dry and mushroom is tender throughout, about 30 minutes. Transfer to a cutting board and let rest five minutes.
Using a sharp knife, cut mushrooms on a sharp bias into thin slices. Transfer slices to a serving platter or individual platters, fanning them as you go. Drizzle with 1 tablespoon extra-virgin olive oil. Sprinkle with lemon zest, pistachios, black pepper and coarse sea salt. Toss arugula with remaining 1 teaspoon olive oil, squeezing one of the reserved lemon wedges over the greens. Top mushrooms with arugula and serve, passing remaining wedges tableside.
Get Under Your Skin
In trying to take care of our bodies, we're always looking for the next big thing, the latest breakthrough, the newest discovery. But when it comes to your skin, at least, Sarasota skincare specialist Renata Swain says basic is better. "There's a ton of stuff out there that's absolute nonsense," she says. "There is really just a handful of things that work, as far as anti-aging topically." Those things are:
Antioxidants. Including retinols, vitamins A, C and E, and L-ascorbic acid. "Retinol is big right now," she says. "With Retin-A, I've seen great results."
Ubuiquinone. A topical version of coenzyme Q10, which is being studied for potential anti-aging benefits in the brain and other organs.
Peptides. These building blocks "straighten the capillaries, increase elasticity and improve water retention in the skin," says Swain. "I have a masque, Peptide 38, that's like a drink for the skin.
"Everything else that you see—fruit extract, snake venom, gold, platinum—is a waste of money."
January is National Blood Donor Month
Twelve Southwest Florida medical centers and organizations receive all of their blood products and services from Sarasota's own Suncoast Communities Blood Bank, which is celebrating its 65th anniversary in 2014. Those recipients include Sarasota Memorial Healthcare System, Manatee Memorial Hospital, Lakewood Ranch Medical Center, Doctors Hospital of Sarasota, North Port Emergency Room, Englewood Community Hospital, DeSoto Memorial Hospital and Bayflite 2.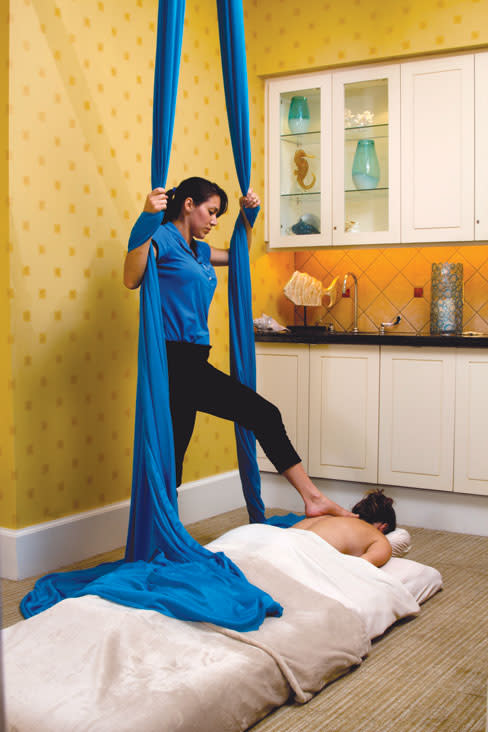 The Circus and the Masseuse
The Ritz-Carlton, Sarasota has created a new massage experience with a nod to Sarasota's circus heritage: the aerial silks massage.
Traditional ashiatsu—"foot pressure"— technique involves a technician who uses her feet and partial body weight to perform the massage while stabilizing herself via overhead bars; the related floor-ashiatsu technique takes the guest from the table to the floor, while the technician uses a chair or stool to stabilize.
Inspired by ashiatsu and developed in-house by the trained massage therapists at The Ritz-Carlton, Sarasota, the aerial silks massage replaces the stabilization bars with strips of fabric hanging from the ceiling—the same sort of apparatus circus performers (like Sarasota's own Dolly Jacobs) use to perform incredible aerial ballets.
The benefits of ashiatsu stem from the weight of the body applied through the foot, which has a bigger surface area than both hands, "providing more coverage," according to Ritz therapy supervisor Michelle Bessette. "It works really well on larger muscle groups."
The aerial silks version, she adds, "provides a more balanced flow of a massage," allowing the therapist a much smoother transition movement to movement. Afterwards? "People say they actually feel taller," says Bessette. "It's profoundly relaxing."
For more Sarasota health news, click here to read Hannah Wallace's Health and Fitness blog. >>
This article appears in the January 2014 issue of Sarasota magazine. Like what you read? Click here to subscribe. >>