Article
An Enchanted Garden: Sparkling New Sarasota Jewelry
Brilliant flowers and fanciful creatures inhabit jewelry's new Eden.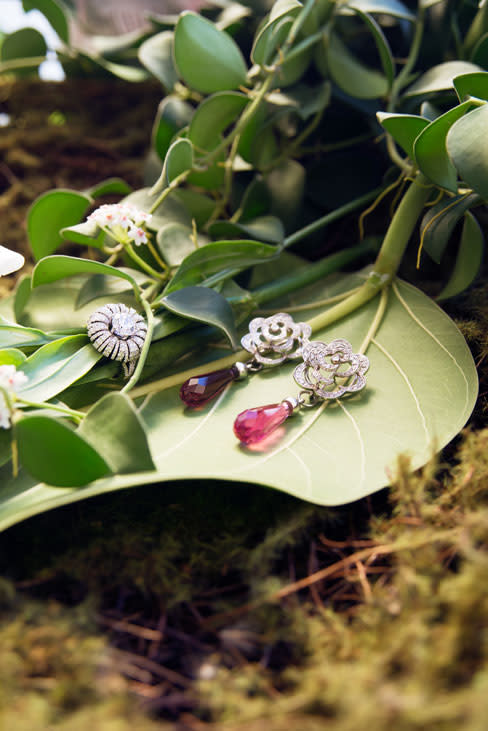 Perennially glamorous, the Blossom semi-mount ring by Frederic Sage makes a statement with pavé diamonds set in white gold half rainbow arches. Shown with cubic zirconia center stone, the ring is 18K white gold with 2.09 carats ($8,650) at Carats, 1922 Bay Road, (941) 926-3335. Glittering 18K white gold and diamond flower button earrings made in Italy come with removable stone drops. Shown with faceted hot pink tourmaline ($2,400); amethyst and onyx drops sold separately. Optional Art, 119 S. Pineapple Ave., (941) 955-4400.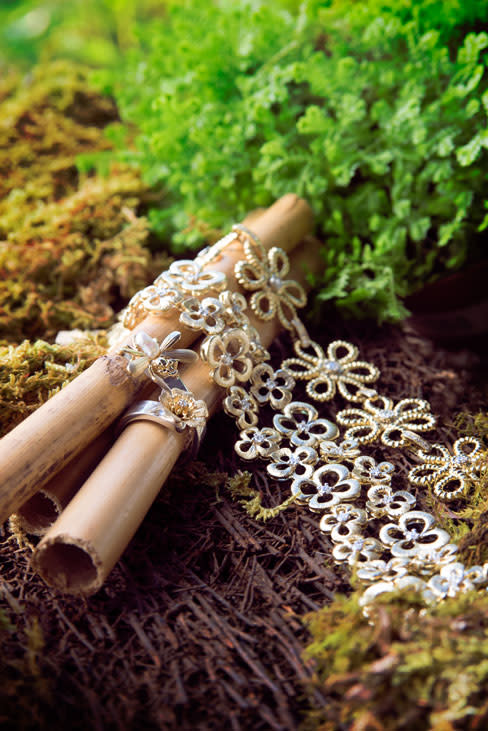 Alluring combinations of gold and glittering diamonds mimic treasures from the garden, as with a whimsical ring of 14K gold and silver with freshwater pearl and diamond accents ($1,150) crafted from estate pieces. Coffrin Jewelers, 1829 S. Osprey Ave., (941) 366-6871. From the Flores collection by Sal Praschnik, white diamonds accent the flowers of an 18K gold bracelet ($14,500) at Tilden Ross Jewelers, 410 St. Armands Circle, (941) 388-3338. A bracelet of intricately woven 18K yellow gold flower links studded with 1.20 carats of brilliant white diamonds ($6,750) from McCarver & Moser, 482 John Ringling Blvd., St. Armands, (941) 388-3666.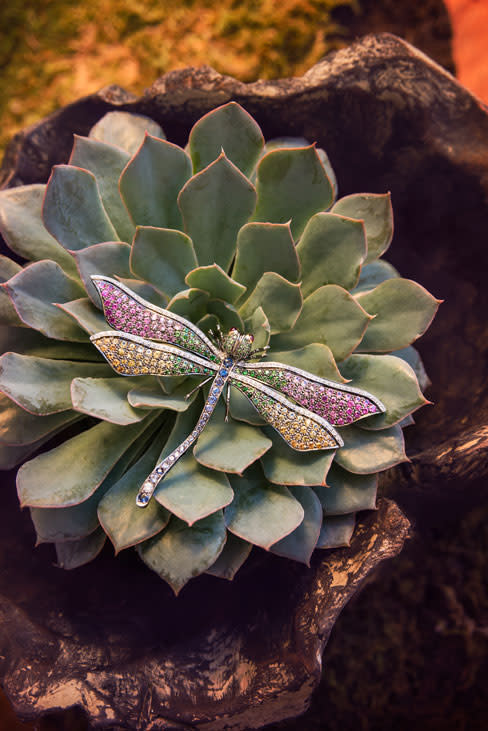 A profusion of flower and insect-inspired bibelots in a rainbow array of gemstones juxtaposed with diamonds adorns the display cases at Shrode, among them a multicolored sapphire dragonfly pin in 18K gold with .88 carats of diamonds ($4,250). Shrode Jewelers, 1433 Main St., (941) 365-4234.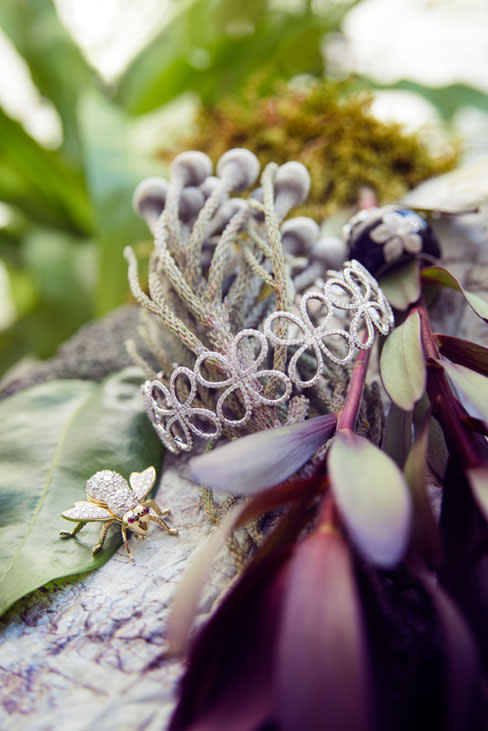 Dapples of light enhance the glimmer of a diamond bee pin ($3,450) of two-tone 19K gold and 2.75 carats of diamonds from Shrode Jewelers, 1433 Main St., (941) 365-4234. A showstopping floral cuff bracelet with white diamonds in white gold (price upon request) glistens at Diamond Vault, 3979 S. Tamiami Trail, (941) 921-4016.  An onyx dome ring is paved in diamond flowers ($2,950) at Crissy Galleries, 640 S. Washington Blvd., (941) 957-1110.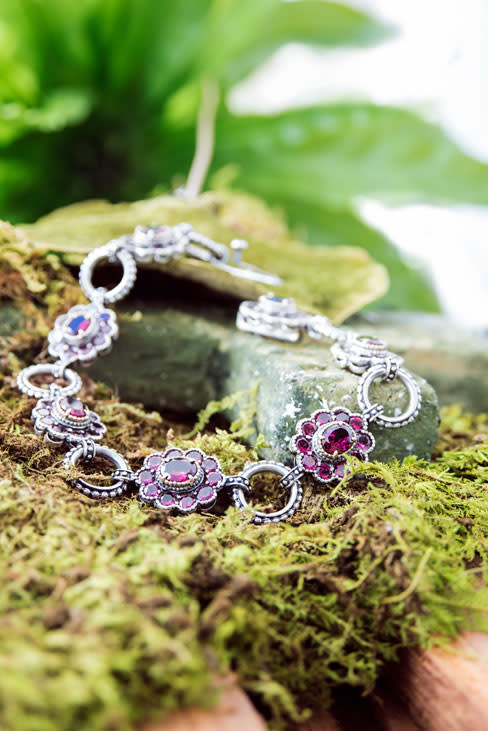 A fanciful piece evoking medieval England, Maid Marian and Sherwood Forest, the handmade sterling silver and 18K gold Wildflower necklace has 62 carats of rhodolite garnets ($6,700). Bowman Originals, 124 S. Pineapple Ave., (941) 316-9594.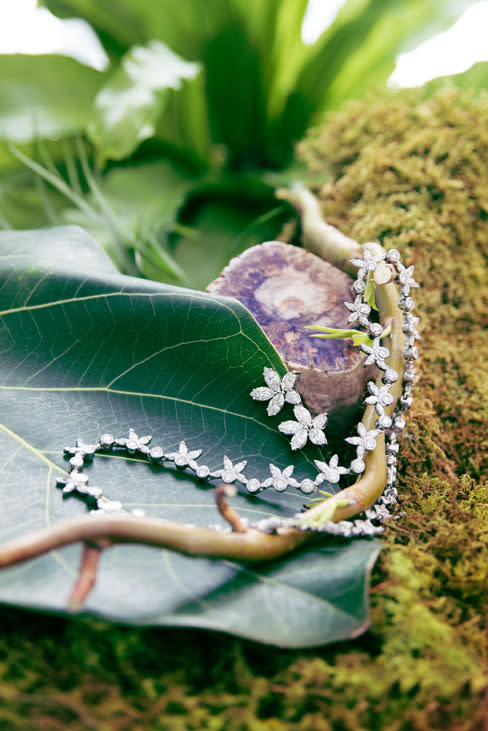 Delicate flowers are fashioned from 17 carats of round and marquise diamonds in a necklace designed by Kwiat ($44,000), shown with hand-fabricated floral earrings with 6.10 carats of marquise and pear-shaped diamonds ($45,000). Queens' Wreath Jewels, 17 Fillmore Drive, St. Armands Circle, (941) 388-9125.
Special thanks to Victoria Blooms, Awesome Orchids and Marie Selby Botanical Gardens. 
For more Sarasota shopping and fashion finds, click here. >>
This article appears in the December 2014 issue of Sarasota Magazine. Click here to subscribe. >>