Article
Where to Find Sarasota's Best Pumpkin Dessert
Our judges put their palates to the test to find Sarasota's best pumpkin dessert.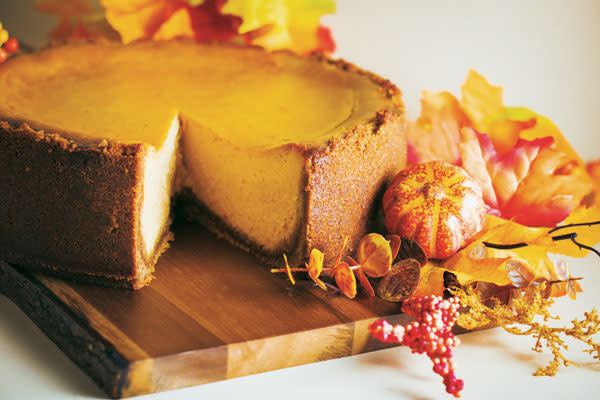 From pumpkin spice lattes to pumpkin pie--and more creative offerings than ever before--fall is the humble gourd's shining moment. We asked our 15,000-plus Facebook fans to weigh in, then food editors Marsha Fottler and Judi Gallagher and editorial assistant Chelsey Lucas tasted and judged. Here's our winner--and the top finalists.
Best Overall: Chef Solomon Shenker's Pumpkin Cheesecake
If cheesecake nirvana exists, this is it—perfectly creamy in texture, with a graham cracker crust and a distinctly pumpkin flavor that's amped up thanks to the addition of Madagascar vanilla. We kept going back for second (and, OK, third) bites. P.S. Chef Sol will be opening a New York deli in Main Street in downtown Sarasota this month.
THE FINALISTS
(not in order of preference)
Yoder's Restaurant's Pumpkin Pie
A classic Thanksgiving dish perfectly executed, Yoder's pumpkin pie features a buttery, flaky crust and a spiced pumpkin filling; it's then smothered in whipped cream and topped with cinnamon. The pumpkin flavor shines through, the topping adds creaminess without overpowering the filling, and the crumbly crust ties it all together.
Solarzano Bros.' Pumpkin Cannoli
We love a cannoli, so we were thrilled to discover Solarzano Bros.' pumpkin version, which consists of a pumpkin cream filling stuffed into a traditional cannoli shell. The crowning glory: fresh cranberry sauce served alongside—the tart flavor makes the whole thing pop, and the red color feels festive.
Bonefish Grill's Pumpkin Crème Brûlée
A twist on a classic French dessert, this rich pumpkin custard is flavored with hints of cinnamon and nutmeg, then torched and topped with sweet whipped cream. Applause for this sophisticated take on the autumn mainstay.
Retrobaked's Pumpkin Cupcakes with Caramel Swirl
This tasty treat—which consists of moist pumpkin spice cake topped with a swirl of buttercream, homemade maple caramel and a sprinkle of cinnamon—won our hearts thanks to its spot-on fall flavors; the fact that it's vegan and gluten-free is just the, ahem, icing on the cake.