Article
Spirits of Sarasota: Louie's North Palm
This week's top drink on the bar scene.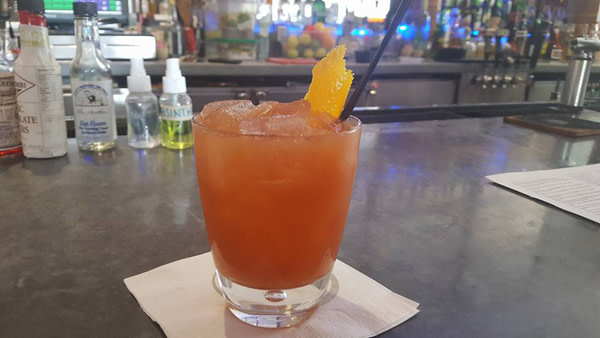 This week: The North Palm at downtown's Louie's Modern
The drink: Hold onto your hats, 'cause this one starts with FIRE. Buffalo Trace bourbon, blood orange juice, "The Bitter Truth" brand bitters, Disaronno amaretto, served up in a "cedar-smoked glass," which is accomplished by torching a cedar plank and then turning the empty glass on top of the smoldering wood so that it captures the smoke for a bit. Yes, it smacks of a desire to curate your herbs, but admit it: You love the show. (Also, it's delicious—the blood orange juice and amaretto rule, undercut by the bourbon and a psychosomatic suggestion of smoke.)
The bar: You've gotta love how Louie's has enlivened this section of Palm. There's certainly a sophisticated clientele that flocks here, but there's a welcoming everyman quality, too. The décor is urban industrial meets upscale eatery—perfect for a stylish destination beneath a downtown parking garage.
Other notable potables: More than a dozen über-creative inventions on the cocktail menu, with names like "Lavendula Collins" (Bacardi, lavender syrup, lime and bitter lemon) and "Shrubbery" (cucumber vodka, strawberry-infused Earl Grey, pomelo soda). The "Ocean Front" (gin, lime, mint, Himalayan salt and crushed celery) is another winner—to my mind, celery and salt are underutilized in non-brunch cocktails.