Article
Brunch at World of Beer and Sophie's at Saks Fifth Avenue
Chef Judi savors Sunday brunch at downtown Sarasota's World of Beer and Sophie's at Saks Fifth Avenue.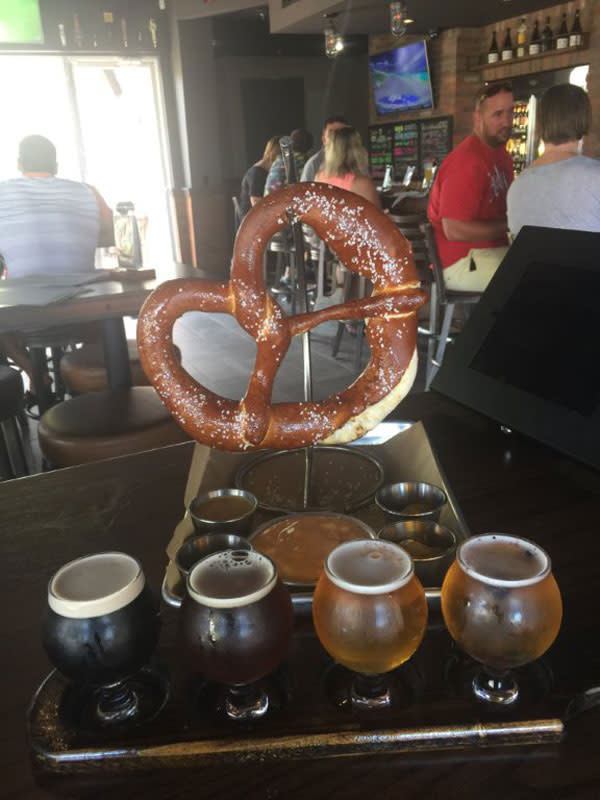 World of Beer has made it into the world of food. Slowly, more and more WOB's are converting to the new format of offering really good tavern food, beer and food pairings and a very impressive come in your flip flops beerunch as they call it. Colleague Marsha Fottler was right, World of Beer really does have good food and it's nice to have a good restaurant back in that location on the corner of Main Street and Links Avenue.
Sundays are a total chill-out here. If you like music, request upstairs seating or outside on the rooftop deck. Then get ready to get your calories on. No dieting here please. It is a go for it menu. Their house specialty, the giant pretzel delivers with a soft and salty outside and a soft warm inside. Tear off a piece and dip in the cheesy beer spread or mustard or both.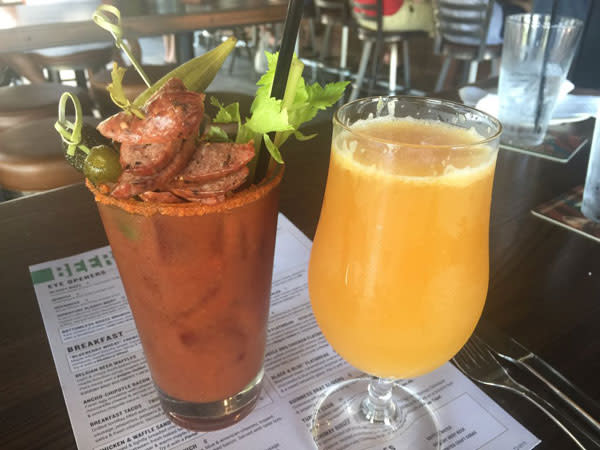 Make sure to order the house specialty Bloody Mary, which comes with just about everything, including sausage. And beer drinkers and beer novices alike will like the idea of a flight of beer. You can choose, or let the server determine your choices according to your food.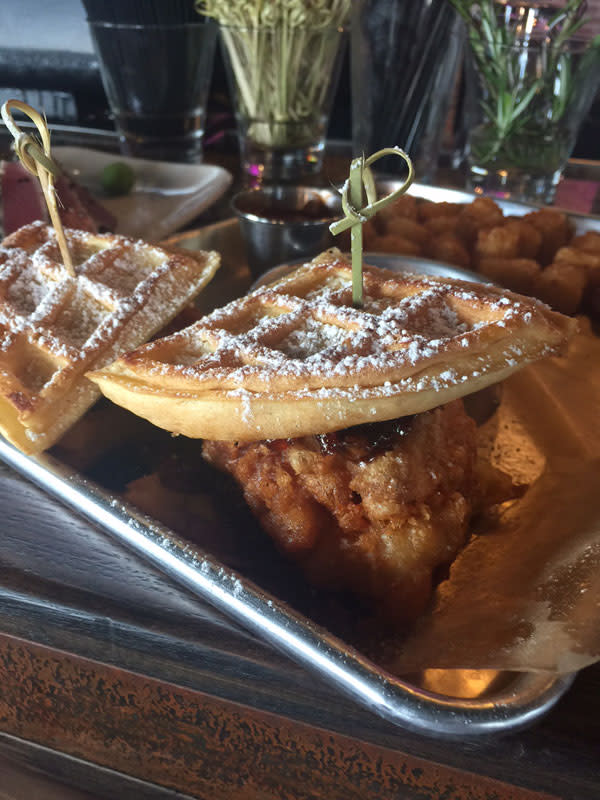 Back to food: the burger is a must--it's cooked a perfect medium rare and  served with really good fries. The waffles are ridiculously wonderful, too--must be that beer batter; they're fluffy and just the right level of crispiness. The almond butter that came with them was way too dense and too much for the waffles, so get a plain order or get my favorite—the fried chicken and waffles with warm maple syrup. A kick of heat  in the chicken, coupled with the sweet maple syrup, makes this a near-perfect dish.
The crab cake Benedict  was good, and the eggs were poached just right, but honestly I would pay a little more for lump crab meat instead of the knuckle meat, which is not as sweet.
The place was busy, with young people gathering for a day of chilling or perhaps eating exactly what they needed to after a long night out. And we will be back fo sure. Between MADE at the corner of Main and 301 and its great a la carte brunch and now WOB, we have a new landing spot before an early afternoon movie.
World of Beer, 1888 Main St., Sarasota (941) 343-2856
***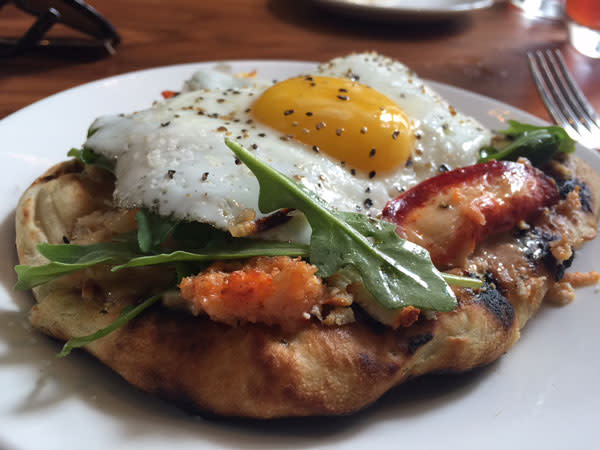 Next up was a sophisticated brunch at Sophie's. Located inside the Saks Fifth Ave at UTC, Sophie's has an incredible chef. Dianna Macphee is talented and, yes, a Bostonian who truly understands food. Just try the smoked tomato soup cappuccino and you'll know--this chef can cook.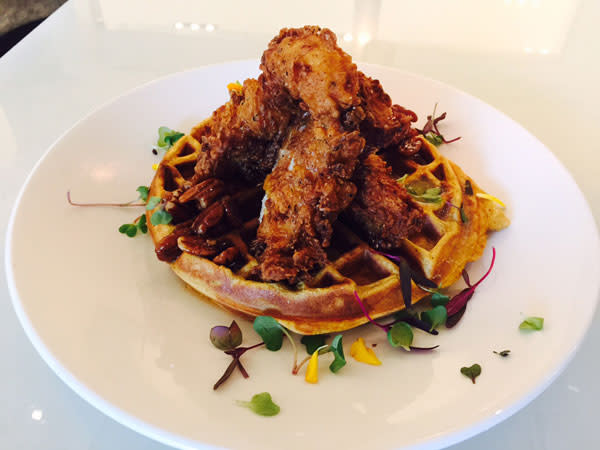 I tried both the Maine lobster pizza and, yes, the fried chicken and sweet potato waffles with warm maple syrup. Good thing I was at the gym twice--but both dishes were well worth every bite. In fact, I watched a few other tables that ordered the same thing--so what if they had three people and I remained solo?! We all had the same response--"Delicious!" and "OMG!"s all around. The fried chicken tenders were crisp yet moist inside and the waffle tasted like an autumn day at Goodale Orchards in Massachusetts.
As for the grilled Maine lobster pizza with a perfectly fired egg on top? It was just ridiculously perfect in so many ways. Even the unsweetened tea at Sophie's is just right.
Sophie's at Saks Fifth Avenue Sarasota, 120 University Town Center Drive, Sarasota (941) 444-3077.