Article
Sarasota's Best Crab Cakes
Our hunt for the best in town.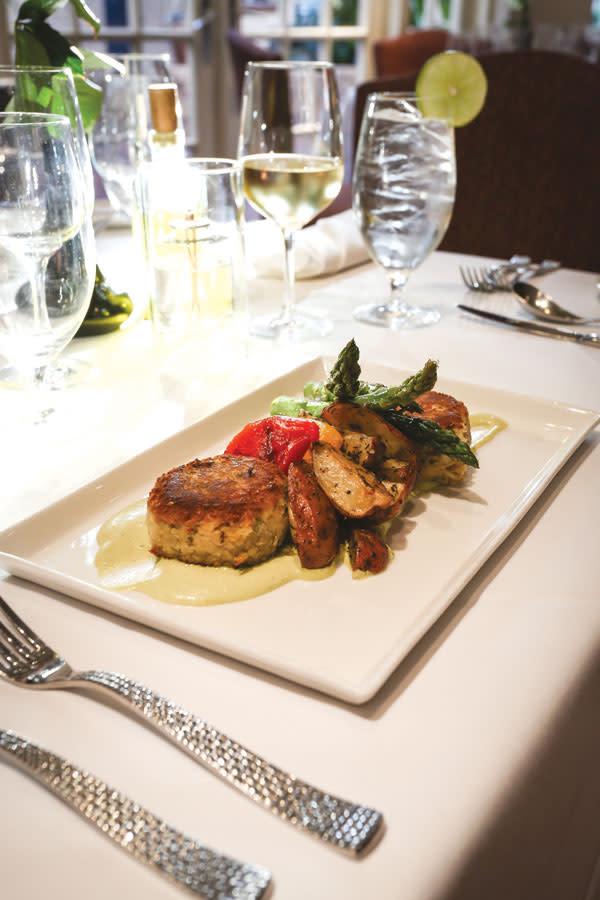 Lately, we've been seeing crab cakes popping up on menus all over town.We polled our Facebook fans for their faves, then asked our food and wine editor Marsha Fottler, entertainers and foodies Joey Panek and Christine Alexander and editorial intern—and crab cake addict—Bobbilynn Hollifield to help us choose the winners.
Best Overall: Michael's On East
We make a beeline for Michael's On East's crab cakes whenever we get a chance, whether we're at a catered event or dining at the restaurant. The generous-sized crab cakes are served with an addictive green mustard remoulade, and there's a perfect ratio of panko bread crumbs and mayonnaise to succulent crab. Yum. (Scroll down for the recipe.)
The Finalists (in alphabetical order)
Crab & Fin The broiled cake contained "good chunks of crab," Alexander noted, and was well-seasoned and solidly put together. The "ruie" sauce—Crab & Fin's take on a remoulade—served alongside was a crowd pleaser.
Duval's fresh. local. seafood. The most unique offering of the bunch, Duval's version is a shrimp and crab combo served with a spicy sauce and a bacon-pineapple slaw. Lots of flavors on this plate.
Jack Dusty A beautiful presentation. Made of shredded crab, not lump, and served with a grilled half lemon and a flavor-packed Southern chow-chow, this cake was snow-white on the inside and had notes of citrus and nuanced flavor.
Shore Diner The mildly flavored crab cake is served with creamy Old Bay mayonnaise and a side of coleslaw that Fottler called both "tasty and familiar."
Click here for Michael's On East's award-winning crab cake recipe. >>