Article
Recipe: Michael's On East Crab Cakes
Get the recipe for Michael's On East's award-winning crab cakes.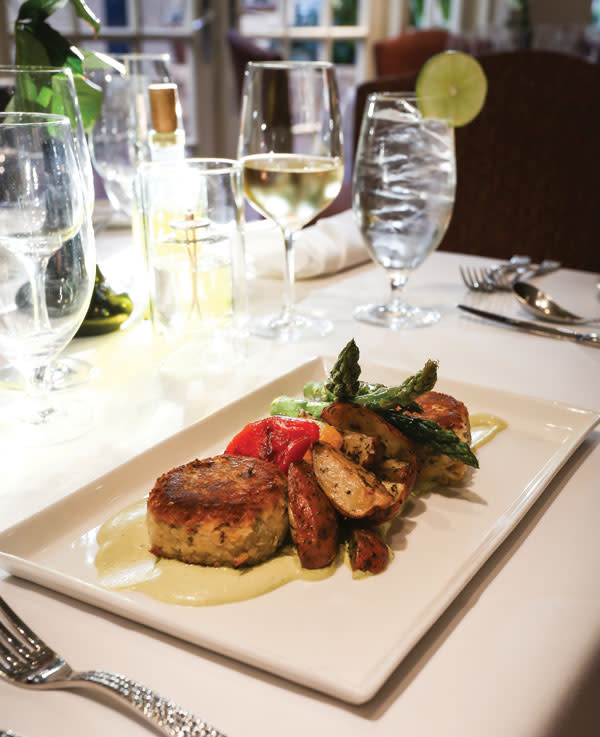 Michael's On East's crab cakes took home the gold in our Sarasota's Best Crab Cakes tasting--and lucky for you, we managed to convince the team to give us the recipe. Happy cooking!
Pan-Roasted Bluefin Crab Cakes With Roasted Asparagus and Truffle Potatoes with Herbed Tartar Sauce
Courtesy of Michael's On East
Serves 4
For the Crab Cakes
(Makes 8 3-ounce cakes)
1 Tbsp. lemon juice
2 oz. Dijon mustard
2 Tbsp. cilantro, chopped
2 Tbsp. basil, chopped
½ Tbsp. garlic, chopped
1 Tbsp. coriander
2 oz. mayonnaise
4 stalks celery, minced
1 Spanish onion, minced
4 ¾ cups panko breadcrumbs, divided
8 ounces jumbo lump crab
12 ounces lump crab
1 egg
In a medium sauté pan over low heat, sweat celery, onion and garlic. (Do not allow them to brown; the low heat will take liquid out of vegetables.) Set aside and allow to cool.
Mix together all ingredients except the crab meat, then fold in the lump crab. Gently mix in the jumbo crabmeat. Do not break up the jumbo lump meat.
To portion each cake, use a 3-ounce scoop or mold into cakes with your hands. Coat the exterior of the cakes in Panko breadcrumbs. Set aside until ready to sauté and finish.
For the Roasted Red Bliss Potatoes
16 red bliss potatoes
1 teaspoon dried thyme
4 ounces olive oil
Salt and black pepper, to taste
Preheat oven to 425 degrees. Slice red bliss potatoes in half lengthwise, then into thirds. Place in bowl and season with salt and pepper, dried thyme and olive oil. Lay on roasting pan and cook about 20 minutes, until golden brown.
For the Herbed Tartar Sauce
1 1/2 ounces cornichons
2/3 ounces capers
½ a shallot
6 ounces mayonnaise
¾ ounces parsley
½ oz dill
1 ounce lemon juice
½ ounce Dijon mustard
1/8 ounce garlic
¼ ounces extra virgin olive oil
Process all ingredients in food processor. Cool until ready to plate and serve dish.
For the Asparagus
40 spears of asparagus
4 ounces olive oil
Salt and black pepper, to taste
Preheat oven to 350 degrees. Brush asparagus spears with olive oil and season with salt and pepper. Place on a sheet pan and roast in oven for 5 minutes. Remove, plate and serve immediately.
To Finish and Plate
Preheat oven to 350 degrees. In a large sauté pan over medium-high heat, add olive oil, then four crab cakes. Sauté crab cakes on one side until golden brown, flip in pan and place in 350-degree oven for 5 minutes to finish. Repeat with the additional four cakes.
To plate individual servings, nestle two crab cakes together in the center of a rectangular plate. Prop asparagus between crab cakes and spoon tartar sauce on plate. Place potatoes on other side of cakes, drizzle with truffle oil, garnish with parsley and serve.