Article
Are Capital Grille's Burgers Worth the Price?
Chef Judi tastes and tells.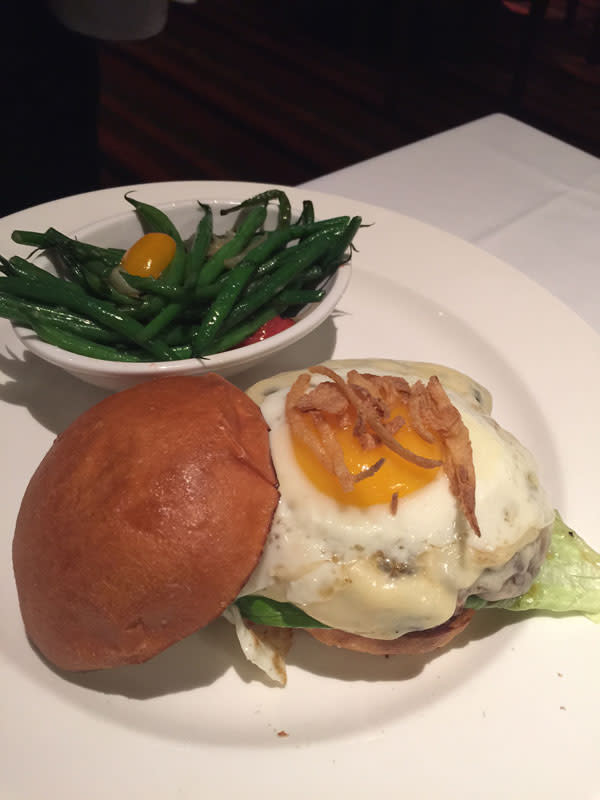 Is a burger worth $18? That was the question I posed to my lunch companion, writer Abby Weingarten. We were relaxed, in a beautiful surrounding, sipping our fresh-brewed iced tea at a table filled with enormous, perfectly cooked, medium rare burgers at The Capital Grille at The Mall at University Town Center.
Abby's feelings were pretty clear: When the burgers are served by a professional waiter with care, when the ambiance is just right and the quality is spot on, then the answer is yes, a burger most certainly is worth $18.
My answer was that I felt like I was having a spa lunch—I was totally relaxed, with the melted Havarti and Waygu beef massaging my taste buds . Capital Grille is expensive, that is clear ($40 is the average cost of a steak there at dinner), but fine-dining steakhouses mostly all are.
But back to my lunch with Abby. Feeling like we were in burger nirvana, we tucked in our cloth napkins and dove into our meal. I almost wished it was nighttime so I could have a bold Cabernet to go along with the meaty juiciness. This was lunch, however, and since my work days are long, I pretty much never drink before 5 or 6 p.m.
Each of the five burgers on the menu are served with a choice of Parmesan truffle fries, house-made chips or Capital Grille will substitute French green beans (all excellent). Abby's favorites were the Kona-coffee-crusted Wagyu burger with shallot mayo, and the Capital Grille's signature cheeseburger--a blend of chopped sirloin, smoked bacon, sweet onions and that wonderful melted Havarti (both $17).
My favorites were the wild mushroom Wagyu cheeseburger with 15-year aged balsamic and the Wagyu cheeseburger with fried egg and crisp onions. The egg was runny and so perfect on a buttery roll (both $18). Gorgonzola lovers will appreciate the tang and amount of cheese on the Gorgonzola and black truffle Wagyu burger--but it is a strong flavor.
There are other options on the menu (and you can read our full review here), but--dare I say it?--you would truly be missing out on a great, ooey-gooey, juice-running-down-your-chin gourmet burger if you chose otherwise.
Now we only need to find out if the Capital Grille will let us inside with our spa slippers and bathrobes on.
For more Sarasota dining and restaurant news, click here. >>