Article
Christmas in Pinecraft, Sarasota's Amish Village
In Sarasota's quaint Amish village, the holiday season has a flavor and magic all its own.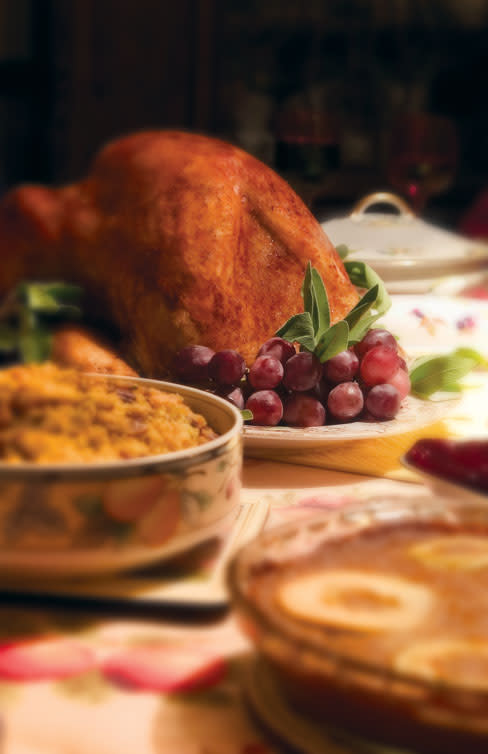 For many people, Christmas serves as a joyous celebration of the previous year, a holiday season roaring in on the heels of lazy Thanksgiving to cap another 12 months of lives lived, birthdays marked, anniversaries enjoyed, semesters concluded, children born, and loved ones passed. For such people, Christmas marks the true end of the year, unsullied as it is by the bittersweet nostalgia, and maybe regret, that clouds New Year's Eve, when calendars as familiar as old friends are casually tossed away. Sometimes in the last days of December it can feel like time itself is winding down; Christmas offers a last chance to wave goodbye before moving on.
In Pinecraft, however, we do things differently, which shouldn't be a surprise if you've heard about our quaint hamlet tucked deep into sunny Sarasota. Pinecraft is an Amish and Mennonite village, a collection of modest homes and cottages just off Bahia Vista Street, a few minutes from downtown. It is also my home for the past 15 years.
I wasn't born Amish or Mennonite, but for many years I've been a member of an Amish-Mennonite church of the Pinecraft Amish and Mennonite community. Like those born to the faith, I dress plainly, and follow Anabaptist doctrine. So I am usually referred to as an "Amish-Mennonite woman."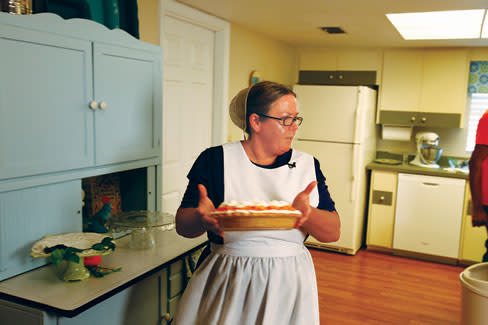 Though I'd prefer to be called "Pie Lady," since my consuming passion in recent years has been exploring the home cooking traditions of my Amish and Mennonite neighbors. I've written several cookbooks on the subject, including the new Me, Myself and Pie, published by HarperCollins.
When I moved to Pinecraft, years ago, I found that my new community offered a different sort of holiday celebration than I'd found in the "modern world." Our deep religious beliefs dissuade us from many Christmas norms; we have no red and green lights, yule logs, Noel signs, tinseled trees, or Santa Claus images. We also don't focus specifically on our Christian religion, because our doctrine asks that we be faithful every day of the year, rather than just during holidays.
The largest difference, however, is not how we celebrate, but what: Pinecraft does not experience Christmas as reflection on our past year; instead, we use it to usher in the next—to delight in the refreshing birth of a new beginning.
It's a perspective rather unique to our community, and it occurs because our community is rather unique.
Pinecraft, after all, is a vacation spot for Amish and Mennonite people. Often referred to as the largest unadvertised resort in the United States, it's ground zero for snowbirds looking for reunion, relaxation and renewal after long months of harvest and deep winter blues. It's a place to get a little fun 'n' sun.
And that is why so much expectant magic happens in Pinecraft around Christmas time—it's when our vacation season unofficially begins.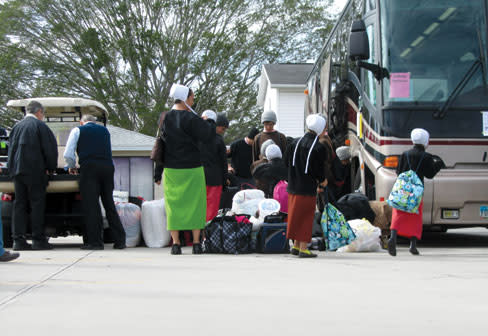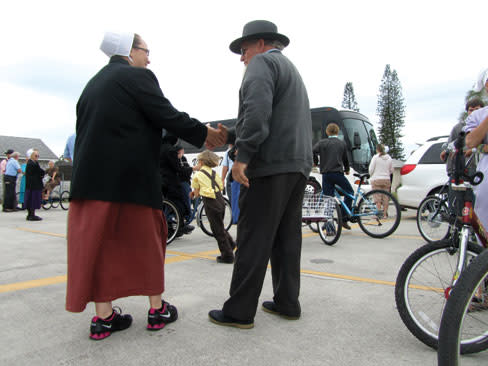 In mid-to-late December, Pioneer Trails charter buses trickle down the United States, driving north to south and stopping at farms along the way to pick up bearded, bespectacled and buoyant men and women trading pitchforks for fishing rods, hay for beautiful white sand.
The buses end their southward journey in the parking lot of the aptly named Tourist Mennonite Church, and weary travelers burst into the outstretched arms of friends and family, many of whom they haven't seen for a year.
Thus my neighborhood transforms, nearly overnight, from a sparsely populated community into an extravaganza.
Our population swells from 2,000 people to 8,000, and every single year when it does, there seems to be an exact moment when I realize the Pinecraft season is finally in bloom:
I am usually walking over the footbridge leading from my house into Pinecraft, maybe to pick up some fresh fruit (or more likely some chocolate), when a soft murmur gives me pause; it sounds like a babbling brook.
My heart leaps, and I press through the footbridge like it is a turnstile, and I am a child walking into Disney World for the first time. I emerge onto Kauffman Avenue. Then I see it, just as if I were in Disney World. Hundreds upon hundreds of colorful characters come alive.
Why, there is Amish Henry! He's brought his collection of old-fashioned string tops he lathes throughout the year. And next to him, Sarah, with jars and jars of black raspberries she's grown and preserved on her farm in Shipshewana, Ind.
Randy Mullet has already set up his tent near Der Dutchman Restaurant; he'll soon be selling his much-loved kettle corn, and I can see that John Beiler's plate-sized pretzels have already made their way into the hands of my friends.
Then there's Gary Blosser, who stakes out the property across from Yoder's Restaurant. We call it "Blosserville." Amish Mennonites from Tampico, Ill., Gary's hometown, stay there on vacation. Gary is a world traveler and creator of the Mennonite Chat Line, a real-time news phone service anyone can call to get up-to-date information on the interesting happenings in Amish and Mennonite communities across the country.
Further down the road, Alvin Zook's vacation house is open and ready for business. All you have to do is pull up to his driveway, hand over $15, and he'll drop the biggest slab of pork ribs you've ever seen into your hands. (If you don't know how to get to Alvin's house, you can just follow your nose.)
Near the Pinecraft Post Office—the only post office in the world owned by the Amish—Sam Troyer has already set up his wooden table where he will sell The Budget, the world's oldest and largest Amish newspaper. It prints its first edition of the new year right before Christmas.  Sam stacks the pages on the table next to a small jar; put a dollar in the jar and take home a copy, but first you'll have to wait in line with 30 Amish men and women patiently queuing with green, blue, and pink bicycles.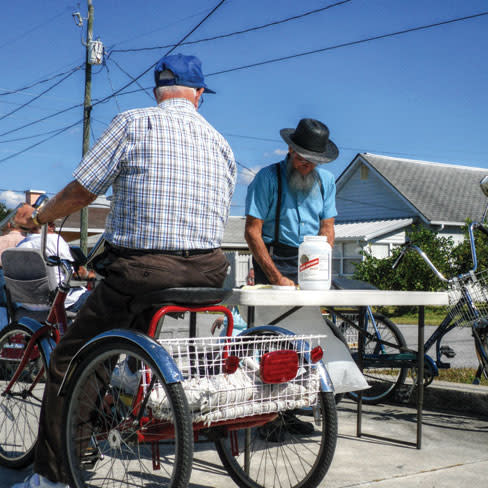 My community gets only more colorful and more eccentric during the electric days before the new year. As Christmas inches closer, we give our lives over to preparation: preparation for the huge meals to come, preparation for the Haiti Benefit Auction we hold every January—this January will be its 18th year—and preparation for our Christmas Day Parade, the crown jewel of Pinecraft's midwinter celebration.
When Christmas Day arrives, I serve a massive dinner for anywhere from 20 to 35 friends, some of whom travel here from thousands of miles away. I never know exactly who will show up. Friends from a Hutterite Colony in Alberta have graced my table, as have Russian Mennonite friends living in Chihuahua, Mexico.
I prepare the meal for weeks, busying about my kitchen, apron strings tied and a wooden spoon in hand and collecting baskets of eggs, fresh produce from Yoder's Amish Village, and farmer's cheese.
Every year the meal seems to get larger. There's usually sauerbraten (German pot roast), baked honey hams and roast chicken for the main dishes; mounds of mashed potatoes drowning in waterfalls of dark, rich gravy; homemade stuffing with onions and sage; and golden-brown yeast rolls slathered in Amish peanut butter for sides. And for dessert, we'll have bottomless bowls of date-nut pudding, sugar-laced pastries, gingerbread boys with frosting smiles, braided citrus bread, cranberry cherry pie, traditional Amish sugar cookies, fruitcake, and nutmeg-spiked eggnog.
You'll notice there are more desserts than anything else. That is most definitely by design.
After we eat, we hand out gifts to one another, and because Amish families tend to be large, and because families often have so many guests, we limit our gifts to one per person and draw names. The gifts are always from the heart and frequently handmade. Jars of fruit jam are to be counted on, as are chocolate fudge, chocolate cherries, marshmallows dipped in caramel, new tea towels, cookbooks, or sand dollars from Lido Key, bleached white in the Florida sun.
We close out our gift-giving with an Amish hymn, or maybe the recitation of a favored poem, and then it's down to Kaufman Avenue for the parade. If we don't arrive by 3 p.m. we might not get a good spot. Children race through the crowd and pivot past jovial Amish ladies in beach chairs, everyone eagerly awaiting the roar from the onlookers that announces the Christmas Day Parade has begun.
And what a parade it is! A more exciting array of carts, cars, buggies and floats cannot be found.
Ex-Amish boys on motorcycles cruise with girlfriends whose skirts are just high enough to cause consternation; flatbed trucks pull floats from Yoder's Amish Restaurant and Der Dutchman, their employees in Santa hats throwing candy to the crowd; Miller's Dutch Haus Furniture offers two teenagers perched atop a courting buggy, both youths dressed in their parents' bygone Amish clothes; the boys from Detweiler Produce navigate a semi-truck through the narrow streets, while their sisters pass out fresh strawberries—the first of the season.
One year Larry Yoder even drove through in his John Deere solar-powered buggy. And then there was the time a local minister rode atop a cart pulled by a pair of goats. As the cart passed, I recognized its driver as David R. Miller.
I didn't recognize the goats.
Once the parade has passed, my friends and neighbors congregate at Pinecraft Park, the living center of our Amish and Mennonite community.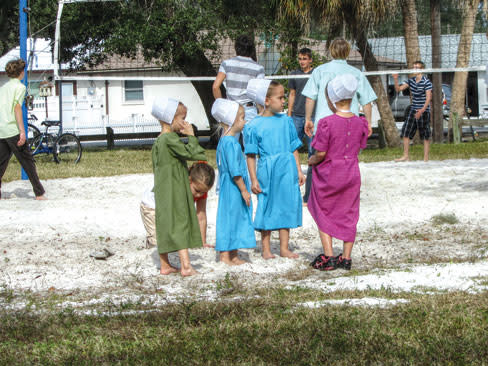 The older men play shuffleboard while the women gab, children zip by on Ripsticks and the youths practice for the ultra-big-deal annual Amish volleyball tournament held the following week. The team from Holmes County, Ohio, wins the tournament nearly every year, but the court is jammed, anyway. All those competitive young boys wish dearly to take top prize for themselves—or at least have a chance to speak with one of a hundred blushing young girls.
My own son, Tyler, met his girlfriend at that volleyball tournament. And he couldn't give a hoot about volleyball.
Then, as the light fades and the gated entrance to the park is locked, my friends and I band together at Big Olaf's Ice Cream for some tasty treats, or we decamp to our houses for rousing games of Rook or Dutch Blitz—a classic Amish card game—and await the young Christmas carolers who will soon cover the streets of Pinecraft with rose-tinted, mellifluous harmony.
Christmas in Pinecraft. It is so different from anything else. Every year I get into my bed, tired but suffused with the positivity and kindness thousands of Amish snowbirds have brought into my world, and I chuckle to myself. For I know that this day—this magical holiday—is but our beginning. I still have the Pie Contest ahead of me. And the Haiti Benefit Auction. And the volleyball tournament. And our traditional New Year's supper in the park—sausage and sauerkraut.
It's all still in front of me. I am looking forward, not back. As is my community. My home.
For the happiest place on earth has been opened for business for another year.
And it's going to be quite a ride.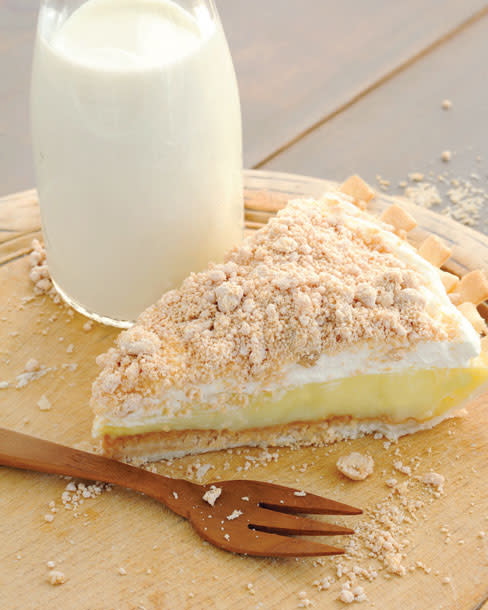 Peanut Butter Cream Pie
This is the most-requested pie at Pinecraft restaurants, and one bite will tell you why.
For the crust
One 9-inch baked pastry pie crust
For the filling
2 ½ cups milk, divided
1 cup sugar
¼ cup cornstarch
Dash of salt
3 large egg yolks
For the crumbs
1 ½ cups confectioners sugar
½ cup peanut butter
Whipped topping
Make the filling: Bring 2 cups of milk to a boil in a saucepan over medium-high heat. In a bowl, mix sugar, cornstarch and salt together. Stir in remaining ½ cup milk, add egg yolks and mix well. Stir cornstarch mixture into the boiling milk. Bring back to a boil, stirring constantly. Remove from heat and cool.
Make the crumbs: In a bowl, mix together the confectioners sugar and peanut butter until crumbly. Reserve 1/3 of the crumbs for the top of the pie. Put remaining crumbs in the bottom of the baked pie crust. Pour the cooled filling on top of the crumbs. Cover with whipped topping. Sprinkle reserved crumbs on top.
From Me, Myself and Pie, by Sherry Gore
For more from Sherry Gore, click here. >>
This article appears in the December 2014 issue of Sarasota Magazine. Click here to subscribe. >>