Article
Thanks to Today Show Segment, Pinecraft Takes National Stage
Cookbook author Sherry Gore and the Pinecraft Amish-Mennonite community will be in the national spotlight thanks to an upcoming Today show segment.
[caption id="attachment_818" align="alignnone" width="488"]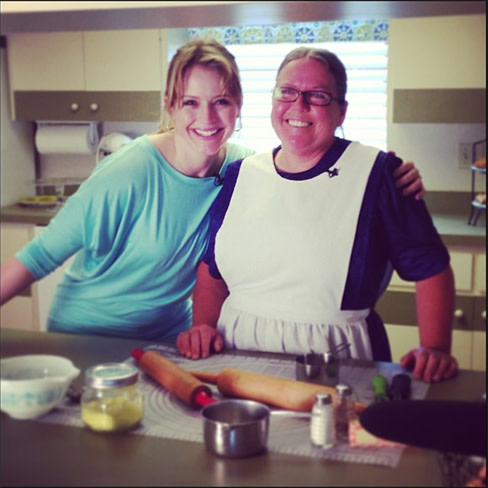 Today correspondent Sara Haines with Pinecraft's Sherry Gore.[/caption]
DVR alert! The Today show takes a loving look at Pinecraft for an upcoming segment. A Today crew toured the little Amish-Mennonite community off Bahia Vista Street in Sarasota in late March and taped our friend, Sherry Gore, cooking Amish pot-pie stew with correspondent Sara Haines. (That's Sara and Sherry hamming it up in the Instagram pic, above).
Sherry—who recently signed a three-book deal with the nation's biggest publisher of Christian books, Zondervan/Harper Collin—told us she has no plans to watch herself on Today. After all, even with a population of 2,000 that swells by another 6,000-plus at the height of season, there are just two televisions in all of Pinecraft.
Her new cookbook, Simply Delicious Amish Cooking: Recipes and Stories from the Amish of Sarasota, Florida, a compilation of hundreds of recipes gathered from her Pinecraft friends and neighbors, will be published in May by Zondervan/Harper Collins. It's the first of a three-book deal Zondervan is packaging as the Pinecraft Collection that also will yield the deliciously titled Me, Myself and Pie in 2014 ("I went to Lancaster, Pa., to research it," Sherry told us. "Seven pounds came back on the plane with me, and they were not in my luggage!"). A third book, this one a memoir, will debut in 2015.
Look for an extensive interview with Sherry in an upcoming issue of Sarasota Magazine.
Read more about the Pinecraft community here.