Article
Holiday Gift Guide 2014: Michael's On East's Brownie Ice Cream Stack Recipe
Impress your guests with this brownie pie recipe.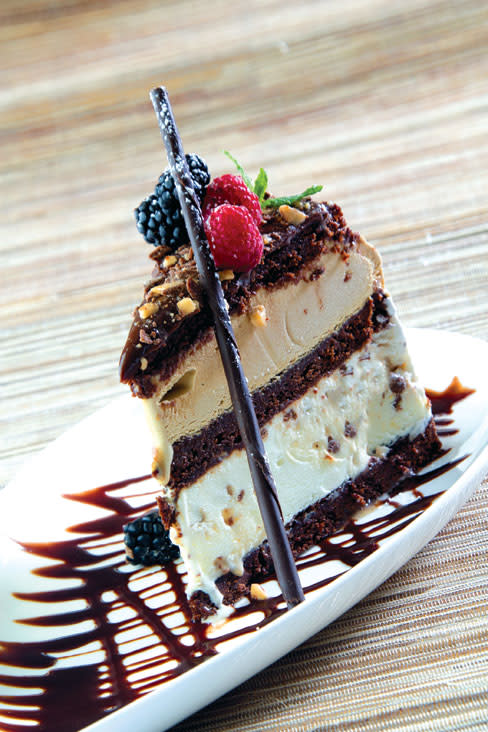 Impress your guests this holiday season with this recipe for Michael's on East's brownie ice cream stack, prepared by the restaurant's pastry chef Catherine Tighe.
Brownie Layers
1 cup canola oil
2 cups brown sugar
2 teaspoons vanilla extract
4 large eggs
1 cup all-purpose flour
1 cup extra brut cocoa powder
1/2 teaspoon baking powder
1/2 teaspoon salt
8 ounces semisweet chocolate chips
2 cups Heath bar crumbles
24 ounces fudge topping
Preheat oven to 325 degrees.
In a small stand mixer, mix together the canola oil, brown sugar, vanilla extract and eggs. Beat for two minutes at medium speed.
Sift the dry ingredients (flour, cocoa powder, baking powder and salt) together. Then add the dry mix into wet mixture and mix an additional two minutes. Fold in semisweet chocolate chips.
Grease three 10-inch round cake pans with nonstick cooking spray and line the pans with parchment paper rounds. Pour about ¾-inch thick batter into each pan and bake until completely set throughout, about 15 to 20 minutes.
Remove from pans and place three separate layers into the freezer until all pieces are ready to assemble.
Ice Cream
6 cups half and half
2 cups heavy cream (36%)
16 large egg yolks
1 pound granulated sugar
3 tablespoons vanilla bean paste
In a saucepan over low heat, bring the half and half and cream to simmer.
Whip the yolks and sugar and vanilla bean paste together in a mixing bowl.
Once simmering and off the stove, slowly temper in or pour small amounts of the simmering cream mix into the yolk mix in the mixing bowl. When combined, pour the mixture back into the saucepan.
Return to the stove and continually stir over low heat. Heat until the mix coats the back of a spoon. Pour mix into a glass or metal bowl and cool to room temperature. Cover and place mixture in fridge overnight. Divide the mix into two equal portions. Spin vanilla ice cream first in an ice cream maker. Add 3 tablespoons of instant coffee granules into the remainder to make the coffee ice cream.
To Assemble
In a 10-inch deep springform pan, place the first brownie round. Mix Heath bar crumbles into vanilla bean ice cream and spread out in the pan until about halfway up the cake pan. Place another brownie round on top. Add the coffee ice cream into the pan to the very top. Place the final brownie round in to finish. Once assembled, freeze the stacked ice cream cake overnight to set.
The next day, unmold the ice cream pie by opening the springform pan. Spread fudge topping generously over the top and sprinkle with additional Heath bar crumbles to completely cover the fudge topping. Return to freezer and keep frozen until you are ready to immediately cut and serve.
(An important note: You'll need a serious knife and some muscle to cut and serve!)