Article
Restaurant Review: Apollonia Grill in University Park
Plus, India Palace lives up to its name and a sweet treat from Bonefish Grill.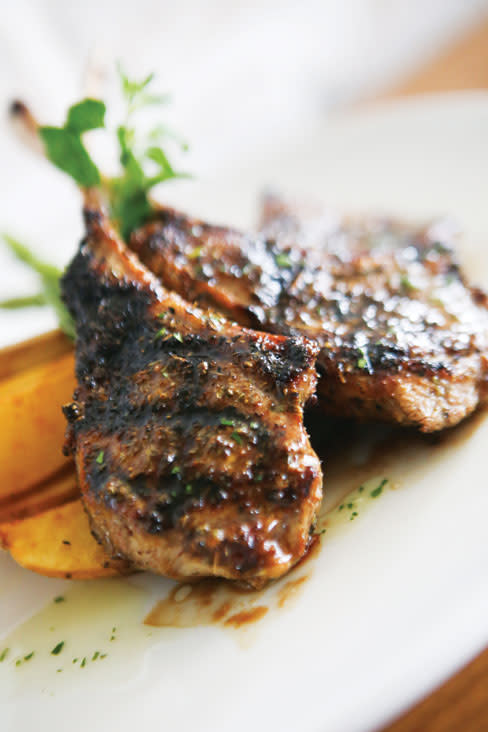 You've got to admire the owners of Apollonia, a small Greek-Mediterranean restaurant in Shoppes at University Center. Despite the big-gun chains such as Cheesecake Factory, Capital Grille, Seasons 52 and several more storming into town and creating traffic jams and seating capacity for a thousand right across the gridlocked highway, they blithely opened Apollonia a few months ago.
Talk about bravado. Or maybe they just knew that the strength of their menu, their hospitality and the quality of their (mostly) Greek food would find a local following quickly. And that's already happened. Apollonia built a startlingly good business from Day One, proving that if you serve delicious food in a comfortable setting at reasonable prices, people will find you and tell their friends. I certainly told mine after six of us went there on a Friday night. Almost as an afterthought, I made a reservation and, guess what? I needed it. The little storefront place was packed.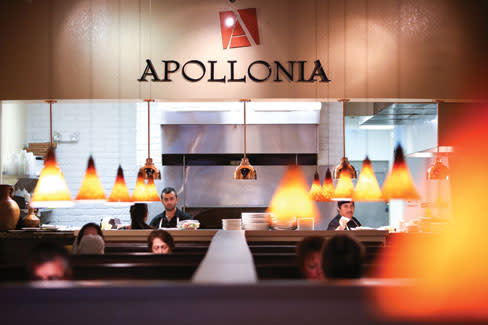 The restaurant is long and narrow with a semi-open kitchen at the far end. A bar runs down the wall to the left of the entrance, and booths and banquettes are on the right and also in a little dogleg section by a sidewalk-facing window. Open for lunch and dinner daily, the restaurant has a menu both extensive and wide-ranging within geographic borders.
The kitchen specializes in Greek favorites but expands the offerings to include other Mediterranean dishes, so you'll find items such as shrimp scampi, seared scallops, chicken Florentine, pork tenderloin and calamari along with more familiar Greek Isles specialties such as moussaka, gyro platter, dolmades, grilled Kasseri cheese, spanakopita and that wonderful soulful avgolemono soup, which is absolutely delicious at Apollonia.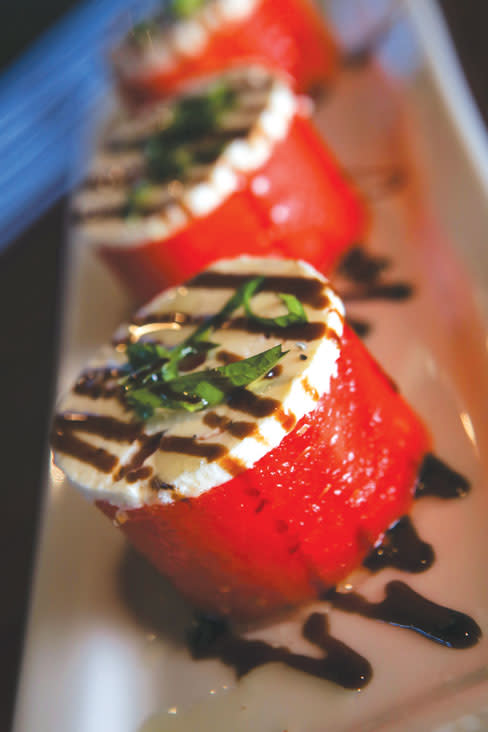 Made from scratch, this chicken-lemon-rice soup is $2.99 for a cup and $4.99 a bowl. I could eat some every day. You'll also find some American standards, such as burgers, pizza, filet mignon and grilled Atlantic salmon.
For the hearty eater, the lamb shank osso bucco entrée, served with rice and roasted vegetables, is a big and satisfying meal at $21.99. It's a bit on the sweet side, but the slow-cooked lamb is fall-off-the-bone tender and fragrant with Mediterranean seasonings and herbs.
A standout is the marinated and grilled octopus, which is drizzled with olive oil and red vinegar. This octopus is amazingly tender, cut in little rounds and served for sharing or for one. We liked it so much that we ordered a second round ($12.50). Chicken Florentine is full of bright Mediterranean flavors and enhanced with Kalamata olives and feta cheese along with the white-wine lemon sauce over the rice pilaf ($16.95).
To enjoy several traditional Greek delights on one plate, do as I did and go for the Classic Combo, which gives you rich and creamy moussaka in a small ramekin in the center of a platter. It's surrounded by spanakopita (triangles of spinach in phyllo dough) and dolmades, which are grape leaves stuffed with seasoned ground meat and rice and then drizzled with a lemon sauce. This plate is $19.99, and every bite is worth every cent. Service is prompt and experienced, and the servers are both friendly and knowledgeable about the food, the wines that pair with the food and the trendy craft cocktails being invented over at the bar.
There are missteps. The artisan bread in a basket that comes to the table when you are seated is tasteless and doesn't properly establish the culinary ambiance of this restaurant. Come on, bring out warm pita bread right away. That's what we're here for.
The noise level can be high; there are almost no sound absorbers in this space, so when the restaurant is full and the live musicians are playing, it's impossible to talk across the table. Unless the music is what you really want with dinner, avoid sitting close to the ensemble. With an open kitchen and bar area (with two televisions on mute), there are plenty enough distractions as is.
There are currently six desserts on the menu, not all of them house-made, which is the case with the baklava ($6), not sumptuous enough by half. Far better is the galaktobureko, warm semolina custard wrapped in crispy phyllo with walnuts and caramel and with pistachio ice cream on the side ($6). This is a lovely combination of smooth/crunch, and the flavor is subtle. Or you could do housemade vanilla bean cheesecake with berry compote, light and delicately flavored, for $6. Chocolate lava cake, tiramisu and Moscato wine-poached pear round out the sweet finishes to a meal.
If the sound levels are more conducive to conversation when you go, you can indulge in a bit of movie trivia and linger over dessert. For example, in The Godfather, what was the name of Michael Corleone's doomed first wife, whom he wed during his enforced sojourn in Sicily? That's right, Apollonia, and she was both Greek and Italian. Now you'll never forget the name of this little restaurant.
The Verdict: A cozy and modern Greek-Mediterranean restaurant serving ethnic classics and some contemporary crowd pleasers, Apollonia is a good family-restaurant choice, with average entrée price $17.
8235 Cooper Creek Blvd. (Shoppes at University Center)
Reservations: (941) 359-4816
Hours: Monday through Sunday, lunch and dinner, 11 a.m. to 10 p.m.
Bar: Full bar
Handicapped accessible: yes
Credit cards: all major
Mall parking lot
Live music on the weekends; reservations suggested, especially during season
Street parking
Palace of Delights
India Palace in downtown Sarasota is new, charming, intimate and lives up to its owners' promise of serving authentic Indian cuisine. The cooks are Indian and so is the staff, making conversation with them a bit slow at times.
But servers and managers are unfailingly pleasant in explaining the dishes to novice eaters of Indian cuisine and in describing their special India Palace gastronomic inflections to experienced devotees. In general, the food is mildly seasoned, not terribly spicy, although there is definitely some heat on the backside of a few of the dishes. And the fiery Indian pickles and lamb vindaloo ($15.95) are for those who don't mind the kick.
With the curry, masala, vindaloo and madras preparations you can request your degree of heat and your order will be customized.
There are two ways to eat at India Palace. At night you order off the large menu, where every item is fully described. Rice specialties include vegetable, chicken, lamb and even goat biryani. The aromatic basic white rice is flavored with house spices, sometimes cashews and raisins, and then paired with the meat or vegetables. I'm a big fan of biryani combinations, and the ones I've tried at India Palace are moist and full-flavored. Kudos also to the chicken tikka and the aloo baigan, a delicious blend of fresh eggplant and potatoes in house spices.
Entrées average about $16 and include specialties such as lamb shahi korma, which is boneless lamb with housemade Indian cheese in a creamy sauce with cilantro. Goat curry combines onions, tomatoes, garlic and cloves for an unusual and deeply satisfying comfort-food kind of experience. The same with the dal makhani, a vegetarian recipe that calls for simmering lentils with Indian butter and house spices.
The other dining option is to experience India Palace at lunchtime, when a long buffet table is set up along the wall to the left of the entrance. Lift up the silver domes and breathe in scents that are truly transporting. The buffet is $9.95, and every day there's a changing assortment of biryani dishes, curry preparations, madras recipes and dosa specials. A dosa is a rice crepe filled with different ingredients, but a chutney is always in the mix.
You could also find chicken vindaloo, where the meat is mixed with spicy potato cubes and a tangy sauce. Those potatoes are Indian soul food. India Palace is aptly named. It's small (two little dining areas separated by a half wall), but there are treasures within its walls awaiting your discovery.
1551 Main St., Sarasota
Reservations: (941) 328-3200
Hours: Tuesday through Sunday, 11:30 a.m.-2:30 p.m. and 5 p.m. to 9:30 p.m. Closed Monday. Catering available.
Bar: beer and wine
Credit cards: all major
Handicapped accessible: yes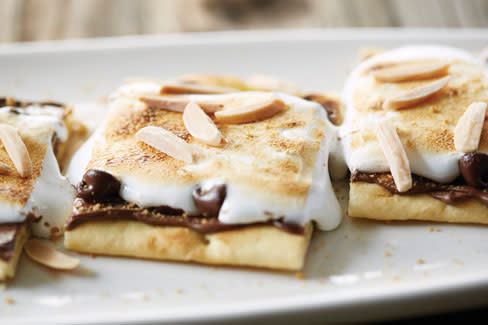 Sweet Treat
In a nod to campfire nostalgia, Bonefish Grill has conjured a a riff on the classic kid-favorite S'mores. Instead of a graham cracker base, chef uses a sweet flatbread. Next comes creamy chocolate, then toasted marshmallow, sliced almonds and a sprinkle of graham cracker crumbs. Sweet, crunchy, gooey and warm all at the same time.  The S'mores Flatbread is cut into four generous squares and presented on a small rectangular platter. Three of us ate every bite, passing the fourth square around in a kumbaya peace and harmony moment. $5.50. Bonefish Grill, 3971 S. Tamiami Trail, Sarasota or 8101 Cooper Creek Blvd., University Park.
For more Sarasota restaurant and dining news, click here. >>
This article appears in the November 2014 issue of Sarasota Magazine. Click here to subscribe. >>