Article
Sarasota's Community Gardens Provide a Common Ground
Barbara Harris says community gardens provide common ground.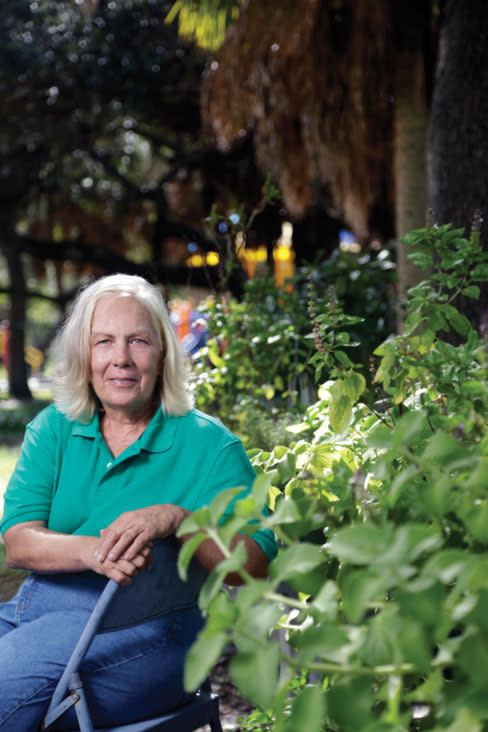 Sarasota has six community gardens, where people from all walks of life happily toil and harvest. We asked Barbara Powell Harris, volunteer co-coordinator at Orange Blossoms Community Garden and a landscape technician for the city, about her work at the garden.
"I grew up on a family farm. We grew a large part of what we ate. When the seed catalogs would come in the winter, my parents would ask us if there was anything we wanted to grow. The first things I grew were carrots and onions; the cabbage was the most amazing to me because you put a little bitty plant in the ground and end up with this great big three-pound ball of greenness.
"It's hard for me to say which plants are my favorites. I love sugar snap peas. They're so expensive at the grocery store and their season is so limited. For ornamentals I absolutely love the wildflower meadow-type garden in front of City Hall. Our most popular vegetable [at the garden] is collard greens. They're a wonderful source of nutrition and [people] count on us to provide them on occasions like church gatherings or big family Sunday dinners.
"Community gardens are a low-cost, accessible way  for people to grow their own food. Our oldest gardeners are older than 85 and our youngest gardeners are 2 years old. We've got gardeners who hold Ph.D.s and M.D.s and gardeners who didn't graduate high school. Our students from New College and Ringling are from all over the world. Everybody learns from everybody else. It's a safe place for people from different backgrounds to come together and find something that they have in common, and from that they can work to make other things happen.
"A 7-year-old boy had some beautiful cabbage ready to pick. I told him to take it home to his mom. He handed it to me and said, "I want you to have it. You made me a garden star!" It was such a beautiful, touching moment for me.
"We pick up food waste every day from Savory Street, Whole Foods and the coffee grounds from the Sunoco station at 10th and U.S. 41. We have aerobic composting and vermicomposting—we use earthworms for that. Our worms are very spoiled! We compost about 20 tons per year—not a drop in the bucket of [all the] food waste that's commingled with trash going to the landfill every year. Within the next year we hope to set up a partnership with some of the colleges [to limit the amount of waste]."
Nourishment
One 4-foot by 16-foot garden plot can provide fresh vegetables for a family of four every day for a year.
Safety
Community gardening has been linked to reduced crime rates in neighborhoods across America.
Keep it Clean
Composting lowers the amount of industrial volatile organic chemicals (VOCs) in contaminated air.
To read more My World profiles, click here. >>
This article appears in the October 2014 issue of Sarasota Magazine. Click here to subscribe. >>