Article
Savor Sarasota: Meals at The Table, Cafe Americano and Oh Mamma Mia
Chef Judi savors Sarasota at The Table Creekside, Cafe Americano and Oh Mamma Mia.
[caption id="attachment_27095" align="alignnone" width="488"]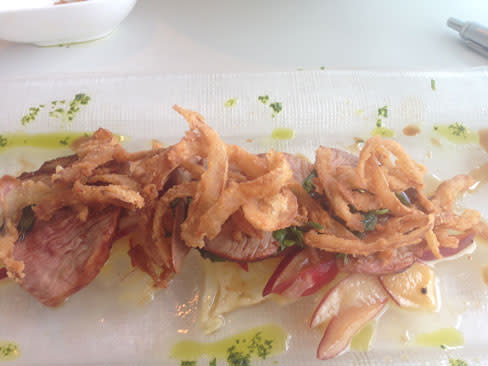 The Table Creekside's duck carpaccio.[/caption]
It's that time of year: Save money during Savor Sarasota Restaurant Week while you dine on delicious three-course meals from local restaurants.
For me, someone who makes her living from dining out, I take my Savor Sarasota assignment seriously. I want to see menus that offer a special dining experience, not mini portions of what already exists on the menu. It's like an interview: You want to dress your best and make a good impression.
So far I've tried three local restaurants—here's how they fared.
We kicked off Savor Sarasota with an outstanding dinner at The Table Creekside. Duck carpaccio (pictured above), grilled octopus with risotto, and watermelon and tomato salad were all perfect first-course options for our three-course dinner (you can view the full menu here).
For our entrees, we chose lamb meatloaf (which won The Table a best meatloaf award in Sarasota Magazine) and pan-seared Chilean sea bass on creamy saffron risotto with shrimp. Both were delicious.
Now, while we were completely satisfied after the first two courses, we did not hold back when our desserts—warm peach cobbler and Gorgonzola custard—were served.
And a tip: The managers shared that after June 14, the restaurant will be offering a three-course summer menu for $25.
[caption id="attachment_27098" align="alignnone" width="488"]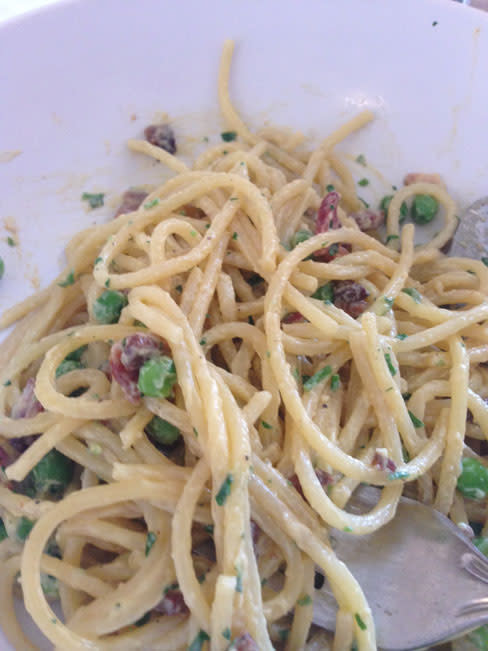 Cafe Americano's spaghetti carbonara.[/caption]
For lunch, my companion, Paulette Calendar from the Spice & Tea Exchange, and I both selected the mozzarella and zucchini frittata for our appetizers, comprised of perfectly fried fresh mozzarella and zucchini with a tangy house made marinara sauce.
Next up, I ordered the spaghetti carbonara with sweet baby peas, which was creamy with crisp pancetta and my favorite—baby peas. A perfect pasta dish.
Paulette's entrée choice was the chicken saltimbocca with roasted potatoes, black olives and organic grape tomatoes. She loved the tender chicken cutlets with mozzarella and fresh sage.
We also returned for dinner, and not only loved he offerings but also the $20 bottle of wine that was offered with the Savor menu. You can view the full menu online here, but make sure you get the ricotta-pistachio doughnuts and fresh fruit cobbler for dessert—trust me, it's wonderful. And best of all, the manager told me that Café Americano will offer the Savor Sarasota menu all summer long.
[caption id="attachment_27101" align="alignnone" width="488"]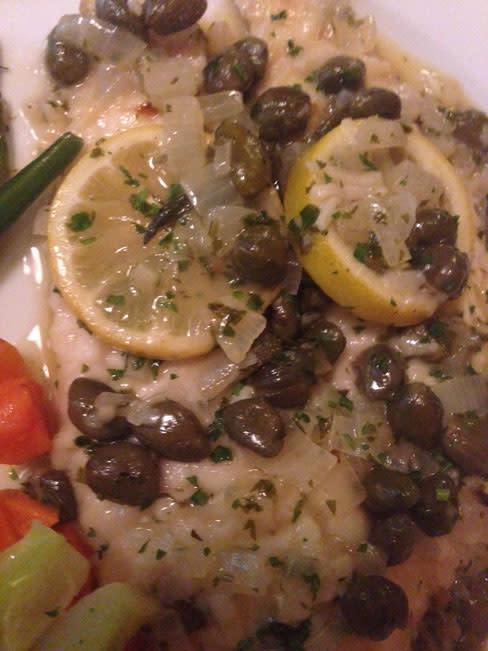 Oh Mamma Mia's filet of sole.[/caption]
While not my favorite menu—I found it limited and wanted more creative dishes—Oh Mama Mia offered a complimentary glass of wine with the Savor menu, or a complimentary bottle of wine with two or more Savor Sarasota dinners—a nice touch.
Also, great news for sports fans: Oh Mama Mia has expanded its seating and is bringing in a large screen TV to watch the World Cup.
Stay tuned for more Savor Sarasota dining news coming soon…
Click here to read Chef Judi's Dish in our June issue. >>