Article
Restaurant Review: St. Armands Circle's Columbia Restaurant
John Bancroft savors classic Cuban at Columbia on St. Armands Circle and tasty Italian at Venice's Made in Italy.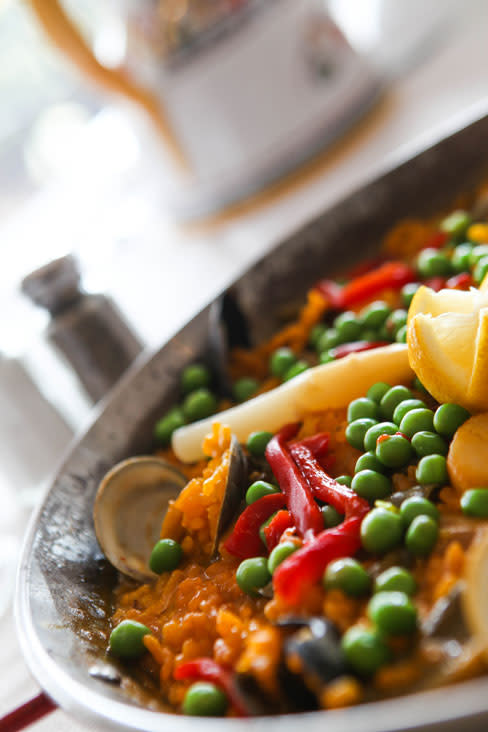 Although it styles itself the gem of Spanish restaurants, the menu at Columbia on St. Armands Circle has an unmistakable Cuban accent. And that's a good thing.
The original Columbia opened in 1905 in Tampa's Ybor City, a neighborhood known for factories turning out hand-rolled cigars and a lively mix of immigrants, especially Cuban, Spanish and Italian. The original restaurant is still going strong, as are six satellites arrayed across Central Florida. The Sarasota location, opened in 1959, draws on the period charm of its parent in its Mediterranean-inspired main dining rooms, where tables are formally attired in white linens, and combines it with big windows and a Florida casual feel in its patio room and at coveted sidewalk tables.
There is merit to the Ybor City flagship's claim to be the oldest (surviving) restaurant in Florida, but that doesn't mean Columbia hasn't changed with the times. Its very traditional menu now includes gluten-free and vegan options and relies on sustainable fisheries for its seafood.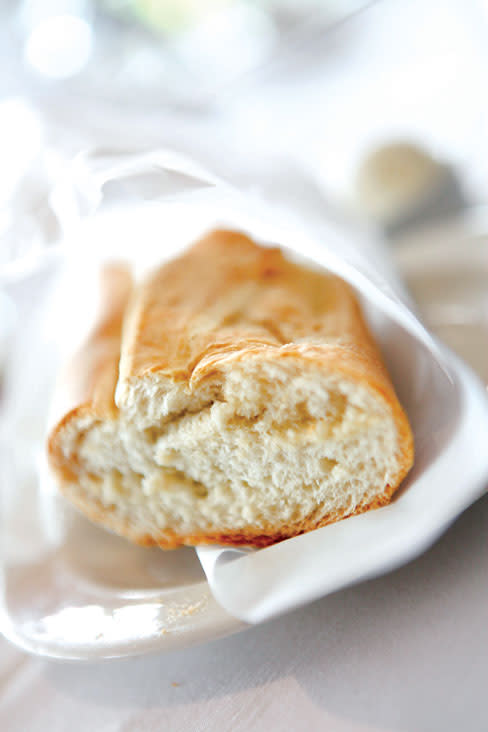 One thing that hasn't changed in 90 years is the fantastic Cuban bread that arrives at table in a twist of paper. The crust is thin and crisp, the interior nearly the consistency of cake. This bread has more in common with a Parisian baguette than with the loaves you are apt to find at the supermarket. Cocktails go nicely with the bread. Two of our favorites are a very fine mojito made with Dom Casimiro Classic Silver rum ($8.95) and a nice twist on a classic in the 1905 Martini ($9.95), made with Ketel One vodka and garnished with olives nicely stuffed with Spanish Cabrales cheese.
The menu kicks off with three soup choices (two of them vegan), including the justly famous Cuban black bean soup served over rice and topped with diced fresh onion. Next come salads, starring the 1905 salad of lettuce, julienned ham, tomatoes, olives, grated Romano and a garlic dressing. It's scrumptious. (The other four salads are all vegan.)
From an extensive tapas/appetizer list, Colette and I chose Devil Crab Croquettes ($9.95), a wonderful rendition of a classic Tampa street food. (Did I mention Colette grew up in Tampa and was a Cuban cooking fan practically from the cradle?) These deep-fried little devils, six to a plate, rely on the savor of blue crab kicked up with cracker crumbs, paprika, onion and garlic. Colette declared these the Platonic ideal of their kind.
Darn near as good was a Basque-inspired prep of sweet piquillo peppers stuffed with mushrooms, chorizo sausage and Serrano ham baked in an almond pepper sauce and topped with Manchego cheese ($8.95). Thus have we added a new favorite to our tapas life list.
Finned fare is up next, and for her main event Colette chose Snapper Alicante ($28). A nice filet, presented tableside on its baking dish and transferred by your waiter to a plate, is cooked en casserole in a dreamy gravy of sweet onions, green peppers, garlic and sweet Sauterne white wine, all topped with slivered almonds. Toothsome breaded and fried eggplant and a dab of saucy little shrimp garnish the dish handsomely.
As much as we would like to, there is no way we can eat our way through Columbia's knockout selections of beef and pork and chicken and authentic paellas, at least not at one sitting (or 10), so I did the next best thing and ordered the combo plate called La Completa Cubana ($25). This choice allowed us to sample three stars of Cuban cuisine without foundering: classic roast pork marinated in garlic and citrus; boliche criollo, which is a portion of eye round of beef (the bone in the eye is replaced with chorizo) roasted to fork tenderness, and empanada de picadillo, a seasoned mix of ground beef, olives and potato sealed in a fried dough purse. Along for the ride come yummy fried plantains, black beans over yellow rice and, for those who like the starchiest starch on the planet, yucca.
We had to order dessert to go because portions are big, and even seasoned food critics seem unable to resist cleaning their plates. For Colette it was an old favorite guava turnover and for me a slice of real Key lime pie (both $6.95). Both hit the spot.
The Verdict: There's a good reason Columbia has been a St. Armands fixture for more than 50 years. The food is a tempting mix of delicious Spanish and Cuban dishes served by professionals in a charming setting 365 days a year.
411 St. Armands Circle, Sarasota
Reservations: (941) 388-3987
Hours: 11 a.m.-10 p.m. Sunday-Thursday, until 11 p.m. Friday-Saturday
Bar: full bar and wine list, including private label bottles
Cards: major
Parking: on street or in nearby city lot
Handicapped accessible: yes
Made in Italy
Of a certain restaurant the uniquely quotable Yogi Berra once said, "Nobody goes there anymore; it's too crowded." That mangled morsel came to mind on a recent early weekday evening as Colette and I watched Made In Italy in downtown Venice fill up with dizzying speed. We were early birds because the restaurant does not accept reservations and we'd been warned to get there by 5:30 p.m. unless we enjoyed waiting for a table.
The restaurant, which features a wood-burning oven that turns out an amazing array of pizzas not only by the pie but by the foot (well, technically, by the meter), is divided into two atmospheric dining rooms, the larger of the two also hosting an eye-catching bar. In addition, a handful of tables are available on the sidewalk in good weather.
Made In Italy is immensely popular and obviously hosts a large cast of regulars. A large part of that must owe to the world-class pizza menu, which includes 18 tomato-sauced pies (including a calzone, a folded pizza stuffed with mozzarella, ham and ricotta) and five white pizzas. If you are with a group and order your pizza by the meter, you can sample several varieties baked atop one large crust. We saw that option close up and it was impressive. It also disappeared into four hungry diners in the blink of an eye.
Colette tried an individual Genovese pie ($12.95), which combined mozzarella, roasted peppers, eggplant and ricotta salata on a crust slathered in a tasty tomato sauce. The flavors married happily, and the pie was generous enough to furnish the next day's lunch. She prefaced her pizza with an order of green olives split, filled with savory ground beef, battered and fried into uniform brown balls ($7.95). They were both unusual and good but would work better as a bar snack than as an antipasto.
The appetizer list includes both beef carpaccio ($11.95), which I chose, and a version with smoked salmon. The more common ultra-thin sliced raw beef version was pretty good and generously mounded with fresh arugula, sliced mushrooms and shaved Parmesan. My main dish, on the other hand, was killer.
Pappardelle alla Toscano ($16.95) was the star of the evening—at least until it was time for dessert. The pasta dish bathed heavenly housemade, extra-wide fettucine noodles in a divine sauce compounded of porcini mushrooms, speck (smoked prosciutto) and cream. The serving was enormous and I didn't stop until it was all gone. This has got to be the quintessential Italian comfort food. If devouring a plateful doesn't cure your blues, you are a hard case, indeed.
The dessert mentioned above was a stellar mascarpone cheesecake ($5.95), and it was the evening's second world beater. Mascarpone cheese, the pride of Lombardy, is a small miracle, managing to be both rich and light at once. In tiramisu the emphasis is on the creamy aspect, but in cheesecake lightness takes pride of place. This version, as far from the heavy, dense New York style as you can imagine, was anchored by a perfect graham crust that was itself both rich and light. Wonderful!
117 W. Venice Ave., Venice
Phone (no reservations accepted): (941) 488-8282
Hours: 11 a.m.-10 p.m. Sunday-Thursday; until 10:30 p.m. Friday-Saturday
Bar: full bar and wine list
Cards: major
Parking: free in nearby city lot or on street
Handicapped accessible: yes
For more Sarasota dining and restaurant news, click here. >> 
This article appears in the June 2014 issue of Sarasota Magazine. Like what you read? Click here to subscribe. >>