Article
Where to Find Sarasota's Best Lobster Roll
Our panel of judges seeks out the best lobster roll in Sarasota.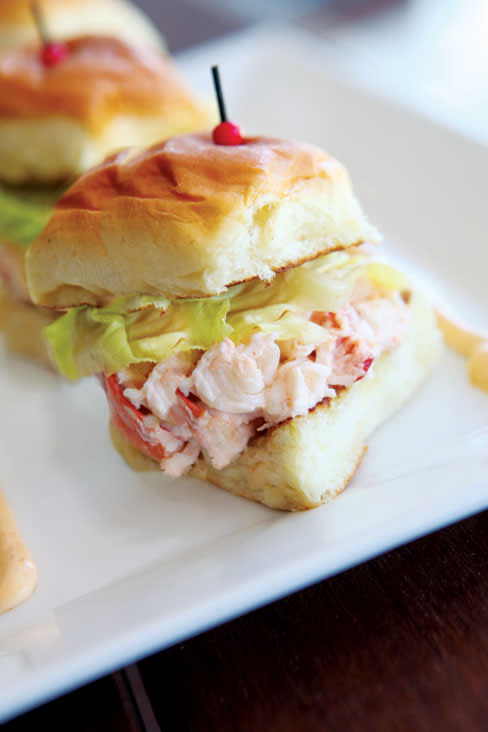 Lobster rolls? In Sarasota? Yes, indeed. And thanks to our 9,500-plus Facebook fans and judges Amy Nichols of The Lollicake Queen and Perq Coffee Bar, Megan Greenberg of atLarge Inc. and Pine View High School student Sofia Quinteros, we're proud to present to you the very best.
Best Overall: Shore Diner
A seriously tough call, but Shore Diner's lobster slider—flavorful lobster served on a soft roll with a perfect square of lettuce and a "schmear" of yuzu-coriander sauce on the side—claims the prize.
Best Classic: Lido Beach Concession Stand
Did you know that the Lido Beach Concession Stand (yes, really) serves a killer lobster roll—complete with chunky meat and a buttery hot dog bun—for $10, including a side and a drink? Sundays from 10 a.m.-3 p.m only, and be there early—they sell out fast.
Best Dressing: Owen's Fish Camp
It may not be traditional, but every judge went nuts for the drizzle of tarragon pesto that topped the lobster roll at Owen's Fish Camp—it delivers the perfect punch of flavor for the otherwise minimally dressed lobster roll.
Best Bun: State Street Eating House and Cocktails
Few things are better than homemade bread, and State Street Eating House and Cocktails' mini lobster roll is served in just that: a delicious bun that's topped with lobster sautéed in butter, then sprinkled with sea salt.
Click here to read past Sarasota's Bests, including cupcakes, French fries and margaritas. >>
This article appears in the June 2014 issue of Sarasota Magazine. Like what you read? Click here to subscribe. >>