Article
Party Girl Gets the Dish on the 2014 Forks & Corks Grand Tasting
Veronica Pastore sips and samples at the Forks & Corks Grand Tasting.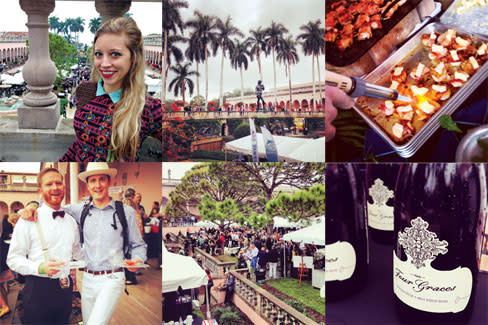 Maybe the best event in town.
A bold statement, yes, but the Forks & Corks Grand Tasting lives up to it. You've got 43 Sarasota-Manatee Originals restaurants serving some of their most delectable dishes in perfect, bite-sized portions. Then you've got 50 vintners from around the world personally pouring their favorite wines. Set the whole shebang down in the courtyard of the Ringling Museum, an epically gorgeous spot I never tire of, and we've got a serious contender for best event ever. Plus, it's a Sunday. Very few thoughts or cares entered my mind over the course of the afternoon besides, "What is that amazing smell?" and "Which wine should I try?"
And try them I did. Climbing the grand stone steps of the museum, I encountered pizza guy Carlos Solorzano and friend Chris Braun, just as they were taking off behind a wine rep in the direction of some "bubbles." Champagne sounded just fine for a Sunday afternoon, so I followed them through the series of tents in the courtyard, surrounded by the scent of superlative sustenance.
The champagne, a Crémant D'Alsace made from chardonnay grapes, picked me right up after my wait in the long line outside with an empty tummy. Refreshed, I noshed on Pattigeorge's lettuce wrap and then Ophelia's sous vide duck breast with mango chutney.
Taking in the scene, I knew I'd need my strength. There was so much delicious ground to cover! And the overcast skies didn't seem to slow the crowd of more than 1,200 as they wound around the many balusters at the museum. Among them all were brothers Kyle and Clark Quackenbush, dressed super snappily, local butterfly gardener Ryan Inskeep and the always effervescent Candace and Kevin Miller.
Feeling drawn to a smiling Pablo Piccolo at the Catena Zapata wine booth, I sampled a gold medal-winning Malbec, which, he explained, "is more complex in your mouth," than their Malbec Alta, "but balanced." I didn't really know what he meant but attempted to appreciate these subtleties as I sipped. It was a little easier for me to parse the many tasty treats like bacon-wrapped scallops with Brie from Harry's Continental Kitchens, mushroom and Swiss sliders from Square One Burgers & Bar and, my personal favorite, two daubs of savory Gorgonzola cheesecake covered in Nueske's bacon and served atop a bed of field greens. That last one was from Euphemia Haye, where I usually covet the desserts, but the chef explained to me that this was more like an appetizer and would go great with red wine. He was right. I grabbed some of the Four Graces pinot noir from the booth next door and had to stop to simply taste. I was transported to a world of savory, creamy, salty, pungent, grapey—and what a wonderful world it was.
Noticing Ben Hammond and the Fe Band on stage while in my state of sensory bliss, I enjoyed his smooth transitions between artists as diverse as Paul Simon and Call Me Maybe singer Carly Rae Jepsen. Considering the value for the cost of a Grand Tasting ticket ($125), IMHO, it's totally worth it. No wonder they sold out in eight minutes.
I took a respite from imbibing to talk to a bespectacled and be-goateed Tom Baril, who said he was at the event to get wines for his new business. While initially reticent to discuss, Tom eventually spilled that his new venture is a mobile kitchen making Neapolitan-style pizza with imported flour, local veggies and artisan meats from around the country. "It's gonna be the best pizza in Sarasota," he bragged. Can't wait to try it—Polpo Pizza Co. is supposed to launch this month.
I was facing a serious dilemma: With an hour left of the Grand Tasting, I really did not want to eat or drink anything else. I managed to put down a too sweet rosé, a taste of Porter Family Vineyards' Cave Dwellers Blend and some of Andrea's gnocchi in cream sauce before realizing I'd absolutely have to stop if I wanted to make it home alive.
Heading towards the door, I saw a friend taking it all in. "This really is like the best thing ever," said the adorable Alexis Branzei, beaming. "It just makes me so happy being here." I felt the same. Trust me and get a ticket next year. It was, for real, one of the best events ever.
And it was also my last outing as Sarasota Magazine's Party Girl. I'm off to new adventures in California, where I should discover even more great wines, food, parties and people. But Party Girl 2.0, Loren Mayo, will be filling my stilettos with her own captivating style, and I'll be back for occasional visits to this city I'll always love. See you then.
Click here to see even more pictures from the Forks & Corks Grand Tasting. >>
This article appears in the April 2014 issue of Sarasota Magazine. Like what you read? Click here to subscribe. >>