Article
Restaurant Review: Roast Restaurant & Bar in Downtown Sarasota
Plus: Why everyone goes to Rick's French Bistro.
Hallelujah! A restaurant worthy of the fine old building adjacent to the Sarasota Opera House downtown has finally arrived after a years-long string of disappointments. Roast Restaurant & Bar is the creation of chef Andrew Thompson, who most recently served as executive chef at Polo Grill & Bar in Lakewood Ranch.
Before we get to the menu, we have to say what a fine job Thompson's team has done with the vintage 1925 building. The patio has always been inviting, but the design changes make much better use of quirky spaces inside. An unobtrusive divider has been added to the downstairs dining room, separating it symbolically from the handsome old bar, where new lighting has created a cozy golden glow after the sun goes down. And those big windows giving onto a blank wall of the opera house have been turned from dreary to delightful with new frosted and etched panes. Smart.
The upstairs lounge and bar space has been thoroughly reimagined, with tables interspersed with conversation pods featuring comfy sofas and easy chairs. The room now boasts an understated Old Florida ambiance conducive to relaxed and convivial drinking and dining, a major change for the better.
As for the food, Thompson describes it as modern American with a European accent, which seems about right. Take, for example, a shareable appetizer of a half-dozen picnic-perfect deviled egg halves ($6) kicked up with dabs of our own Mote Marine's very fine sturgeon caviar or a bite of crisp pancetta. We ordered ours half caviar and half pancetta, which definitely is the way to go.
Another excellent first course is the smoked eel served at room temp with beetroot and horseradish accents on the side ($8). The eel is savory perfection, but the potato pancakes that accompany it need some work; they should have been crispy and weren't. That can easily be fixed and no doubt will be.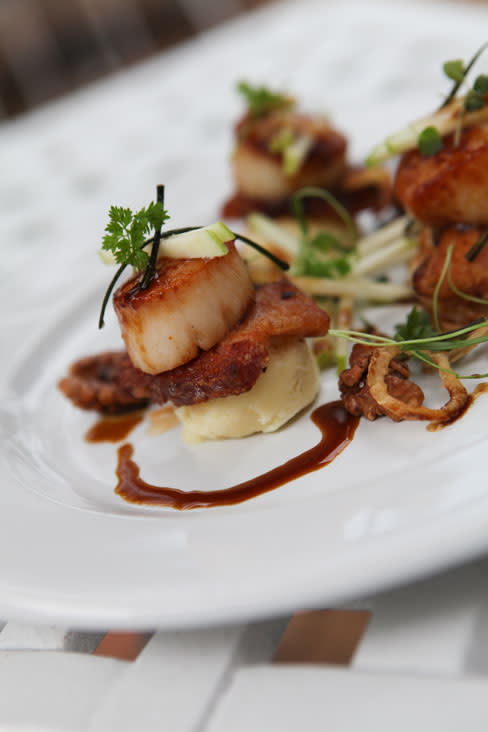 The menu is extensive and varied, offering hot and cold apps, raw bar selections by the piece, salads, a nice variety of small plates, and meat and fish entrées. A good argument for ordering from the Butcher's Block heading is that one of the sides accompanying your steak or burger can be a cone of alarmingly good duck-fat fries. Fortunately, these can also be ordered a la carte, as we did, for a well-spent $7. Just don't tell your cardiologist.
From the Today's Catch department I ventured into a fairly radical prep of sea scallops ($22), which sauced a trio of the beauties with a rich Bordeaux reduction and topped them with thick-cut house-cured bacon. I was skeptical of that red wine sauce, but was converted at first bite.
Colette, the osso buco fan, was happy to find the pork variety ($24) on offer under Other Meats and was happier when a succulent and generous portion of the bone-in delight arrived done to a turn and paired with surprisingly savory French lentils Bourguignonne.
Roast also acquits itself well when it comes to drinks.
As has become mandatory these days in a restaurant of any ambition at all, it offers a number of signature cocktails. We sampled a very fine Moscow mule ($8) and a brightly refreshing cucumber basil gimlet ($11). We enjoyed both, but we scored a real bargain when we paid a mere $27 for a bottle of Robert Hall Rhone de Robles wine, a sumptuous California red blend that beautifully complemented every bite we took.
The Verdict: It's a pleasure to see a restaurant this good move into the charming and quirky 1925 building adjacent to the Sarasota Opera House. Chef Andrew Thompson's Roast Restaurant & Bar is a welcome addition to our vibrant downtown dining scene.
Roast Restaurant & Bar, 1296 First St., Sarasota
Information: (941) 953-1971
Hours: Lunch Monday-Saturday 11:30 a.m.-2:30 p.m.; brunch 11:30 a.m.-2 p.m. Sunday; dinner 5:30-9 p.m. Sunday-Thursday, until 10 p.m. Friday-Saturday
Bar: full bar and wine list
Cards: all major
Parking: on street or nearby city garage
Handicapped accessible: limited; call
Rick's French Bistro
2177 Siesta Drive, Sarasota
Reservations: (941) 957-0533
Hours: dinner from 5 p.m. until closing Tuesday-Saturday
Bar: wine and beer
Cards: all major
Parking: in lot
Handicapped accessible: limited; call
Why Everybody Goes to Rick's French Bistro
There is culinary magic in the air pervading that little strip center on Siesta Drive opposite Southgate Plaza. We have previously reported breathlessly on tenants Andrea's and The Usual Place, and now we have the pleasure of recommending Rick's French Bistro, a perfect pocket-sized example of its kind. If you don't have time right now for a jet across the Atlantic, stop in here for an atmospheric whiff of France at dinnertime, complete with French Mom-and-Pop proprietors (she's in the kitchen, he's out front) and French-speaking customers.
As befits a bistro, the fare is classic French comfort foods, in this case pitch-perfect renditions of hearty main dishes such as duck cassoulet fragrant with sausage, cognac, onions, white beans and white wine, or chicken Normande in a classic sauce of white wine, onions, cream and mushrooms. Snails, smoked salmon, pâté, onion soup and warm Brie constitute fine opening acts.
The duck pâté ($8.95), which we shared as an appetizer across a table draped in red-and-white-checked oilcloth, is a marvelously light and lively reading of a timeless favorite, just as rich in flavor as it ought to be but of a texture belying that richness. Does it come garnished with cornichons? Mais oui!
Colette and I were instantly attracted to old friends for our main courses. She chose côtes d'agneau aux fines herbes de Provence ($24.50), which scented with finely chopped herbs three of the most glorious thick and succulent grilled lamb chops ever to grace a plate. She swooned and no wonder.
I fell for the snapper sauce Meuniere ($22), which bathed an impeccably fresh sautéed Gulf catch in the deceptively simple blend of butter, white wine and lemon that makes a nice piece of fish a restorative tonic for tired taste buds.
Dessert was just as fine as all that went before. She chose crêpes à l'orange ($6.50), the citrusy American cousin of crêpes Suzette, while I raised the ante by a dollar and plumped for profiteroles au chocolat, that deeply gratifying amalgam of flaky choux pastry filled with vanilla ice cream and drenched in warm dark chocolate. Mmm.
For more Sarasota dining and restaurant news, click here to read our Foodie's Notebook blog. >>
This article appears in the March 2014 issue of Sarasota Magazine. Like what you read? Click here to subscribe. >>