Article
Sarasota's Best Caviar
In a blind tasting, eggs farmed by Mote compete against three famous caviars.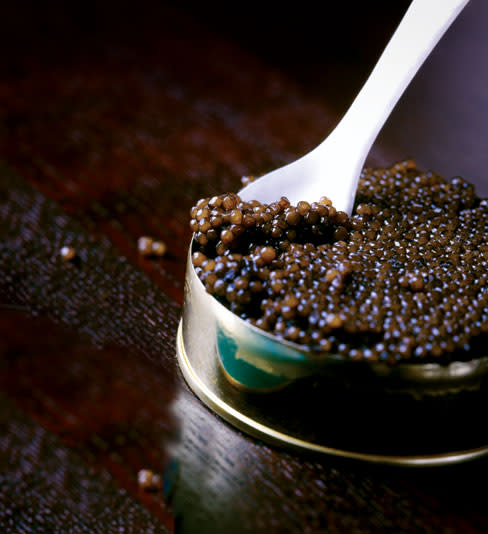 The fate of the free world may not have depended upon them, but that didn't keep our judges from total devotion to their mission as they gathered at Palm Avenue gourmet emporium As Good As It Gets for a blind tasting of four caviars. Unknown to them, in addition to three famous contenders (we didn't tell them the names, but they were Sevruga, Kaluga, and Karat) we had added a dark horse—our own Mote Marine Laboratory's caviar, from sturgeon raised right here in town. Judges Michael Klauber of Michael's On East, our restaurant critic, John Bancroft, and his wife, Colette, book editor at the Tampa Bay Times, are all caviar connoisseurs, and they deliberated and then furiously scribbled notes as they tasted. Our affable host, shop proprietor Doug Gourley, periodically eased the tension by suggesting, "Shall we open another bottle of champagne?"
Several bottles later, the last precious spoonful had been consumed, and the judges turned in their scores for the final tally. And though they found much to like about every contender, the clear winner was Mote's, for its bold yet balanced flavor, perfect firmness and creamy, pleasing texture. Another cork popped when these passionate locavores learned they had chosen a hometown product—and one, as it turns out, that sells for just $64.50 an ounce, versus $150 for the Karat, $120 for the Sev and $110 for the Kaluga. "An insanely reasonable price," Bancroft de-clared, and glasses were again raised all around.
Mote's caviar is available at a number of local venues, including As Good As It Gets; for more information, go to mote.org.
Tasting Notes:
For an appetizer for six, serve four ounces of caviar.
Best way to serve? On a Russian mini-pancake called a blini and topped with a dollop of crème fraiche.
Click here to return to our guide to Gulf seafood. >>