Article
Perq Coffee Bar Serves Craft Coffee in Southside Village
Erin and Keith Zolner and Amy Nichols are bringing craft coffee to Sarasotans via their Perq Coffee Bar.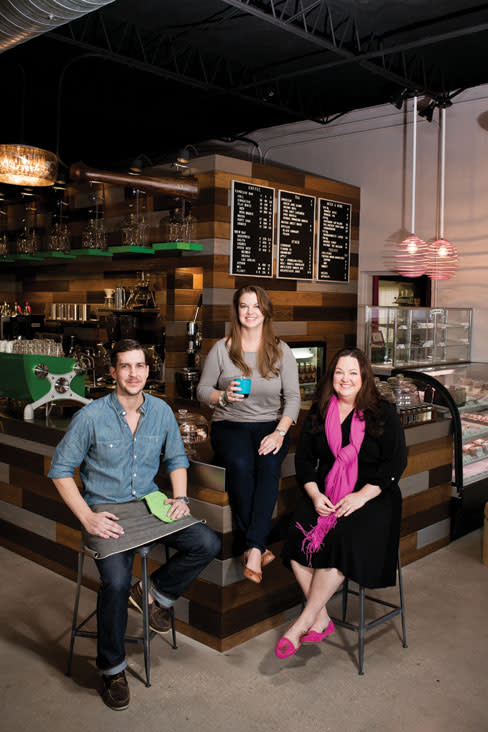 The buzz (pun intended) surrounding the opening of Perq Coffee Bar last May was intense, and it hasn't subsided. Featuring single-origin coffees sourced through artisan roasters and offering a selection of teas, juices and sweet and savory treats daily, the Hillview Street coffee shop has quickly become a local favorite.
The brainchild of husband and wife Keith and Erin Zolner, and Erin's sister, Amy Nichols—you might recognize Erin and Amy from the popular Lollicake Queen bakery, Perq's sister business and next-door neighbor—Perq is making Sarasotans rethink coffee, from how they order it to how it's brewed. And that's exactly what the Zolners and Nichols were hoping for.
All in the family. "Erin's daughter, Olivia, did the initial branding for the Lollicake Queen," says Amy, who used those designs as a jumping-off point for Perq's collateral. Erin and Amy's mother has worked with them since Day One as well. And Keith "did a lot of the contracting work," says Erin, adding that the trio jumped on the space—a former spice shop—as soon as it became available.
A different kind of coffee experience. Looking for a medium nonfat latte? You won't find it. Instead, you'll find four kinds of coffee beans and drinks with names like flat white, pull or Gibraltar. "Customers come in and are like, 'Did you make this stuff up?'" Keith says with a laugh. "We brought in different drinks made using different brewing methods from around the world—for example, the flat white is very popular in Australia." And, he says, every day people say, "'This is the first time I've had coffee and haven't had to put in milk or sugar.' They're actually enjoying the flavor. That's pretty cool."
How about that espresso machine? Perq is the only coffee shop in Florida—and one of only three in the South—to use a Slayer espresso machine, hand-built in Seattle and famous among coffee connoisseurs. "It allows us to custom-craft a brew profile for each of our beans and bring out some of the tasting notes and really interesting characteristics," Keith says.
Factoids
Small Batch, From Scratch: Perq's house-made treats—which include cookies, scones, mini-cupcakes and more—are all made in small batches, using only organic local fruits and vegetables.
Team Effort There are 15 employees between Perq Coffee Bar and the Lollicake Queen, including knowledgeable, chambray-shirt-clad baristas and a "head Lollicake baker."
Keeping it Local The owners have partnered with Mozzarella Fella to offer a selection of the restaurant's signature sandwiches. "It's important for us to support other [local] businesses doing awesome things with food," says Erin.
For more Sarasota restaurant and dining news, click here to read our Foodie's Notebook blog. >>
This article appears in the January 2014 issue of Sarasota Magazine. Like what you read? Click here to subscribe. >>